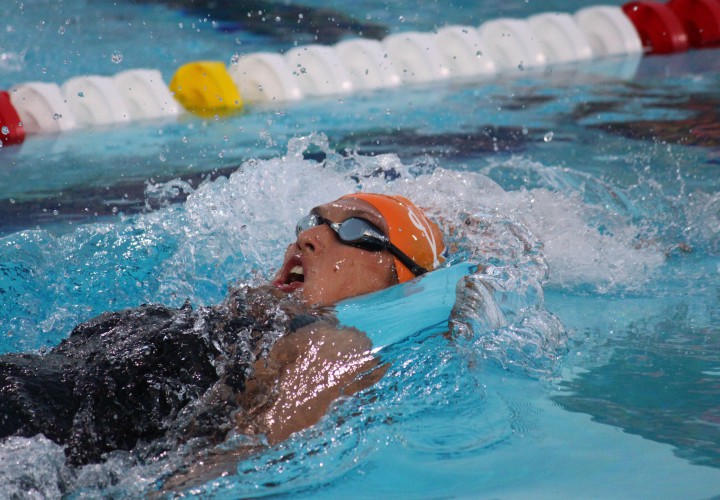 Photo Credit: Griffin Scott
ATHENS – A couple of near-NCAA records, school records and nation-leading times highlighted a fantastic first night of racing at the Georgia Fall Invitational, held at Gabrielsen Natatorium.
California kicked off the meet with a win in the women's 200 free relay, as the foursome of Missy Franklin, Rachel Bootsma, Kaylin Bing and Farida Osman crushed the A standard in the event by almost two seconds with a 1:27.51. Georgia's Olivia Smoliga, Chantal Van Landeghem, Madeline Locus and Lauren Harrington were also way under the A cut with a 1:27.83, while Auburn's Allyx Purcell, Megan Fonteno, Ashton Ellzey and Valerie Hull also got under the automatic qualifying time with a 1:28.41.
Seth Stubblefield, Tyler Messerschmidt, Lai Yeung Chung and Ryan Murphy helped the California men's 200 free relay punch their ticket to NCAAs with a 1:17.97, just ahead of Auburn's Kyle Darmody, Michael Duderstadt, Arthur Mendes and Jacob Molacek (1:18.02). Georgia rounded out the top three, with Michael Trice, Nicolas Fink, Chris Powell and Taylor Dale touching in 1:18.93.
Virginia's Leah Smith wowed the crowd in the women's 500 free, stopping the clock in 4:32.70 to finish just off her prelim time of 4:32.61. Smith's prelim time set a new ACC and Virginia school record and was only .08 off Brittany MacLean's NCAA record of 4:32.53 from the 2014 NCAA Championships. Cal's Cierra Runge (4:34.81) and Georgia's Amber McDermott (4:35.89) also had great swims as both finished under the A standard of 4:36.45.
Georgia's Matias Koski topped the men's 500 free in 4:13.36, just off Clark Smith's nation-leading time of 4:13.32 from the Texas Invite last night. Teammate Kevin Litherland placed second in 4:15.99, while Cal's Adam Hinshaw took third in 4:18.74.
Cal teammates Elizabeth Pelton and Missy Franklin put on quite a show in the women's 200 IM, as the two were neck-and-neck the whole way before Pelton hit the wall first, 1:52.93 to 1:52.99. Both finished way under the automatic qualifying time of 1:55.35 in the event. Virginia's Courtney Bartholomew also clocked an A cut with a 1:55.27 for third.
Chase Kalisz of Georgia tracked down the men's 200 IM title with a 1:43.10, just off the A cut time of 1:42.76. Georgia swept the top three spots, with Tynan Stewart (1:43.21) and Gunnar Bentz (1:43.48) taking second and third behind Kalisz.
Georgia's Chantal Van Landeghem dipped under the A cut in the women's 50 free final, stopping the clock at 21.88 to clear the 21.90 qualifying time. Teammate Madeline Locus finished second in 22.09, one one-hundredth ahead of Cal's Farida Osman (22.10).
Tyler Messerschmidt of California topped the men's 50 free final in 19.46, .06 in front of Georgia's Michael Trice (19.52). Auburn's Kyle Darmody swam a 19.69 to finish third in the final.
In the diving well, UCLA's Maria Polyakova topped the women's 3-meter with 361.60 points, well ahead of Virginia Tech teammates Kaylea Arnett (331.65) and Ashley Buchter (318.70). Virginia's JB Kolod scored 370.80 points to win the men's 1-meter by a slim margin over Auburn's Fraser McKean (369.40) and Georgia's Ian Forlini (327.20).
Virginia's Courtney Bartholomew, Laura Simon, Ellen Williamson and Ellen Thomas posted a 3:27.84 to win the women's 400 medley relay in a new ACC and Virginia school record. Their time was just off Stanford's NCAA record of 3:27.51 from the 2014 NCAAs. Courtney Bartholomew posted the second-fastest 100 back ever leading off in 50.01; Natalie Coughlin swam a 49.97 at the 2002 NCAA Championships that still stands as the fastest in history. Cal finished well behind as Elizabeth Pelton, Marina Garcia, Noemie Thomas and Missy Franklin swam a 3:31.25, still three seconds under the A cut in the event. Georgia's Kylie Stewart, Annie Zhu, Lauren Harrington and Chantal Van Landeghem also posted an A cut of 3:32.64.
The California men wrapped up the night with a win in the 400 medley relay as Ryan Murphy, Chuck Katis, Justin Lynch and Seth Stubblefield clocked a 3:05.90 to finish three and a half seconds under the A cut of 3:09.40. Georgia's Taylor Dale, Nicolas Fink, Pace Clark and Michael Trice also swam an A cut with their 3:09.00. Auburn's Joe Patching, Michael Duderstadt, Arthur Mendes and Kyle Darmody placed third in 3:10.11.
Georgia leads the team standings after day one with 552 points, ahead of California (492) and Virginia (369).