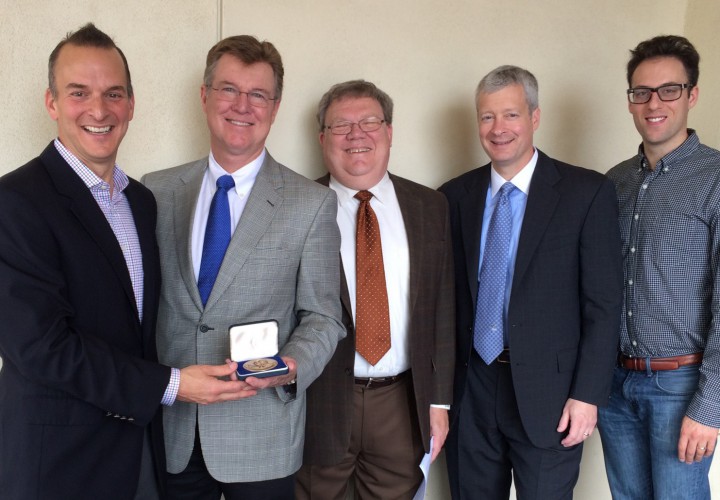 Photo Courtesy: Greg Eggert
The U.S. Anti-Doping Agency (USADA) is the national anti-doping organization in the United States for Olympic, Paralympic, Pan American, and Parapan American sport. The organization is charged with managing the anti-doping program, including in-competition and out-of competition testing, results management processes, drug reference resources, and athlete education for all United States Olympic Committee recognized sport national governing bodies, their athletes, and events. USADA contributes to the advancement of clean sport through scientific research and education & outreach initiatives focused on awareness and prevention.
Travis Tygart — "The measure of a man who does his duty is not what others think of him but his own commitment to doing what is right. Travis Tygart, as the CEO of the U.S. Anti-Doping Agency, heads an organization dedicated to protecting athletes who play fair from those who don't. No one would argue with the philosophy of doping-free sport, but few are willing to undertake the demanding work of identifying cheaters and imposing sanctions on them. Proving what many already suspected about Lance Armstrong in particular was especially challenging, given the relentless media and legal tactics organized by Armstrong and his team, which were increasingly directed against Tygart personally. Some wilt under such circumstances. Others become even more determined not to succumb. Tygart's work was so thorough that once the courts, predictably, dismissed Armstrong's challenges, he had no alternative but to face the music. Armstrong folded and later confessed that he had, in fact, doped for many years, just as the USADA had charged. He got what he deserved: stripped of his Tour de France wins, a lifetime ban and the ignominy of having cheated other athletes and those who believed in his achievements. Score one for the good guys". Written by Dick Pound, former chairman of the World Anti-Doping Agency and a member of the International Olympic Committee. Time Magazine named Tygart one of the 100 most influential people in the world in 2013.
Dr. Larry Bowers joined USADA in September 2000 and was named the Chief Science Officer in 2009. He is globally recognized for his expertise and experience in anti-doping science and for being a pioneer in the field. Bowers provides leadership and scientific support for USADA's programs in research, sample collection planning, results management, arbitration, and education. Dr. Bowers frequently speaks on anti-doping science and deterrence. He has organized the prestigious USADA Annual Symposium on Anti-Doping Science since 2002, and serves as Chairman of the Scientific Advisory Board for the Partnership for Clean Competition, an organization co-founded by USADA that funds research in anti-doping science. He has testified as an expert witness in cases dealing with the use of performance-enhancing drugs and testing protocol, and has published more than 100 papers, book chapters, and books, most in the areas of analytical toxicology and drug metabolism. In 2009 Dr. Bowers was appointed by the international swimming federation, the Federation Internationale de Natation (FINA) to serve as a member of the Doping Review Control Board, in furtherance of FINA's continued efforts to eradicate doping in the competitive aquatic community.
Bill Bock was the lead attorney for the United States Anti-Doping Agency in the investigation of the use of performance enhancing drugs by Lance Armstrong and other members of the United States Postal Service Cycling Team. Bill interviewed each of USADA's cyclist witnesses, represented USADA in court proceedings brought by Armstrong in Austin, Texas, and was the principal author of USADA's 200 page Reasoned Decision setting forth the evidence against Mr. Armstrong. For his work on the Armstrong case Bill was named a 2012 Lawyer of the Year by Law Week Colorado. Bill has represented clients in high profile investigations, litigation and arbitration throughout the United States. Bill has a strong interest in business and sports ethics, sports drug testing and athletic eligibility issues. Since 2007 Bill has served as General Counsel to USADA located in Colorado Springs, Colorado. Bill has direct responsibility for USADA's investigations and prosecutions. Bill was heavily involved in USADA's investigation of the BALCO doping conspiracy and was interviewed for and quoted in the best selling book, Game of Shadows: Barry Bonds, BALCO, and the Steroids Scandal that Rocked Professional Sports. In 2009 Bill was appointed by the international swimming federation, the Federation Internationale de Natation (FINA) to serve as an international arbitrator on the FINA Doping Panel which adjudicates sports doping matters involving international swimmers.
Audio of Max Ritter Award Presentation
Max Ritter Award Recipients
2014

2013

2012

2011

2010

2009

2007

2006

2005

2003

2001

2000

1999

1998

1997

1996

1995

US Anti-Doping Agency

Nick Thierry

William "Bill" Matson

Eldon Godfrey

Francisco Javier López Chaves

Bartolo Consolo

Coarcy Nunes Filho

Tom Gompf

Orban Mendoza

Gerald T. Olson

Hironoshin Furuhashi

Lynn Bates

Julio Maglione

Carol Zaleski

Allen B. Richardson, MD

Klaus van de Pol

Billy Payne

1992

1991

1990

1989

1988

1987

1986

1985

1984

1983

1982

1981

1980

1979

1978

1977

1976

Spanish Swim Federation

Ross Wales

Mustapha Larfaoui

William Lippman

Robert H. Helmick

Dr. John A Bogert

Javier Ostos Mora

David Jay Flood

Jan Armburst

Masaji Kiyokawa

Buck Dawson

Pat Besfort

Dr. James E. Counsilman

Deutscher Schwim-Verband

Douglas F. Roby

Yugoslav Swim Federation

Dr. Harold W. Henning
The above article is a press release submitted to Swimming World. To reach our audience, contact us at newsmaster@swimmingworld.com.