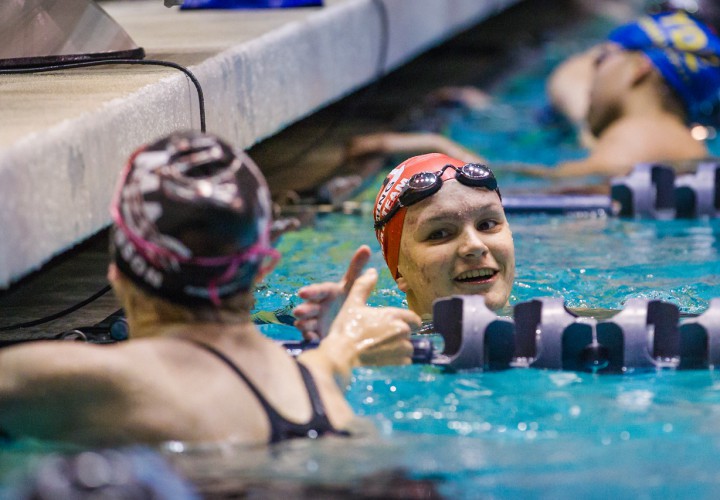 Photo Courtesy: "Melissa Lundie"
The women's 400-meter free relay of Kenisha Liu (55.82), Beata Nelson (56.20), Samantha Shelton (55.93) and Lauren Pitzer (54.99) from the USA grabbed first in prelims of day five with a sizzling time of 3:42.94, putting the team in a good position to challenge the championship meet record of 3:41.40 set by Russia in 2013.
Russia's relay of Daria Ustinova (55.87), Daria Mullakaeva (55.67), Olesia Cherniatina (56.56) and Vasilissa Buinaia (56.44) claimed second with a time of 3:44.54.
Third went to Australia's team of Shayna Jack (55.24), Lucy Elizabeth McJannett (56.46), Elyse Woods (56.58) and Tamsin Cook (56.68) who posted a combined time of 3:44.96 from heat one.
Canada's Penny Oleksiak (57.21), Rebecca Smith (56.09), Mary-Sophie Harvey (56.84) and Taylor Ruck (55.27) finished fourth overall with a time of 3:45.41.
Japan's foursome of Sachi Mochida (55.86), Hiroko Makino (57.14), Runa Imai (57.30) and Rikako Ikee (55.87) took fifth in prelims with a final time of 3:46.17.
China was sixth overall with a finishing time of 3:47.07, while Brazil took seventh overall with a 3:47.74.
Germany rounded out the top eight with a time of 3:49.30.
Schedule of Events:
2015 FINA World Junior Swimming Championships: Live Results – Results