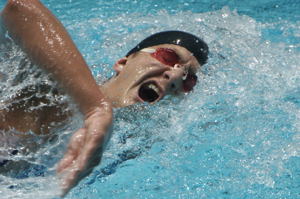 By Phillip Whitten
Photos by Peter Bick
INDIANAPOLIS, Indiana, April 5. THE men's 1500 looked on paper to be a slugfest between 2004 Olympic silver medalist Larsen Jensen and 2000 Olympic bronze medalist Chris Thompson.
As on paper, so in the water.
Longhorn Aquatics' Michael Klueh set the early pace and hung with the two Olympians through 400 meters. Then the quick pace took its toll and Klueh dropped back.
Jensen and Thompson swam stroke-for-stroke for 1200 meters, with the lead changing frequently. Then Jensen turned up the heat and Thompson quickly got out of the kitchen.
Jensen won in a fine 15:04.06, with Thompson second in 15:11.24. Seventeen year-old Charles Peterson, of Carteret Currents Swimming, who sixth at the 400 and fourth at the 800, finished third in 15:24.64.