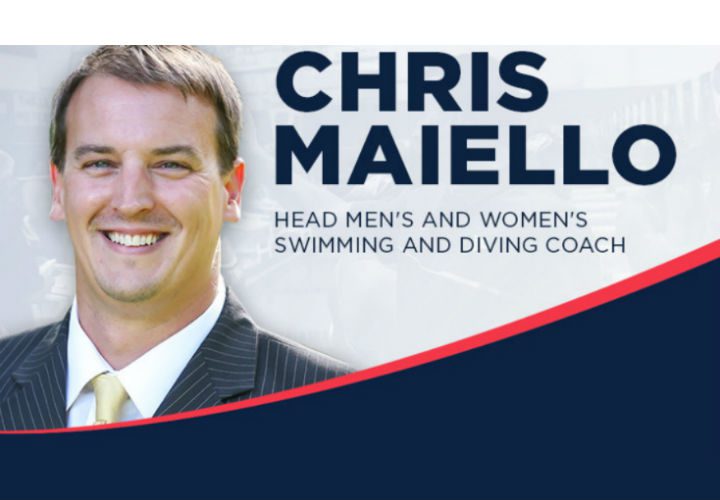 Photo Courtesy: Twitter @UConnSwimDive
Interview by Walker Hill, Swimming World College Intern. 
In the spring of 2017, the University of Connecticut hired Chris Maiello as the men and women head swimming coach. In any area of sport, when new staff is introduced so is new philosophy. In the sport of swimming, strategies involving taper, rest, and recovery are only a few things to change upon the arrival of a new coach.
Maiello has gathered experience from the high school level, the Naval academy, and most recently North Dakota. Maiello spent six years at the Naval Academy, then four at North Dakota before coming to Storrs, Connecticut.
Below is an interview with Coach Maiello, discussing many different aspects of swimming, but emphasizing taper, rest, and recovery. Mid-season meets are coming fast and it seemed interesting to gauge a coach's perspective on the goals and expectations of these meets.
Swimming World: Would you say that there is a difference between taper and rest?
Maiello: Absolutely. I think rest is part of the taper, I think there are several different categories when you are trying to have your athletes perform at optimal performances during different times of the year. I think you need to go through different steps to get there. The first is recovery then rest, and then eventually you will get into the taper effect. Taper is more of a descriptive process than the actual occurrence of repeated recovery and allowing the body to have the super adaptation effect is the result of all of those processes combined. Taper is way about managing volume and the quality of swimming. I think sometimes swimmers get the word (taper) confused. To clarify, we are aiming to prepare the body the perform at a certain time during the season.
SW: We are approaching mid season time so i think it is important for swimmers to understand the training they are doing leading up to the meet. Do expectations for your swimmers change as taper or rest is applied?
Maiello: I think so, maybe unfairly. Maybe done so by the coach, putting undo expectations on the athletes. Ideally we want our athletes to be themselves, and the rest will bring out all of the hard work they have done. I think when athletes think about taper, one that it will be easy, and two they think it is an automatic pill, that you can just show up after being tapered and swim fast. In a perfect world maybe, but we know swimming is not linear and it is not perfect. So, there are a million different combinations that go into a championship performance. Unfortunately coaches can't control all of those.
SW: In the beginning you mentioned a third component, recovery. How different is recovery from taper and rest? Throughout the entirety of the season when do you think it is most beneficial for swimmers to recover during the season (excluding championship meets)
Maiello: Scientific evidence points to a cyclical approach to training and to recovery. You can't reach new heights in training without recovering from what you did before. I believe that at certain points in the season, we as coaches need to allow our athletes to rebound or regroup from the first couple segments of training. In our case (University of Connecticut), taking over a new program, we began slowly with our training. The first three weeks were very light, so we didn't need to build in a recovery day every week. We will probably get closer to that method closer to our championship season, where we won't want to overload you every single day. Recovery is just as important as training itself.
SW: How necessary to do you think taper/rest is to swimming fast? Is some of it mental?
Maiello: I think it is up to 50 to 60 even 70 percent mental. You see fast people swim fast times year round regardless of the training cycles they are in. Fast is relative that is important to remember. Fast is different for an olympic level swimmer versus a Division III swimmer. It is important to understand where your time falls in the sport, and what is fast for you or not.
SW: Do you think that a swimmer can taper well and really show up for a big meet? Or will the training throughout the season 'pre-determine' the results of the swimmer, regardless of how 'good' the taper is?
Maiello: I do think there is a component of talent, but in our sport talent only gets you so far. I honestly believe the best tapers are not a result from the rest, they are a result of the hard work. The taper is almost predetermined that you will have a fast swim or not, based on the amount of work you have put in, in the training cycle. Whether it be a two, four, or where we are right now, an eleven week cycle. I do think that the performance at the championship meet is somewhat predictable. If you talk to your coaches and have an honest assessment of how you have worked (keeping in mind possible injuries or illnesses), when the first day of taper comes around the 'hay is in the barn'. We are not going to get much faster at that point, it is more about reaching that optimal performance with the work load we have had.
SW: Recovery might be a swimmer's favorite word. In your opinion, is recovery used the same way as taper or rest, or is it used as a way to allow the swimmer to rebuild and almost hit a reset button during hard training? From personal experience, there has been a reload week in the weight room during the season to allow our bodies to recover, do you think the same strategy can be used effectively for swimmers?
Maiello: Yes I do to a certain extent. I am not sure an entire week of a recovery phase is necessary unless preparing for a championship meet is good. You always want to continue to build. However, I do think there is period of time, it has to be individualized to the team and to the situation. I can't write ten weeks of practice and say "okay here we are going to have a recovery day". That is not practical. (Commitments to the athletic departments, such as mandatory meetings), those kind of things happen naturally throughout a college season and it provides us with an opportunity to give you that (recovery day) with us not having to do anything. We do not necessarily have to plan, okay here we are going to have a recovery day. I try to read our athlete's body language to gage how they are doing. For us and our sprint group, a recovery day is probably 4500-5500 of smooth swimming, no speed, no resistance.
SW: Taper and Rest have been incorporated with coaching philosophies over the past two decades or so. But because our sport is constantly evolving; Do you have any type of ideologies that might be the new way to train in the future? Instead of a constant beatdown and then trying to recover and swim fast for one meet, do you think there are new ways to train so you are consistently performing at an optimal level and then adjust slightly and peak your performance? Of will it always be train, train, train, train, recover, & swim fast; then repeat?
Maiello: If I knew the answer to this I'd probably be really rich man (laughs). I do like our sport that it is always evolving. And it is part of my job as a coach, as a leader of our coaching staff, to help our team stay current on the most active or the newest trends. not necessarily to see if they work with us, but to investigate if there is a possibility of 'hey could this help us in anyway?'. I believe in the science of swimming. I think the sport is a scientific based sport. If we study how to train the body and how the body recycles energies and goes through different energy zones, I think we can have a more productive training cycle rather than just beat down, beat down, beat down, rest. I think it could be more of an even keel. Where we swim at high quality for 15-16 days in a row. I don't know what's coming around the corner. (Based on what UCONN does) I think we try to incorporate ideas from a lot of different philosophies, and blend them and mold them with our core beliefs to see if we can influence training in a positive way. To get back, I think the formula is pretty sound, and I am not sure coaches are going to stray away from that too much because it works.