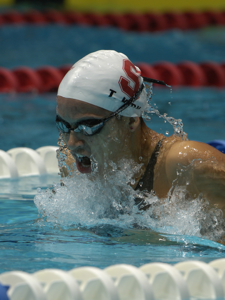 By John Lohn
Photos by Peter Bick
INDIANAPOLIS, Ind., April 3. AFTER the morning preliminaries, the 100 breaststroke appeared to be a three-woman race. And, that's exactly how it panned out, with Tara Kirk and Jessica Hardy walking away with the invitations to Montreal.
The top qualifier, Kirk came close to the American record and finished first in 1:07.11, not far off the 1:07.05 that Megan Quann turned into gold at the 2000 Sydney Olympics. Hardy, a rising sensation, hit the wall in 1:07.83, just ahead of Megan Jendrick, the former Quann. Jendrick was timed in a solid 1:07.95.
At the 50-meter mark, Jendrick held the lead at 31.51 and was under American-record pace, slightly ahead of Kirk (31.57). While Kirk continued to fire down the stretch, Jendrick slowed, allowing Hardy to move into second at the finish.
The short-course world-record holder in the 100 breast, Kirk might be in position for an international breakthrough in the long-course format. Come Montreal, it wouldn't be surprising to see the Stanford product post a 1:06-point effort and land on the medal podium. As for Hardy, the Irvine Nova youngster is rapidly improving and could be a player in Canada.
Rebecca Soni was fourth in the event, but her 1:09.20 was well of the pace established by the leading triumvirate. Soni was followed by Lindsey Ertter (1:10.17), Caroline Bruce (1:10.39), Elizabeth Tinnon (1:10.59) and Erin Briskie (1:10.85).
Event 12 Women 100 LC Meter Breaststroke
==================================================================
World: W 1:06.37 7/21/2003 Leisel Jones, AUS
American: A 1:07.05 9/18/2000 Megan Quann, USA
U.S. Open: O 1:06.95 7/18/1999 Penny Heyns, RSA
Oly Trials08: T 1:12.59
Meet Cut: 1:13.29
Name Age Team Prelims Finals FINA
==================================================================
=== A – Final ===
1 Kirk, Tara 22 Palo Alto Stanfo 1:07.99 1:07.11T 996
r:+0.87 31.57 1:07.11 (35.54)
2 Hardy, Jessica 18 Irvine Novaquati 1:08.05 1:07.83T 965
r:+0.73 31.74 1:07.83 (36.09)
3 Jendrick, Megan 21 King 1:08.47 1:07.95T 959
r:+0.67 31.51 1:07.95 (36.44)
4 Soni, Rebecca 18 Scarlet Aquatic 1:09.58 1:09.20T 908
r:+0.75 33.11 1:09.20 (36.09)
5 Ertter, Lindsey 22 Athens Bulldog S 1:09.77 1:10.17T 871
r:+0.84 33.05 1:10.17 (37.12)
6 Bruce, Caroline 18 Stanford Univ. 1:10.10 1:10.39T 863
r:+0.73 33.78 1:10.39 (36.61)
7 Tinnon, Elizabe 19 U. of Texas/Lake 1:11.09 1:10.59T 856
r:+0.78 32.82 1:10.59 (37.77)
8 Briskie, Erin 20 Texas A & M Univ 1:11.58 1:10.85T 846
r:+0.86 33.82 1:10.85 (37.03)
=== B – Final ===
9 Hehn, Kerri 23 Mission Viejo Na 1:12.18 1:10.95T 843
r:+0.75 33.83 1:10.95 (37.12)
10 Embick, Jessica 17 Mt Hood Swim Tea 1:11.84 1:11.62T 819
r:+0.63 34.06 1:11.62 (37.56)
11 Sieper, Erin 20 Unattached/U of 1:12.05 1:11.67T 818
r:+0.77 34.33 1:11.67 (37.34)
12 Jensen, Alicia 18 Team Foxjet 1:11.63 1:11.73T 816
r:+0.69 34.37 1:11.73 (37.36)
13 Spann, Alexandr 18 Longhorn Aquatic 1:11.92 1:11.97T 808
r:+0.93 34.00 1:11.97 (37.97)
14 Gabert, Stephan 15 Aquazot Swim Clu 1:12.27 1:12.12T 803
r:+0.75 34.35 1:12.12 (37.77)
15 Castaneda, Feli 18 Oregon State Uni 1:12.92 1:12.42T 793
r:+0.75 34.11 1:12.42 (38.31)
16 Andrade, Elizab 25 Canyons Aquatic 1:12.68 1:12.55T 788
r:+0.80 33.97 1:12.55 (38.58)
=== C – Final ===
17 Clemens, Alison 16 Asphalt Green Un 1:13.11 1:12.89 777
r:+0.73 34.22 1:12.89 (38.67)
18 Miller, Mhyria 17 Islamorada 1:12.95 1:12.93 776
r:+0.69 34.33 1:12.93 (38.60)
19 McKeehan, Miche 15 Center Grove Aqu 1:13.22 1:13.24 766
r:+0.74 34.07 1:13.24 (39.17)
20 Roberts, Emily 17 Summit Swimming 1:13.32 1:13.31 764
r:+0.80 34.49 1:13.31 (38.82)
21 Kraemer, Kerry 15 Black Dog Swimmi 1:13.20 1:13.44 760
r:+0.78 35.07 1:13.44 (38.37)
22 Boosalis, Marya 18 Industry Hills A 1:13.47 1:13.46 759
r:+0.78 34.96 1:13.46 (38.50)
23 Haase, Colleen 16 Rockville Montgo 1:13.16 1:13.51 758
r:+0.72 34.14 1:13.51 (39.37)
24 Ellis, Alexandr 16 Blue Fins Swim T 1:13.40 1:13.62 754
r:+0.76 35.09 1:13.62 (38.53)