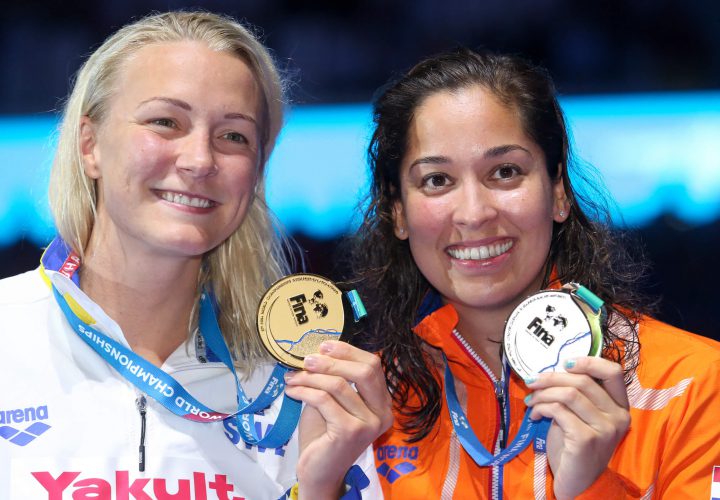 The Doha World Cup is the first stop of the 2017 FINA/airweave Swimming World Cup second cluster. It will feature all the usual athletes claiming multiple spots in the finals.
While many of the top swimmers got to sit out on some of their prelim swims, the races to watch include the men's 400 free, 200 butterfly and 50 butterfly and the women's 50 backstroke and 50 freestyle.
The former will feature the classic Chad Le Clos–Tom Shields battle, and we will see Poland's Wojciech Wojdak attempt to track down Italy's Gabriele Detti in the 400. On the women's side, Katinka Hosszu and Emily Seebohm have matching line-ups, as do Sarah Sjostrom and Ranomi Kromowidjojo.
Doha World Cup Order of Events:
• 100m Freestyle Men
• 200m Freestyle Women
• 50m Breaststroke Men
• 100m Breaststroke Women
• 100m Butterfly Women
• 100m Backstroke Men
• 50m Backstroke Women
• 200m Butterfly Men
• 200m IM Women
• 400m Freestyle Men
• 50m Freestyle Women
• 200m Breaststroke Men
• 100m IM Men
• 200m Backstroke Women
• 50 m Butterfly Men
• 4 x 50 m Medley Mixed
• 800m Freestyle Women
• 400m IM Men
Men's 100 Free
Russia's Vladimir Morozov kept his World Cup momentum going in the meet's opening event, taking the top seed in 47.46. He was the only swimmer out under 23 as well as the only one to dip under the 48-second barrier. Netherlands' Kyle Stolk (48.60) led a trio of 48s as he was followed by South African duo Douglas Erasmus (48.64) and Leith Shankland (48.79). Germany's Damian Wierling was next, off a solid Hong Kong performance, in 49.09. Paraguay's Benjamin Hockin took sixth in 49.13 while Stolk's countryman Thom De Boer was seventh in 49.92. Singapore's Darren Chua will round out the hear after finishing eighth in 50.24.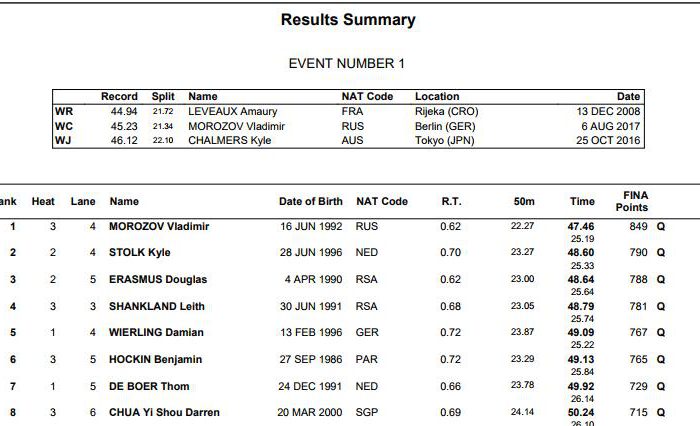 Women's 200 Free
Sarah Sjostrom cruised to the top seed in the 200 free in 1:56.75, just a bit slower than her prelims swim in Hong Kong. This time around, she was out 56.53 instead of 55.57, likely showing her strategy to back for her finals swims at this second meet of the cluster. Netherlands continued their strong showing this morning as Femke Heemskerk took the second position in 1:58.38. China then had a trio of swimmers take the next spots in Li Bingjie (1:59.17), Shen Duo (1:59.24) and Chen Yuxi (2:00.58). Austria's Lisa Zaiser (2:00.61), Azerbaijan's Fatima Alkaramova (2:02.95) and Hungary's Boglarka Kapas (2:03.30) placed sixth through eighth.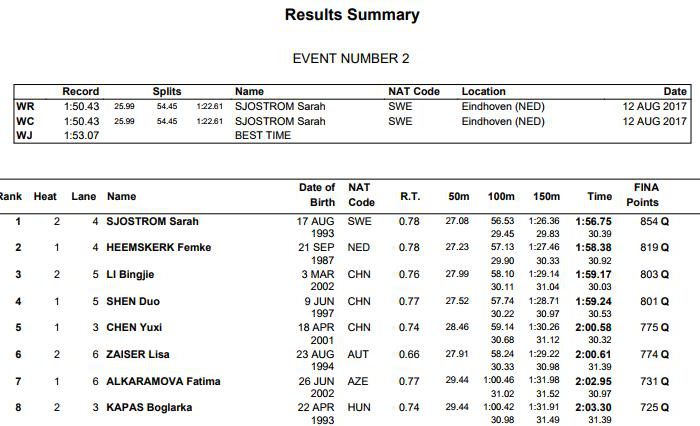 Men's 50 Breast
South Africa's Cameron van der Burgh blasted a big 25.76 prelims swim in the 50 breast. Not only is this faster than his morning swim Hong Kong, but it is also better than his night swim by four one-hundredths. The swim is about two-tenths off his world-leading time this year from the first World Cup cluster. Russia had a pair of swimmers make the final as Kirill Prigoda was second in 26.41 and Ilya Khomenko was seventh in 27.23. Belarus' Ilya Shymanovich was close behind for third in 26.46 and was followed by Paraguay's Renato Prono (26.71) and Netherlands' Arno Kamminga (26.98). China's Sun Jiajun (27.09) and Li Xiang (27.31) will also compete in the final.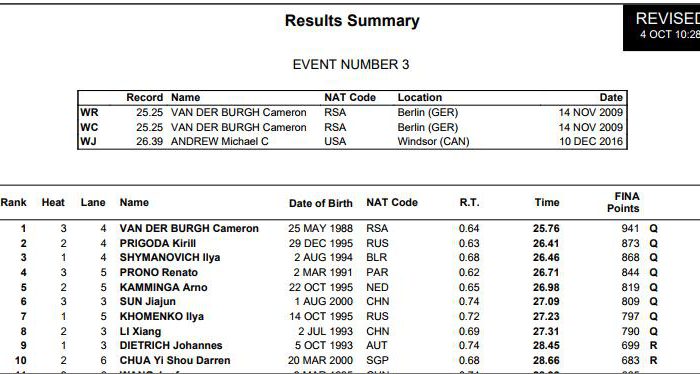 Women's 100 Breast
World Record holder Alia Atkinson of Jamaica will headline tonight's 100 breaststroke, as only nine women entered the event. Other competitors include: Denmark's Rikke Pedersen, Austria's Lena Kreundl, South Africa's Paige Brombacher, Slovakia's Miroslava Zaborska and Nikoleta Trinkova, CLB's Michelle Chu and Pia Hampel and Lebanon's Rebecca Najem Mezher. It took a 1:04.09 from Atkinson to win in Hong Kong, and a 1:05.65 to make the podium.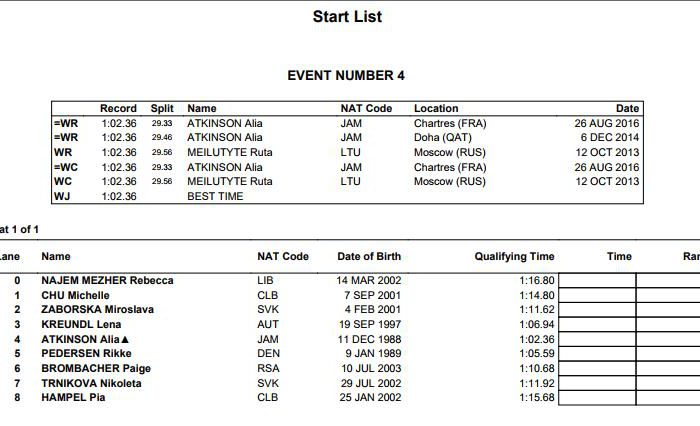 Women's 100 Fly
Led by Sjostrom, the women's 100 fly followed suit. It is unlikely that she will face any challengers in this event – it took a 57.78 to medal in Hong Kong. Netherlands' Ranomi Kromowidjojo, China's Zhang Yufei, Hong Kong's Kin Lok Chan, Germany's Lisa Hopink and Alezandra Wenk, Slovakia's Tamara Potocka, Lebanon's Hiba Doueihy and South Africa's Jeanri Buys will also compete in tonight's final.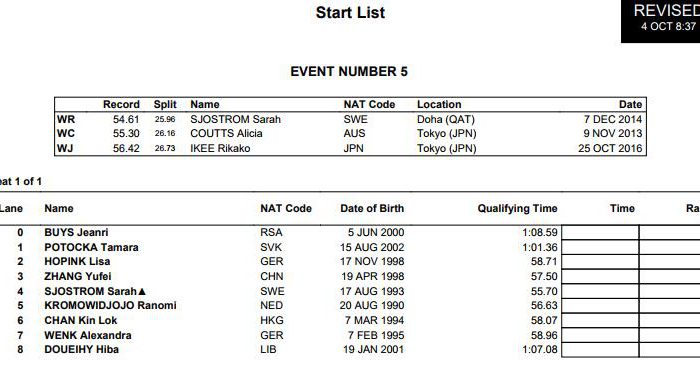 Men's 100 Back
Morozov will be back in another final, this time as the fourth seed in the 100 back after swimming a 53.79 in the prelims. Belarus' Pavel Sankovich earned top honors in 53.14, and was followed by Hungary's David Foldhazi (53.42) and Poland's Radoslaw Kawecki (53.73). Brazil's Nelson Silva Junior (54.44), Germany's Christian Diener (54.50), CLB's Justin Kraatz and South Africa's Shankland (56.98) will round out the heat.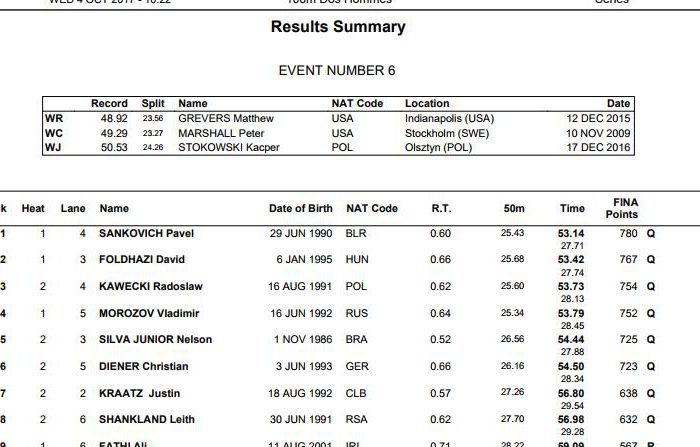 Women's 50 Back
The women's 50 back has shaped up to be one of the races to watch in tonight's final, as Australia's Emily Seebohm, the queen of backstroke (27.16), Hungary's Katinka Hosszu, the Iron Lady (27.24) and Kromowidjojo, the wildcard (27.37) will battle it out for podium spots. Maaike De Waard, also of the Netherlands, was fourth in 27.75. She was followed by Germany's Lisa Graf (28.61), China's Peng Xuwei (28.65), Hong Long's Kin Lok Chan (28.69) and Slovakia's Barbora Tomanova (28.81).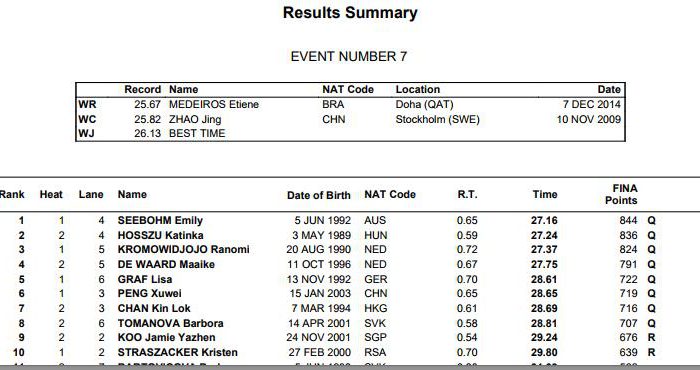 Men's 200 Fly
The men's 200 fly will see ten entrants compete: South Africa's Chad Le Clos – the World Record holder in this event, USA's Tom Shields – the reigning World Cup champion in this event (1:49.62), Germany's Ramon Klenz, Hungary's Tamas Kenderesi, Australia's Brodie Cook, Japan's Yuya Yajima, Iran's Matin Balsini and Amir Abbas Amrollahi Biuoki, CLB's Ahmed Fattouh and Qatar's Yacob Al-Khulaifi.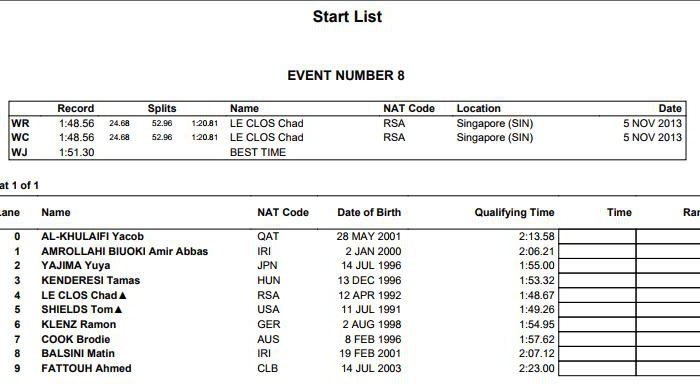 Women's 200 IM
The women's 200 IM saw all the top eight finishers make their second final of the evening including Hosszu (2:07.59), Heemskerk (2:11.20), Pedersen (2:12.25), Wenk (2:12.38), Zaiser (2:13.16), Seebohm (2:14.02), Kreundl (2:14.77) and Hopink (2:15.25). Hosszu will swim as the clear favorite as she posted three of the fastest splits this morning. The only 50 faster was a quick 36.64 breaststroke leg from Pedersen.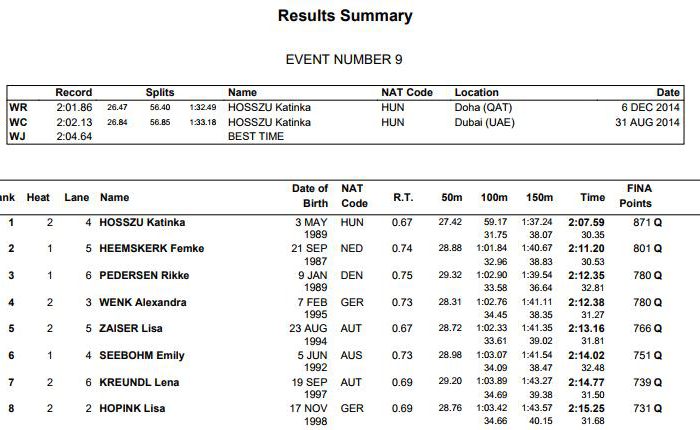 Men's 400 Free
The Polish swimmers found themselves among the top of the rankings this morning in the 400 free, as Wojciech Wojdak (3:51.44) and Fillip Zaborowski (3:53.77) claimed the top two spots. Cook was a close third in 3:54.45 while Singapore's Jonathan Eu Jin Tan kept the momentum going for his country in 3:57.80. South Africa's Henre Louw was also under 4:00 in 3:59.36. Iran's Matin Balsini (4:12.41) and Lebanon's Simon Doueihy (4:13.72) were sixth and seventh.
The men will be joined by Italy's Gabriele Detti in tonight's final, who is granted direct access to the final after earning bronze in this event in Rio. In Hong Kong, he narrowly out-touched Wojdak for the win, 3:43.11 to 3:43.23.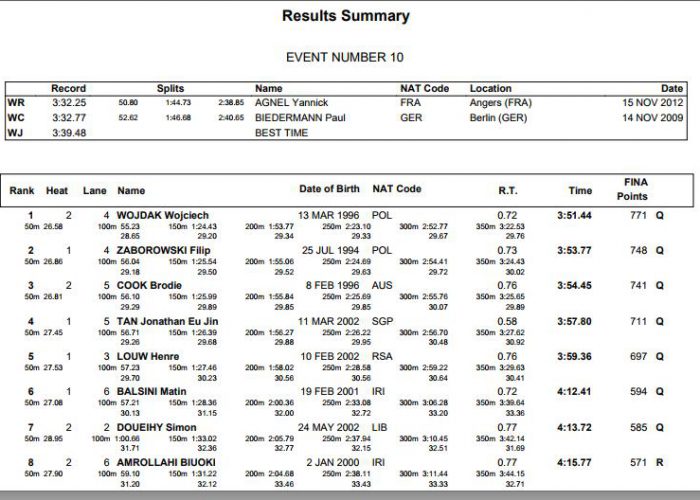 Women's 50 Free
Heemskerk hit the water once again, winning prelims in 24.88. Teammate De Waard was next in 25.50. Hopink (25.66) and Chan (25.98) took third and fourth, and were followed by Singapore duo Natasha Min Ern Ong (26.68) and Jamie Yazhen Koo (26.83). Sjostrom – who won the event in Hong Kong and Kromowidjojo – the current World Record holder – will also compete in the final. The latter was also the Olympic Champion in this event in 2012.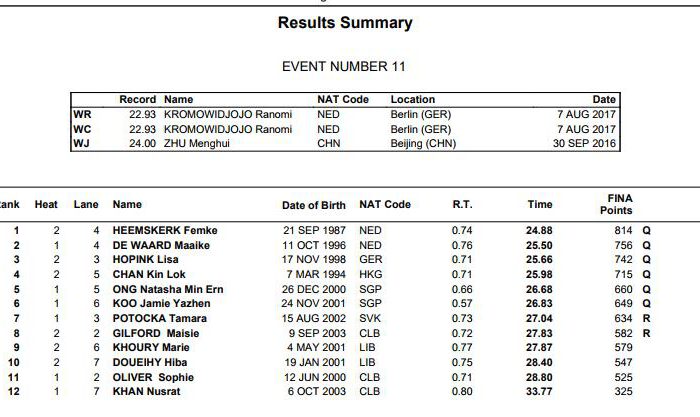 Men's 200 Breast
Prigoda took the to the top spot this time around, claiming the 200 breast prelims in 2:04.86. Shymanovich (2:06.66) and Kamminga (2:06.89) were not too far behind. Komenko will also double up tonight after placing fourth in 2:07.28. South Africa's Ayrton Sweeney (2:10.73), Jiajun (2:10.87), Austria's Johannes Dietrich (2:12.70) and Yajima (2:12.29) will round out the final.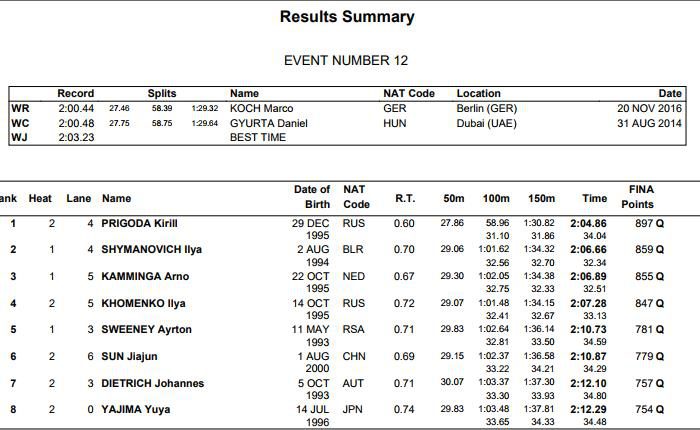 Men's 100 IM
Morozov will race a third time in the finals, looking to take the 100 IM after posting a 53.62 prelims swim. Hockin (54.31), Hungary's David Foldhazi (54.42) and Russia's Danill Pasynkov (54.60) placed second through fourth. Stolk took fifth in 54.60 and was followed by Sankovich (54.72), Diener (54.83) and Shields (54.89).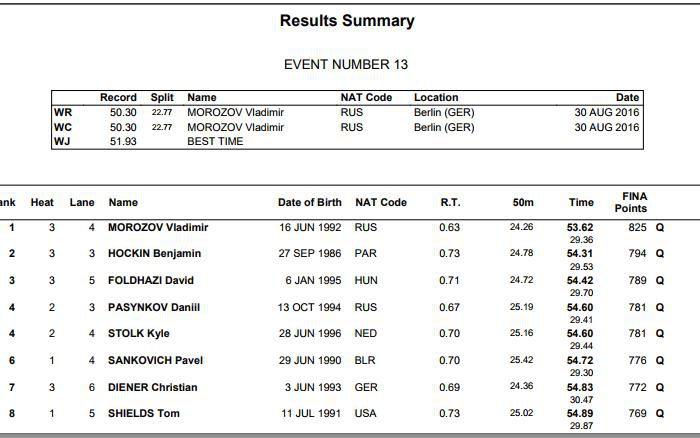 Women's 200 Back
Eight entrants will race in tonight's 200 back final, featuring another Hosszu-Seebohm duel. Their mirroring line-ups tonight will put on quite the show. In Hong Kong, Hosszu took the win in 2:03.14 and it took a 2:09.51 to earn the bronze. The women will be joined in the heat by Graf, Tomanova, South Africa's Kristen Straszacker, Chinese pair Xu Huiyi and Xuwei and Slovakia's Barbara Bartovicova.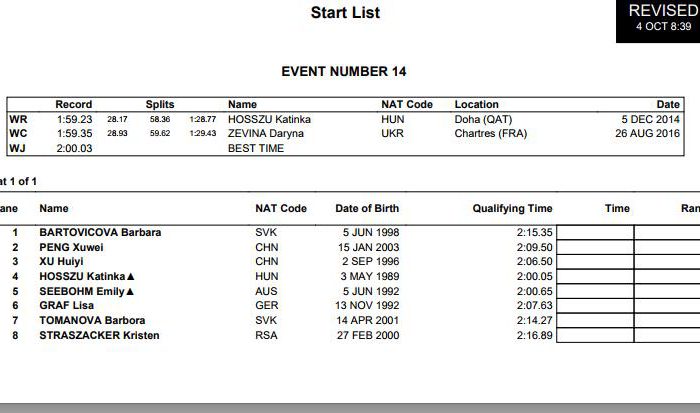 Men's 50 Fly
The top seeds in this event Le Clos and Shields will only compete in tonight's final. Last week, Le Clos got the upper hand 22.52 to 22.99. This time around, the men will be joined by China's Zhang Qibin (23.39), Sankovich (23.58), Hockin (23.77), Wierling (23.84), Erasmus (23.96) and Silva Junior (24.03).