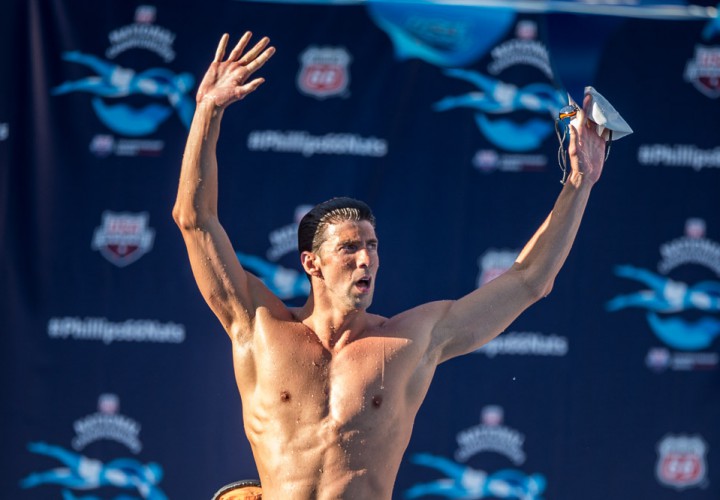 Photo Courtesy: Peter H. Bick
By Eric Bugby, Swimming World Contributor and Associate Head Coach at West Point
In a recent interview with Paul Newberry of the Associated Press, Michael Phelps swore off alcohol until after the 2016 Rio Olympics.
Of course.
That's the consensus reaction to the news. Why wouldn't a professional athlete do anything and everything to be the best? Especially an athlete coming off a six-month suspension for a second DUI arrest. It's ethical and responsible.
But refraining from drinking is not the consensus among the athletic community, professional or amateur. Alcohol is a major part of American culture.
Take a look at the NFL, MLB, NBA, NHL, WNBA, MLS, NASCAR, ATP and the PGA.
Professional sports are sponsored by alcohol and promote various brands to generate revenue.  They romanticize alcohol: young adults in blithe social situations.
It's working.
80%
Approximately 80 percent of Americans use alcohol.
Approximately 80 percent of college students use alcohol.
Approximately 80 percent of student-athletes use alcohol.
"I remain very concerned about this issue despite signs of a decrease in excessive alcohol usage," said NCAA Chief Medical Officer Brian Hainline. "All college students need to understand the considerable negative consequences associated with excessive drinking, which poses dangers from which they need to protect themselves and others."
Productivity. Performance. Motor skills. Mood. Relationships.
These are the top areas that alcohol inhibits after one drink as reported by the National Institute on Alcohol Abuse and Alcoholism. It's easy to find research that outlines the negative impact of alcohol. It's even easier to neglect that research watching the NFL on Sundays, or the MLB on ESPN, or the NBA on ABC, or the NHL on NBC, or NASCAR on FOX, or any commercial on most network and cable channels.
Bucking the Trend
There's one athlete willing to listen to the research.
"If I'm going to come back, I need to do this the right way," Phelps said.
"I've got to put my body in the best physical shape I can possibly get it in. Is it a challenge? No. I go to bed earlier. I sleep more. I wake up every day and have a completely clear head. I don't feel like my head went through a brick wall. There are so many positives to it."
Skeletal muscles, hydration, metabolism and the central nervous system are the top areas that alcohol inhibits after one drink as outlined by the National Institute of Health for athletes.
More specifically, a single drink of alcohol can decrease strength output by inhibiting calcium channels in skeletal muscles, increase evaporation and reduce body temperature, reduce glycogen uptake immediately following intensive bouts of exercise, impair balance, dexterity, and REM sleep.
Not only does alcohol detract from athletic performance in practice and competition, but it has a direct affect on recovery.
Recovery.
That's the magic word in swimming. Swimmers dream of recovery. Whether it's a full practice as part of a two-week cycle or a 30-minute nap between doubles, recovery means everything to endurance athletes and it's the reason swimmers improve.
Alcohol "decreases muscle protein synthesis" and "suppress[es] the phosphorylation and activation of the mTOR pathways." mTOR is a protein that regulates cell growth.
Alcohol makes all the hard work from one day or one week or one month obsolete.
In his statement, Phelps is once again a role model to all swimmers, young and old. It's a statement that should be read by all athletes, parents, and coaches. And if his performances at Nationals are any indication of the power of abstaining from alcohol, then I can only imagine what Rio will bring.