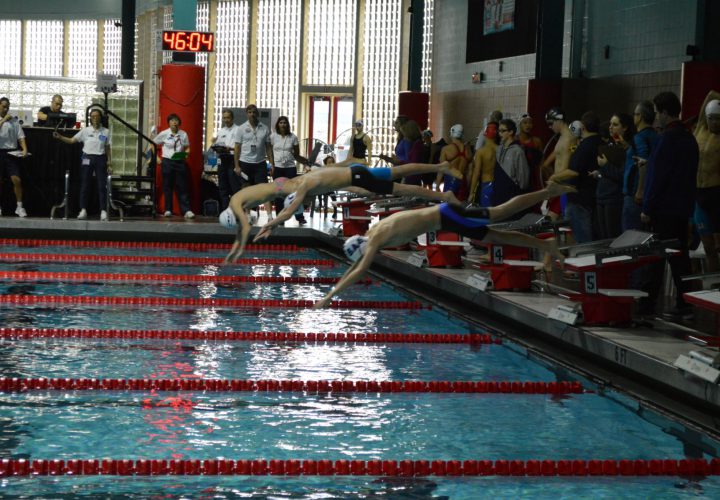 Photo Courtesy: Jessica Pochek
By Kyle Rothelin, Swimming World Intern.
Swimming at a meet like BAC Winter Invite can by a very busy day. It can get even longer if you make it to the finals. You wake up early in the morning, swim, and then leave, and yet you will still have to swim again later on in the day. So what do you do to prepare yourself in between racing sessions? How do you make sure that you are ready to swim again only a few hours later?
After asking a few swimmers competing in the finals, the period of time in between racing is a period of rest. Most sleep for two or more hours. After sleep, eating right is extremely important towards success later in the night.
Patrick Heffernan, a swimmer for Berkeley Aquatic Club, explained his routine in between races. He says that after his nap, he eats and then showers like it is a brand new day. He says that helps him be alert, since the long periods of sleep and make the swimmer groggy. Patrick explained that this routine is very important, because traveling to Rutgers twice in one day is a lot of traveling, over an hour and a half in total.
The food Heffernan eats is important too. He said that he tries to maintain his normal diet in between racing. He'll eat a turkey sandwich, and maybe a granola bar or too. He also tries to eat eggs in between races for the nutritional benefits they provide. Patrick also emphasized the importance of hydrating. He will drink multiple bottles of water in order to be fully hydrated to get back in the pool.
The time in-between swimming can be make-or-break for a swimmer swimming later on in the day. Getting rest and the proper energy is important, but don't forget to relax, breathe, and align your mentality to set yourself up for success.