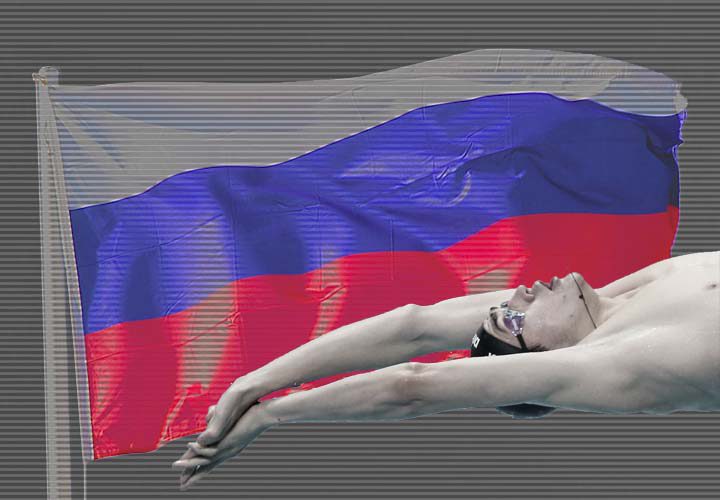 Morning Splash by David Rieder.
Last month, Russia's men dominated the European Short Course Championships, bagging nine gold medals. The team won at least one gold medal in all four strokes plus both men's relays, and the star was 17-year-old Kliment Kolesnikov, who won gold in both the 100 and 200 back.
Kolesnikov had narrowly missed the 100 back world record in Copenhagen, so he swam the race again at the Salnikov Cup in St. Petersburg one week later and ended up recording the fastest time in history. He finished in an amazing time of 48.90, two hundredths quicker than Matt Grevers' previous world record.
All in all, a banner month for Russia in swimming, and that effort came with the country's two World Champions from this year, Yulia Efimova and Evgeny Rylov, sitting out the European championships.
But that's just in swimming. Elsewhere in Russian sports, all was not so fine and dandy. On Dec. 5, one week before the European championships, the International Olympic Committee announced restrictions on Russia's participation at the upcoming Winter Olympics, scheduled for February in PyeongChang, South Korea.
The IOC announced that it had finally accumulated enough evidence to sanction the country and its Olympic Committee for supporting a centralized doping program in the years leading up to the 2014 Winter Olympics in Sochi. Select Russian athletes would still be allowed in the Games, but they could not wear the Russian flag and would compete under the banner of "Olympic Athlete from Russia."
After that decision, the reaction was split between "it's about time" and "the IOC should have punished Russia further." But about this there was a consensus: Russia did not deserve to be participating in the Olympic Games.
At the same, Russia is the flavor of the month in men's swimming. Huh? Something here doesn't add up.
Let's be clear: No one is accusing any of the men who won gold at the European Championships of doping. None have ever tested positive, and even though 50 free gold medalist Vladimir Morozov was implicated in the initial McLaren Report in 2016, no evidence that he committed wrongdoing has been corroborated.
But swimming does not exist in a vacuum, even in a non-Olympic year. Think back 18 months, to just before the Rio Olympics, as the sports world was shocked as the IOC ignored a recommendation from the World Anti-Doping Agency to ban Russia from the Olympics.
Since then, Russian swimmers have continued to compete as though nothing ever happened. There's been little to no outrage at seeing the Russian flag fly and national anthem play over the past year at international meets.
Meanwhile, the man who led WADA's investigation into Russia's doping scandal has blasted the IOC for letting Russia off too easy. Jack Robertson, the former WADA Chief Investigative Officer, penned a New York Times op-ed entitled "The 2018 Winter Olympics Are Already Tainted."
In the piece, Robertson explained that hundreds of Russian athletes will likely compete in PyeongChang, and the title of "Olympic Athlete from Russia" is hardly neutral. He then articulated the scope of the Russian effort to subvert anti-doping practices:
"We discovered that when a Russian athlete rose to the national level, he or she had no choice in the matter: It was either dope, or you're done. Athletes and coaches were connected with Russian doctors who designed doping regimens, and actually trafficked and stored controlled substances within Russian Sport Ministry buildings."
Robertson called the IOC's decision "a joke, a non-punitive punishment meant to save face while protecting the IOC's and Russia's commercial and political interests." Later on, he wrote "this punishment ensures that clean athletes will face dirty ones."
Finally, Robertson compared IOC President Thomas Bach to Neville Chamberlain, the British Prime Minister who famously tried to appease Nazi Germany and avoid war. Well, World War II happened anyway, and Robertson believes that Russian dopers will be similarly encouraged to continue after this "non-punitive punishment."
In summary, the man who investigated Russian systematic doping scandal first hand thinks the country got off way too easy. Well, in swimming—and all summer Olympic sports aside from track and field, for that matter—there was no punishment whatsoever.
Every Russian swimmer initially banned from the Rio Olympics ended up getting back in on appeal. And in 2017, Russian swimming was as strong as ever, with no sign of a hangover from the turmoil of the previous summer.
Being realistic, the major international sports organizations are never going to come together and make one blanket decision about a punishment for the scandal. But if Russia deserves to be banned or restricted from PyeongChang, why should there be no consequences for the country's swimmers?
All commentaries are the opinion of the author and do not necessarily reflect the views of Swimming World Magazine nor its staff.