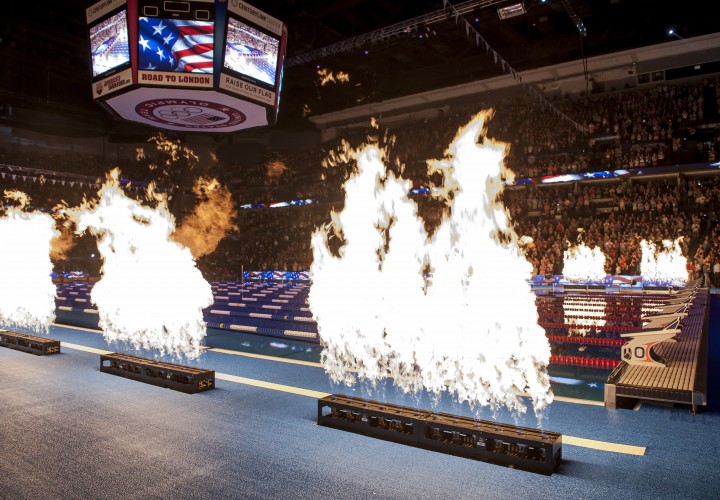 Photo Courtesy: Peter H. Bick
Editorial Coverage provided by

By Annie Grevers, Swimming World Writer
Four years ago, in a galaxy not far, far away…actually on a plot of this very country known for its corn, the 2012 U.S. Olympic Trials took place. Swimmers and coaches walked through the glass doors of Omaha's gargantuan Qwest Center – doors plastered with the faces of Olympic legends- and navigated their way to pick up Olympic Trials credentials. This process was familiar to some who had gone through the routine a mere four years prior, and foreign yet intoxicating to others.
Three weeks from today, the pool deck in Omaha will be swarming with a hodge podge of athletes– from the wide-eyed, daunted teen, to the last-minute "I don't even train anymore" qualifiers, to the most decorated Olympian of all-time.
Here are a few types of swimmers you might brush shoulders with if wandering around the pool deck at Olympic Trials.
1. The Nervous Newbie
The Olympic Trials newbies are a fairly easy breed to pick out– they're most likely flying solo, proudly representing their club team and clinging to Coach. They stare at Michael Phelps for a little longer than is polite and look around wondering what the heck they're doing at a meet of this caliber. Then they think about what they're going to tell their school friends who assume they're actually going to make the Olympic team.
I remember the phase well. Sixteen-year-old me skittishly walked around the pool deck in Long Beach, California. I sat with my parents and coach at California Pizza Kitchen before the 2004 Olympic Trials kicked off. Two tables over sat a table that constituted the Mount Rushmore of University of Texas swimming. Aaron Peirsol, Ian Crocker, Brendan Hansen, Neil Walker, and other fearsomely fast people seemed at ease before this life-altering meet. My mom elbowed me and said, "Go get their autographs." No way, Mom! So she sauntered over to their table and collected autographs for her daughter. Then she graciously pointed to embarrassed me, so they all now knew I didn't have the guts to approach them myself.
It's OK, nervous newbie. Go get an autograph at dinner (or have your parent do it); just don't ask a big name for a John Hancock when they're headed to the ready room. That would be a rookie mistake.
2. The Mature Rookie
Not all Trials rookies are teenagers. Many have a more mature, less jittery outlook on the whole spectacle they're privileged to be a part of. They may not have a shot at making the team, but they probably have some peers who do. The Trials experience can be a ball for a college team– when one member qualifies for the Olympic team, every college crony feels like a piece of them is headed to the Olympics. This may be the most fun type of Trials competitor to be– you don't bear the burden of expectations and can feed off the energy of an enthusiastic team.
3. The Hungry Hopeful
Then there are the veterans with a chip on their shoulder. Those who qualified for a semi-final or a final at the last Trials and are hungry for their breakout swim. The don't feel the weight of outside expectations; but they bear the heavy burden of their own expectations. These guys and gals do not rely on a fan club of believers to rally them to their Olympic berth; they are their own biggest believer. They are a shaken can ready to explode. These are the types that tend to scare the #4s…
4. The Proven Olympian
They have the tattoo. They made the last Olympic team. Maybe even the last two. They know the drill…but they also know it does not get easier to make the United States Olympic Team. Au contraire. They are getting older and they are stacked up against young guns who don't know what real soreness is yet. They still have fire in their goggles, but a far different hunger than #3s. Their appetite is whetted thinking about their experience four years ago: the euphoria of representing the U.S. of A and watching Old Glory rise up after nearly every event. They want that again and they will ferociously defend their Olympic spot.
5. The Out-of-the-Woodwork "Old" People
Yes, perhaps you've seen the recent headlines featuring 2004 gold medalist Ed Moses (35), and former national teamers Kevin Swander (32) and Erika Erndl (38). They all qualified for the big dance a month out. Moses claimed to have only swum twice in the last four years– both times the week before attaining his cut. Swander is a coach at the University of South Carolina and hadn't competed in four years. Erndl had a baby last year.
What does this tell us? Yes, this type has raw talent. And no, speed doesn't just disappear when the suit is hung up. People don't forget how to race. They all know the magic of Olympic Trials and want to swim in that fine arena once again. And I take back what I said about #2s– these #5s are going to have the most fun at Trials.
6. The Immortals
It's really not fair to categorize any human as an "immortal" but I'm not sure what else to call this species. These guys and gals still deal with the same pressure as the #4s. They have legitimate threats (some say). But the world has come to expect so much of them, and they seldom let the world down.
Yes, Phelps, Lochte, Ledecky…we're taking about you. Lochte and Phelps have stood on Olympic podiums so many times that the glorious moments must cloud together in their memories. Ledecky may have that issue after this summer's Games. The Immortals have a steely mental game and endless pools of talent. They were designed for the sport and are used to being "the hunted." They are swimming's true Jedis. It's hard to imagine an Olympic roster without them.