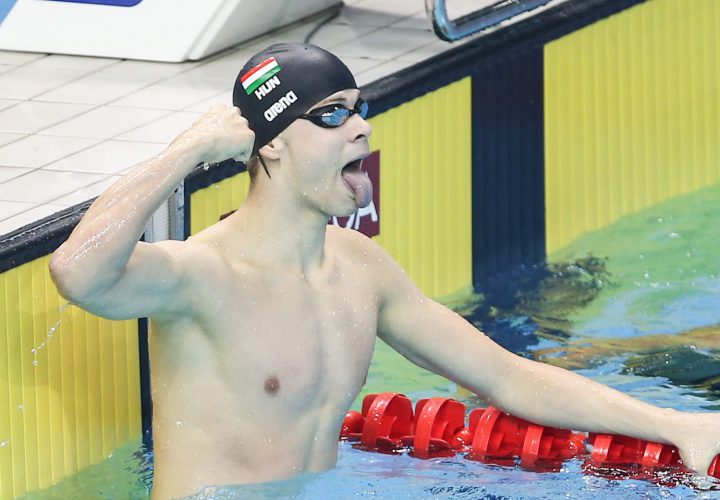 Editorial Coverage Sponsored By FINIS
Men's 200 Fly Semi-Finals:
Hungary's Tamas Kenderesi and the USA's Michael Phelps went head-to-head in the second heat of the 200 fly semi-finals, finishing a slim .16 seconds apart. Kenderesi snuck ahead of Phelps in the last 25-meters to claim the top seed going into tomorrow night's final with a time of 1:53.96. Phelps returns as second with a 1:54.12.
Fellow Hungarian, and this morning's leader, Laszlo Cseh slipped to third in semi-finals with a 1:55.18 finish in heat one.
Reigning Olympic champion Chad le Clos earned fourth in the final with a 1:55.19 finish, not long after earning a silver medal in the men's 200 free final.
Japanese teammates Daiya Seto and Sakai Masato picked up the fifth and sixth place seeds with times of 1:55.28 and 1:55.32 respectively.
Denmark's Viktor Bromer (1:55.59) and Belgium's Louis Croenen (1:56.03) return as seventh and eighth.