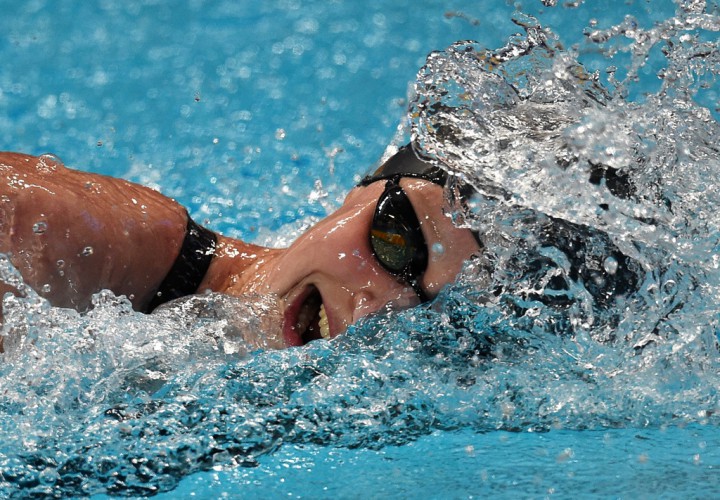 Photo Courtesy: R-Sport / MIA Rossiya Segodnya
Coverage of the 2015 FINA World Championships is sponsored by Wylas Timing. Visit our coverage page for more.
It was never a question of who would receive our nod for the top performance of the 2015 FINA world championships. The only conundrum was: Which event?
Anyone who followed the meet from Kazan, Russia, knows that Katie Ledecky was by far the standout swimmer of the meet. Not only did she win four individual gold medals, but she won the 200, 400, 800 and 1500 freestyles by a combined 28.98 seconds. That's the embodiment of dominance.
When it comes to picking one race to highlight, the 800 freestyle stands out. Her other races were jaw-dropping, but "head-scratching," "mind-blowing," "history-making" and "unbelievable" were also applicable to the 800. Her winning time of 8:07.39 has taken the event to an entirely new stratosphere. Seven years ago we were saying goodbye to Janet Evans' world record of 8:16.22, a time that stood as the world's best for 19 years. Ledecky is now nine seconds faster than that, and 10 seconds ahead of the rest of the world.
If you need further proof that Ledecky's 800 was the best swim done inside the Kazan Arena, consider this: Her average 100-meter split was 1:00.92. Ponder that for a little bit longer. A woman averaged 1:00.9 per 100 meters eight times. Her 58.97 opening 100 and 59.11 final 100 skew the numbers a bit, but it's all very impressive no matter how you crunch the numbers.
We don't want to get too far ahead of ourselves, but imagine what will happen if/when Ledecky dro[s her average split by a full second per 100. When will "7:59" show on the scoreboard? Two years from now? Three years? Next year in Rio?
Either way, her 8:07.39 is a major step forward for Katie Ledecky, one of many steps forward in her march toward legendary status in the sport. Congratulations on earning the Swimming World Performance of the World Championships!