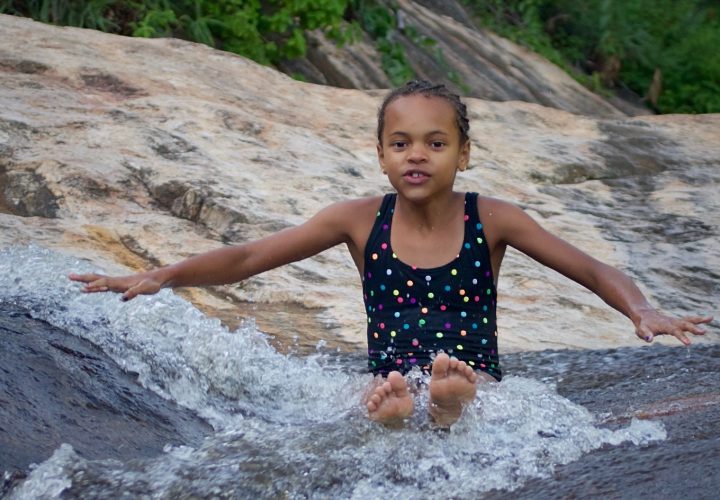 Photo Courtesy: Boardman Family
Up & Comers
Many talented swimmers get their start at an early age, and Mena Boardman of Portland Aquatic Club is no exception. Boardman first began learning to swim as an infant at the Nike World Headquarters in Beaverton, Ore., before beginning competitive swimming at the age of 6 in Vietnam.
The young Boardman started turning heads by winning her races at the "ISB Splash," considered to be one of the largest regional meets in Southeast Asia—at the age of 8!
In each meet that Boardman swims, she continues to improve and excel. This past February at the 10-and- Under Championships in Tualatin Hills (Oregon), Boardman finished among the top three in all of her events and became the fastest 9-year- old in the 50 yard free in Oregon since 2000 with a 28.75. Additionally, she won the 50 fly and collected silver medals in the 100 fly and 100 IM. She also turned in an eight-second time drop with her third-place finish in the 100 free (1:10).
Portland Aquatic Club coach Tom McLaughlin told Swimming World, "Mena shows little effort in moving through the water, and she has excellent technique," emphasizing how she continues to succeed in each race she enters.
Athleticism comes naturally to Mena, as both her aunt and grandfather played NCAA Division I basketball. Her grandfather played for Harvard in the early 1970s, while her aunt, Lani Silversides, was a standout player for the University of Vermont from 2001-05.
Outside of the pool, Boardman has many interests, including going to the beach, cliff jumping, playing basketball and painting. In addition to living in Vietnam for three years, Boardman has traveled to 16 countries (so far) in Africa and Asia—and she's only 9 years old! She says her favorites are Kenya and Laos. (In fact, the accompanying photo of Mena was taken in Kenya!)
To learn more about Boardman, check out the May 2018 issue of Swimming World Magazine, available now!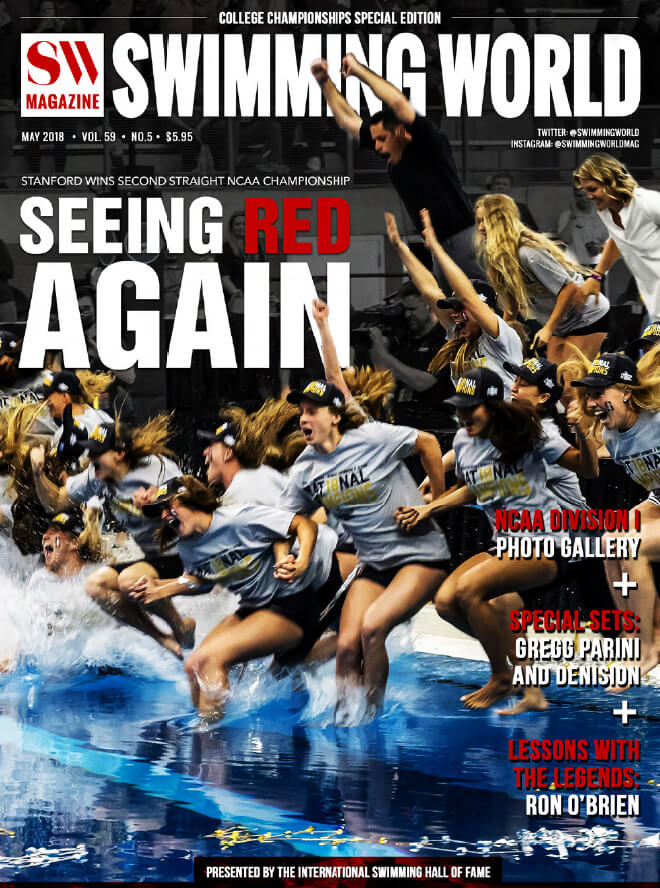 [College Championship Issue Photo by Peter H. Bick]
New! 1-Year Digital Only Subscription for just $29.95 Order Now!
FEATURES
016 JUST ENOUGH
by Dan D'Addona, David Rieder and Annie Grevers
With one event remaining, Texas, Cal and Indiana all had a chance to win the men's NCAA Division I Championships. But it was the Longhorns who held on to capture their fourth straight team title in what turned out to be the closest finish in 16 years.
MEN'S NCAA DIVISION I MINI-FEATURES:
019 CAELEB DRESSEL: SO MUCH MORE
021 MEN'S 200 FREE: A PORTENT OF THINGS TO COME
022 NC STATE: ON THE RISE
023 HOOSIER BREASTSTROKE: LETTING LOOZE
025 MEN'S NCAA DIVISION I PHOTO GALLERY
photos by Peter H. Bick
026 THE STANFORD SUPREMACY
by Dan D'Addona, David Rieder and Annie Grevers
Stanford's women's swimming team established its "identity" a year ago by dominating the women's NCAA Division I Swimming and Diving Championships and winning its first team title in 19 years. This year's action-packed sequel was even more thrilling!
WOMEN'S NCAA DIVISION I MINI-FEATURES:
029 TEXAS A&M: BUILDING ON THE BULTMAN LEGACY
030 ELLA EASTIN: CONFIDENT AND FOCUSED
031 MICHIGAN, LOUISVILLE, TEXAS: EXCEEDING EXPECTATIONS
033 WOMEN'S NCAA DIVISION I PHOTO GALLERY
photos by Peter H. Bick
035 STREAKS ALIVE…MOSTLY
by Chandler Brandes and Andy Ross
Queens, Emory and Indian River continued their winning streaks at their respective college national championships, but Denison, Savannah College of Art and Design and Keiser are ready to start (or restart) some streaks of their own.
COACHING
010 LESSONS WITH THE LEGENDS: RON O'BRIEN
by Michael J. Stott
014 THE RELATIVE ORIENTATION OF BODY PARTS: HIGH ELBOW OR DEEP CATCH?
by Rod Havriluk
Swimmers can achieve precise control of body movements—such as "high elbow" and "deep catch"—with strict focus on cues, providing the cues have specific information about the relative position and motion of body parts.
040 OFF-SEASON TRAINING: A BUILDING BLOCK FOR FUTURE SUCCESS
by Michael J. Stott
042 Q&A WITH COACH ANDY BOYCE
by Michael J. Stott
043 HOW THEY TRAIN SAM POSTMUS
by Michael J. Stott
TRAINING
039 DRYSIDE TRAINING: WET-LAND TRAINING
by J.R. Rosania
JUNIOR SWIMMER
045 UP & COMERS: MENA BOARDMAN
by Taylor Brien
COLUMNS & SPECIAL SECTIONS
008 A VOICE FOR THE SPORT
013 BEYOND THE YARDS
041 THE OFFICIAL WORD
046 GUTTER TALK
048 PARTING SHOT