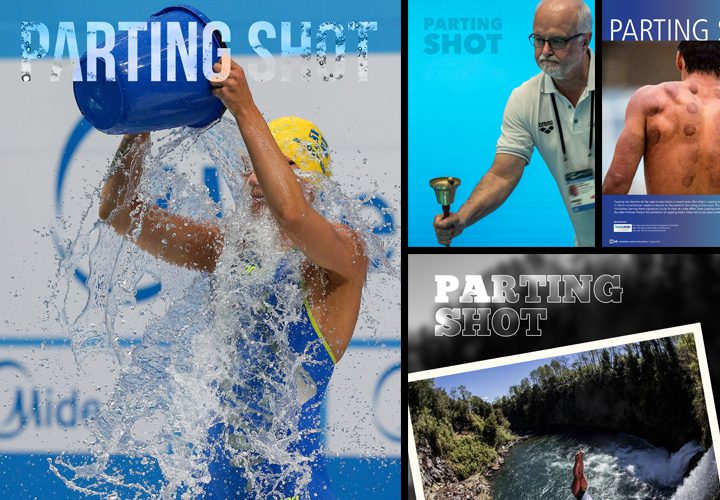 It was another incredible year of photography for Swimming World Magazine Parting Shots in 2017.  We feature some of the best as our Parting Shots of each issue of our magazine.
Among those featured in parting shots, sponsored by Swimfluence, were Sweden's Sarah Sjostrom, Germany's Anna Bader, and Team USA's Matt Grevers and Caeleb Dressel.
This slideshow requires JavaScript.
January 2017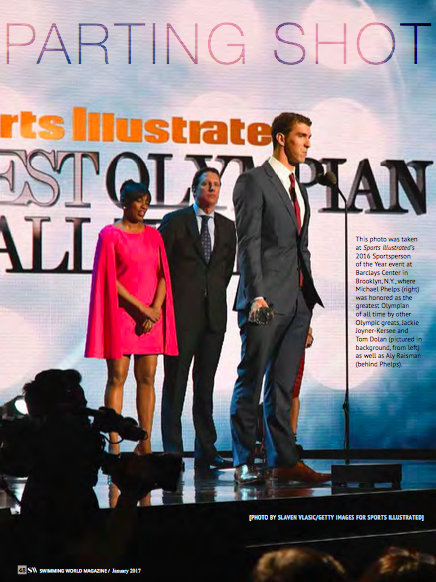 This photo was taken at Sports Illustrated's 2016 Sportsperson of the Year event at Barclays Center in Brooklyn, N.Y., where Michael Phelps (right) was honored as the greatest Olympian of all time by other Olympic greats, Jackie Joyner-Kersee and Tom Dolan (pictured in background, from left) as well as Aly Raisman (behind Phelps).
Photo by SLAVEN VLASIC/GETTY IMAGES FOR SPORTS ILLUSTRATED
Purchase this issue in the Swim Shop
February 2017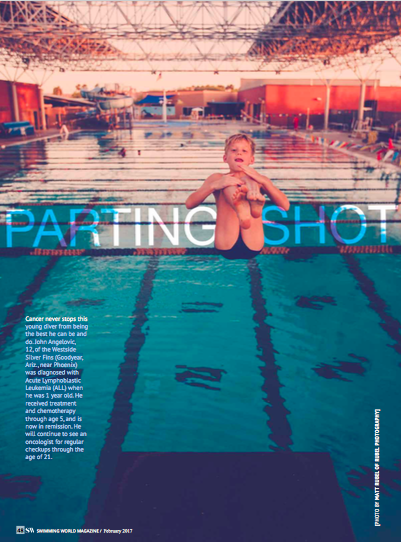 Cancer never stops this young diver from being the best he can be and do. John Angelovic, 12, of the Westside Silver Fins (Goodyear, Ariz., near Phoenix) was diagnosed with Acute Lymphoblastic Leukemia (ALL) when he was 1 year old. He received treatment and chemotherapy through age 5, and is now in remission. He will continue to see an oncologist for regular checkups through the age of 21.
Photo by Matt Rubel of Rubel Photography
Purchase this issue in the Swim Shop
March 2017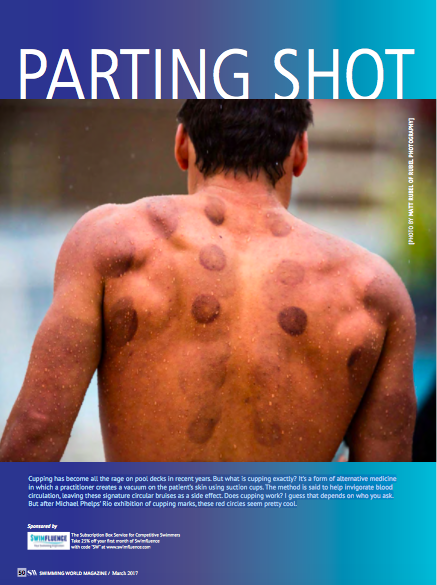 Cupping has become all the rage on pool decks in recent years. But what is cupping exactly? It's a form of alternative medicine in which a practitioner creates a vacuum on the patient's skin using suction cups. The method is said to help invigorate blood circulation, leaving these signature circular bruises as a side effect. Does cupping work? I guess that depends on who you ask. But after Michael Phelps' Rio exhibition of cupping marks, these red circles seem pretty cool.
Photo by Matt Rubel of Rubel Photography
Purchase this issue in the Swim Shop
April 2017
Bob Gillett, Hall of Fame swim coach, passed away Feb. 25 in Phoenix, Ariz after suffering a heart attack. He was a pioneer and leader in the application of underwater butterfly kicking in swim racing. Gillett, 73, was instrumental in the development of the mono fin and making extended underwater breakouts a cornerstone of competitive racing.
He is probably most famous for leading Misty Hyman to her gold medal-winning upset of "Madame Butterfly II" Susie O'Neill at the 2000 Olympics on O'Neill's home turf in Sydney, Australia.
Gillett's swimmers have won 20 national championships and 50 junior national championships — mostly at Arizona Desert Fox. Featuring world-class underwater kicking. Gillett swimmer Cindy Tran was a national high school record holder in the 100 yard backstroke in 2010, becoming the first high school female to break 52 seconds.
Photo by Swimming World
Purchase this issue in the Swim Shop
May 2017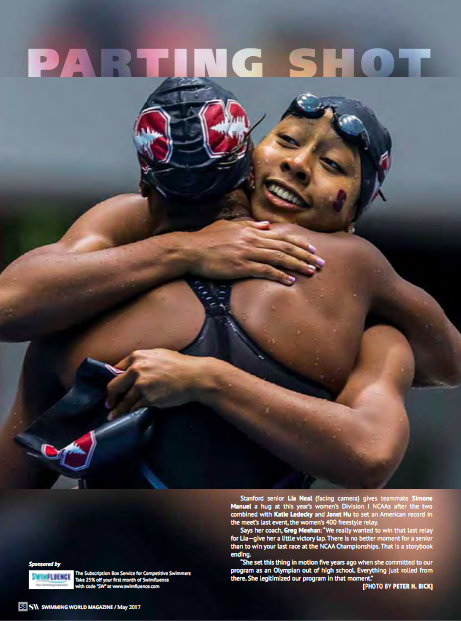 Stanford senior Lia Neal (facing camera) gives teammate Simone Manuel a hug at this year's women's Division I NCAAs after the two combined with Katie Ledecky and Janet Hu to set an American record in the meet's last event, the women's 400 freestyle relay.
Says her coach, Greg Meehan: "We really wanted to win that last relay for Lia—give her a little victory lap. There is no better moment for a senior than to win your last race at the NCAA Championships. That is a storybook ending.
"She set this thing in motion ve years ago when she committed to our program as an Olympian out of high school. Everything just rolled from there. She legitimized our program in that moment."
Photo by Peter H. Bick
Purchase this issue in the Swim Shop
June 2017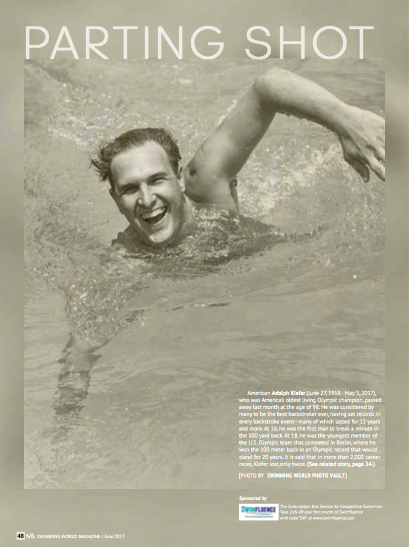 American Adolph Kiefer (June 27, 1918 – May 5, 2017), who was America's oldest living Olympic champion, passed away last month at the age of 98. He was considered by many to be the best backstroker ever, having set records in every backstroke event—many of which lasted for 15 years and more. At 16, he was the rst man to break a minute in the 100 yard back. At 18, he was the youngest member of the U.S. Olympic team that competed in Berlin, where he won the 100 meter back in an Olympic record that would stand for 20 years. It is said that in more than 2,000 career races, Kiefer lost only twice. (See related story, page 24.)
Photo by Swimming World Vault
Purchase this issue in the Swim Shop
July 2017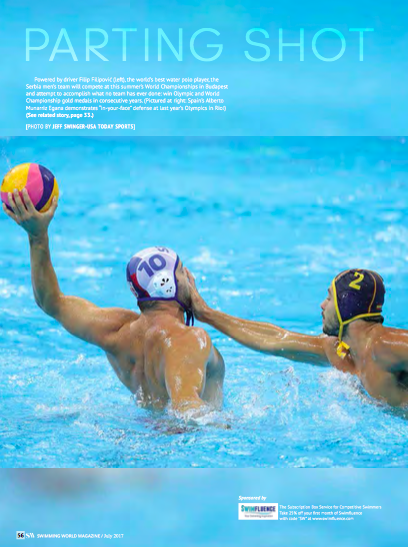 Powered by driver Filip Filipović (left), the world's best water polo player, the Serbia men's team will compete at this summer's World Championships in Budapest and attempt to accomplish what no team has ever done: win Olympic and World Championship gold medals in consecutive years. (Pictured at right: Spain's Alberto Munarriz Egana demonstrates "in-your-face" defense at last year's Olympics in Rio!) (See related story, page 33.)
Photo by Jeff Swinger – USA Today Sports
Purchase this issue in the Swim Shop
August 2017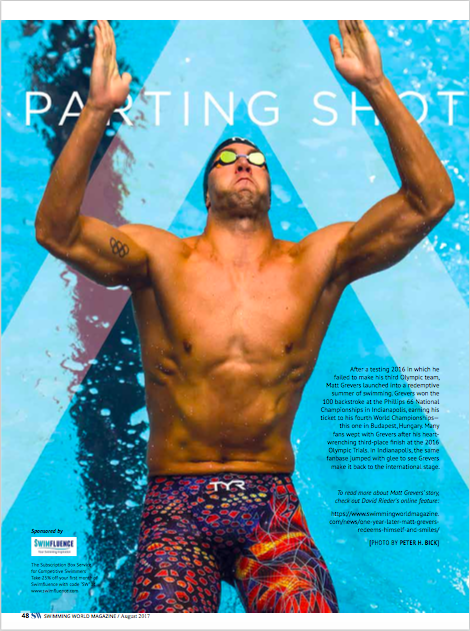 After a testing 2016 in which he failed to make his third Olympic team, Matt Grevers launched into a redemptive summer of swimming. Grevers won the 100 backstroke at the Phillips 66 National Championships in Indianapolis, earning his ticket to his fourth World Championships— this one in Budapest, Hungary. Many fans wept with Grevers after his heart- wrenching third-place nish at the 2016 Olympic Trials. In Indianapolis, the same fanbase jumped with glee to see Grevers make it back to the international stage.
To read more about Matt Grevers' story, check out David Rieder's online feature:
https://www.swimmingworldmagazine. com/news/one-year-later-matt-grevers- redeems-himself-and-smiles/
Photo by Peter H. Bick
Purchase this issue in the Swim Shop
September 2017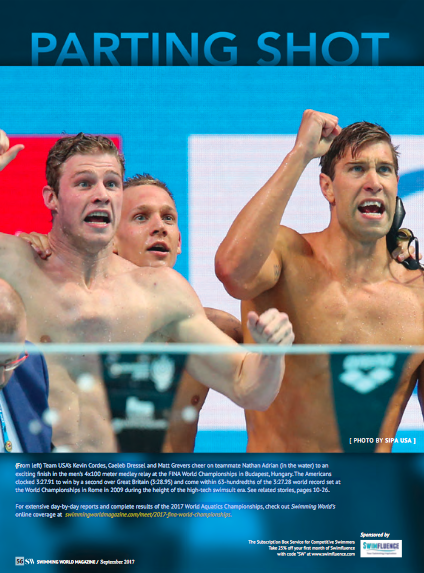 (from left) Team USA's Kevin Cordes, Caeleb Dressel and Matt Grevers cheer on teammate Nathan Adrian (in the water) to an exciting nish in the men's 4×100 meter medley relay at the FINA World Championships in Budapest, Hungary. The Americans clocked 3:27.91 to win by a second over Great Britain (3:28.95) and come within 63-hundredths of the 3:27.28 world record set at the World Championships in Rome in 2009 during the height of the high-tech swimsuit era. See related stories, pages 10-26.
For extensive day-by-day reports and complete results of the 2017 World Aquatics Championships, check out Swimming World's online coverage at swimmingworldmagazine.com/meet/2017- na-world-championships.
Photo by SIPA USA
Purchase this issue in the Swim Shop
October 2017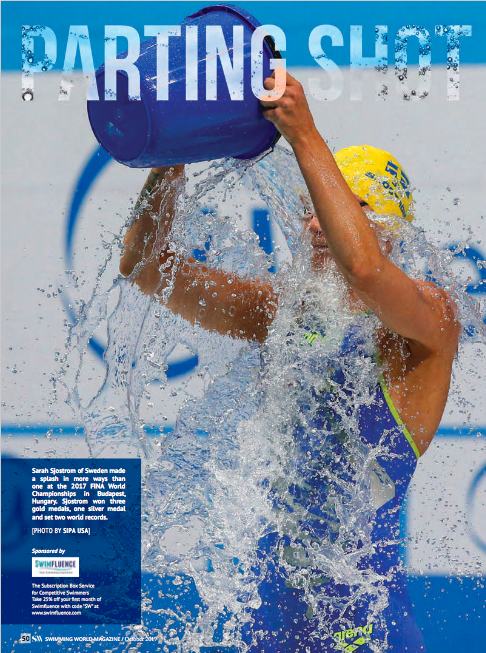 Sarah Sjostrom of Sweden made a splash in in more ways than one at the 2017 FINA World Championships in Budapest, Hungary. Sjostrom won three gold medals, one silver medal and set two world records.
Photo by SIPA USA
Purchase this issue in the Swim Shop
November 2017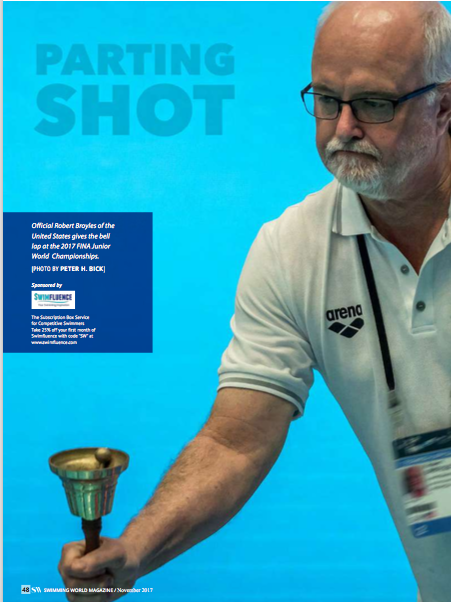 Official Robert Broyles of the United States gives the bell lap at the 2017 FINA Junior World Championships.
Photo by Peter H. Bick
Purchase this issue in the Swim Shop
December 2017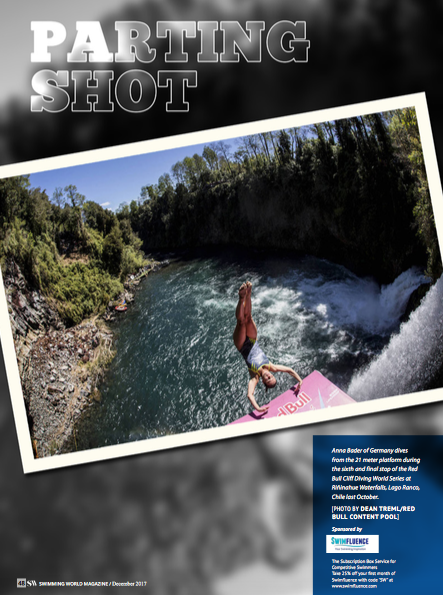 Anna Bader of Germany dives from the 21 meter platform during the sixth and final stop of the Red Bull Cliff Diving World Series at Rininahue Waterfalls, Lago Ranco, Chile last October.
Photo by Dean Treml/Red Bull Content Pool
Purchase this issue in the Swim Shop