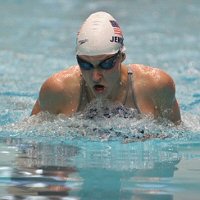 FEDERAL WAY, Washington, July 15. NEXT week, the Weyerhauser King County Aquatic Center in Federal Way, Wash., host of many top-tier national and international events, will play host to the best aquatic athletes in the Western Region.
The Western Region Sectional Championships, part of the Speedo Championship Series, will take place July 18-22 and will be headlined by stars such as Team Speedo athlete and Olympic gold medalist Megan Jendrick, her teammate and national champion, Ariana Kukors, World University Games bronze medalist Ryan Verlatti and 2004 Olympian Scott Usher
Teams from Alaska, Arizona, Colorado, Hawaii, Inland Empire, Montana, New Mexico, Oregon, Pacific Northwest, Snake River, Utah and Wyoming LSC's will be attending the meet and fast times are surely to be expected.
The Western Sectionals meet has hosted some of the greatest athletes in the world and still honors meet records held by Olympians such as Jendrick, Tommy Hannan, Ryk Neethling, Amanda Beard and Inge de Bruijn.