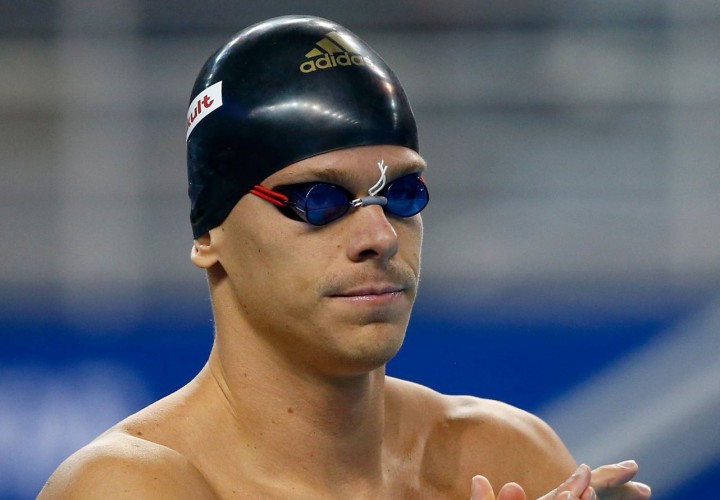 Photo Courtesy: FINA Doha 2014
Coverage of the 2015 FINA World Championships is sponsored by Wylas Timing. Visit our coverage page for more.
Brazil's Cesar Cielo was notably absent from the heats of the 50 freestyle at the FINA world championships, as the three-time champion elected to end his meet early due to shoulder pain that was affecting his performance.
According to Eliana Alves, the Brazilian team spokesperson here in Kazan, Cielo left Russia on Tuesday, the day after competing in the 50 butterfly finals where he was sixth. He competed in the three rounds of the event despite not being at 100 percent, losing out on the opportunity to win a third-straight world title.
"When he came here, he was feeling bad, and he didn't swim well (in the 50 fly)," Alves said.
Cielo is now undergoing treatment for the injury to his shoulder, Alves said, so he can be ready for the first Olympic qualifier for Brazil's Olympic team in December.
"He felt it was better to go home and get treatment, because if he kept swimming, it would get worse," Alves said.
Cielo loses out on the chance to win the 50 free four consecutive times and join Ryan Lochte and Grant Hackett as the only swimmers to win an individual event four times in a row at the world championships. He captured the title in 2009 with a 21.08, which was the world record at the time until Cielo lowered it to 20.91 four months later. His win in 2011 came after an emotional summer in which he tested positive for a banned substance but received no suspension.
He returned to win three straight sprint crowns in 2013.
Teammate Bruno Fratus will attempt to keep the title in Brazilian hands, qualifying fifth after today's prelims session. He'll be up against reigning Olympic champion Florent Manaudou, Nathan Adrian, Vlad Morozov and NCAA champion Kristian Gkolomeev.