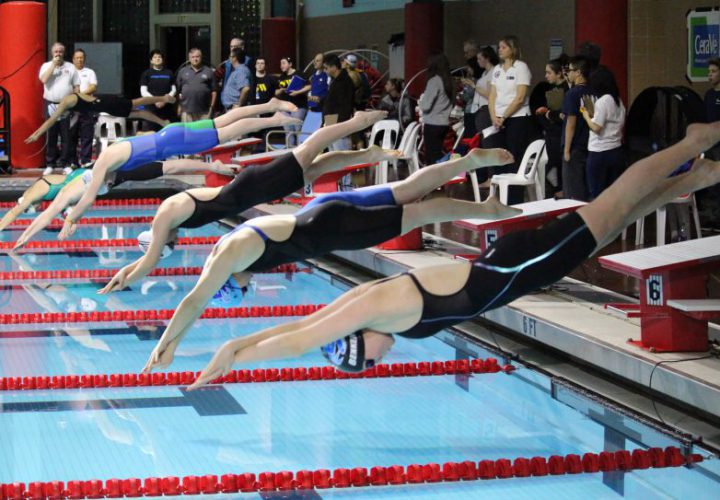 Photo Courtesy: Ella Walsh
By Katie Wingert, Swimming World College Intern.
While we watch many females compete at the club, high school, college, and professional levels in this peak period of championship meets, women have not always had those opportunities. It is important for us to remember and celebrate the many women who have made swimming what it is today.
In recognition of National Women's History Month, here are five women who changed the sport of swimming:
1. Women's Swimsuits: Annette Kellerman (1887 – 1975)
Annette Kellerman, an Australian woman during the early 20th century, made significant gains for women interested in swimming. In 1905, Kellerman became the first woman to attempt the English Channel. Although she failed in her attempts, she became a pioneer for women's long-distance swimming. Kellerman also entered multiple international swimming races that had previously only involved men.
Additionally, Kellerman was a leading voice in advocating for a one-piece swimsuit, without bloomers or skirts, for women. In fact, in Boston in 1907, she was arrested for "indecency" for wearing a one-piece swimsuit. In a fateful ruling, a judge granted validity to Kellerman's arguments that one-piece swimsuits allowed for swimming without restriction. However, the judge ruled that Kellerman should have worn a robe on land to cover up before and after her actual swim.
2. Women's Swimming in the U.S.: Charlotte Epstein (1884 – 1938)
Kellerman's American contemporary, Charlotte Epstein, worked tirelessly during the 1910s and 1920s to earn women the right to swim competitively. Epstein established The National Women's Lifesaving League in 1911 in the hope that fewer girls and women would die of drowning, and that more men and women might learn to swim. Further, Epstein fought for women's swimming to be recognized as a sport by the American Athletic Union, so that women might ultimately compete on both national and international platforms, including the Olympics.
In 1915, women's swimming made its debut for the first time at the Olympics, in Stockholm, Sweden. The addition was highly controversial; the American Athletic Union, which did not formally recognize any women's sports, refused to allow any women to compete in the Olympics. In the end, Epstein was able to negotiate for the establishment the recognition of women's swimming by the AAU as a sport and the approval of female swimmers in the Olympic Games (albeit with rigid parameters). This landmark decision marked the first time that female American athletes were permitted to compete in their sport at the Olympic level.
3. Women in the Channel: Gertrude Ederle (1905 – 2003)
Gertrude Ederle, who won three gold medals for the USA at the 1924 Paris Olympics, is best remembered for becoming the first woman to successfully cross the English Channel in 1926.
Not only did Ederle achieve a milestone for the sport of women's swimming, but her accomplishment made a significant contribution to the women's rights movement as a whole. Ederle's swim was a full two hours faster than any of the five men who had completed the channel swim before her, which created quite a statement about the capabilities of women in sport. Additionally, Ederle chose to complete the historic swim in a two-piece bathing suit. Her decision proved to be the first time a female swimmer had worn a two-piece suit in public.
4. Women Swimming for Fitness: Esther Williams (1921 – 2013)
Esther Williams is known today for the numerous films that she starred in, as a bathing beauty doing synchronized swimming, during the 1940s and 1950s. However, Williams' relationship with the water initially began during her younger years, when she excelled at competitive swimming.
In fact, Williams swam a blazing 100 freestyle that qualified for the Olympic Team. Because of World War II and the cancelling of the 1940 Olympic Games, Williams was forced to shift gears from a competitive career to a film career. Williams worked as an actress with MGM and became famous for her balletic movements in glamorous pool settings scattered throughout her films.
For the greater public, Williams became the icon of women's swimming, a fitness activity and competitive sport that had so recently been marginalized for its "indecency." Because of Williams, everyday women—not just athletes—wanted to swim.
5. Women Shattering Age Barriers: Dara Torres (1967 – )
Sixty years after Williams' heyday, Dara Torres continued to expand the role of women in swimming by competing in her historic fifth Olympics (the most that at any swimmer had ever competed in) in Beijing in 2008.
Torres, a 41-year-old wife and mother, made headlines by being the oldest female swimmer to ever compete in the Olympics. Just to add to her glory, Torres won the silver medal in the 50 freestyle. She was touched out in the event by a swimmer sixteen years younger than her—Germany's Britta Steffen—by a mere hundredth of a second. Torres' feat served to shatter stereotypes establish that female swimmers could be wives and mothers, well out of their twenties, and still in top physical condition.
For an extensive timeline that traces the developments of women's swimming from ancient times to the present, visit the International Swimming Hall of Fame website.
All commentaries are the opinion of the author and do not necessarily reflect the views of Swimming World Magazine nor its staff.