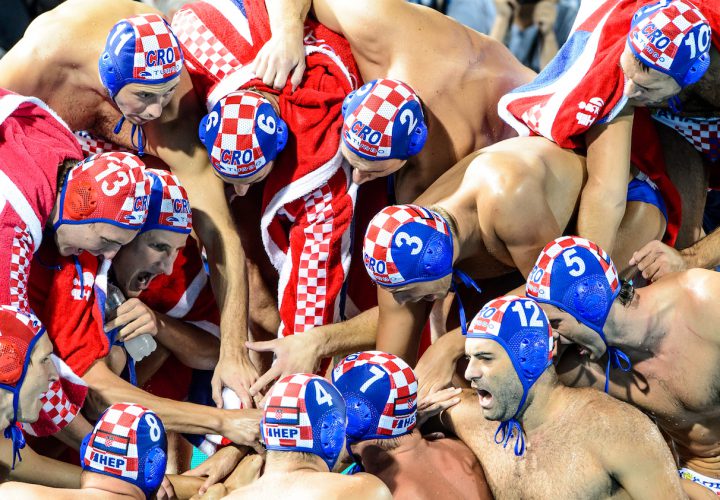 Photo Courtesy: Beeldboot.nlGertjan Kooij
Group A's Montenegro defeated Romania 13-2 (1-0, 2-0, 3-2, 7-0) on Tuesday January 16 in Budva (MNE), when the teams gathered to dispute the third round of the European preliminaries of the FINA Men's Water Polo World League 2018.
After wining one game and losing one, Montenegro has 3 points in the ranking and follows powerhouse Serbia (6 points). Romania has yet to claim a victory in the 2018 season.
Group B's Croatia, current World title holder, beat Germany 13-4, after a very strong first quarter (6-0, 3-0, 3-2, 1-2). Croatia maintains the lead of the group with 6 points, while Russia has 2 points and Germany 1 after the latter teams tied on December 12.
Hungary leads Group C after narrowly defeating the Spaniards 9-8 (2-2, 3-2, 3-3, 1-1) in Hodmezovasarhely (HUN).
Men's Water Polo World League 2018 Provisional Ranking
GROUP A: 1. SRB 6 pts; 2. MNE 3 pts; 3. ROU 2 pts
GROUP B: 1. CRO 6 pts; 2. RUS 2 pts; 3. GER 1 pt
GROUP C: 1. HUN 6 pts; 2. ESP 3 pts; 3. NED 0 pt
The fourth round of the World League will be played on February 13 in Oradea (ROU), Moscow (RUS) and Dordrecht (NED).
The women's European tournament resumes next week, on Tuesday January 20.
About Fédération Internationale de Natation (FINA)
The Fédération Internationale de Natation, founded in 1908, is the governing body for aquatics worldwide. FINA's five discipline Swimming, Open Water Swimming, Diving, Water Polo and Synchronised Swimming – are all included in the Olympic programme. High Diving made its first appearance in FINA events at the 2013 FINA World Championships. FINA counts 209 affiliated National Federations on the five continents and has its headquarters in Lausanne (SUI).
Press release courtesy of FINA.