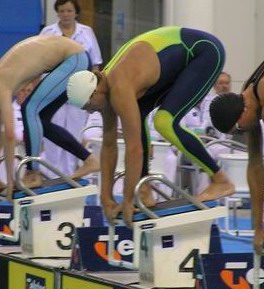 Photo & Story By Stephen J. Thomas
MELBOURNE, Australia, August 7. IT was a couple of familiar names from the successful Aussie World Champs team that battled the weariness of the long trip back across the Pacific to produce superb efforts on the first night of finals at the Australian Short Course Championships.
The team had touched down in Melbourne just two days ago but the 18-year-old butterfly sensation Jess Schipper sliced almost three seconds off her previous best in the 200 butterfly to stop the clock at 2:04.68 – the fourth-fastest swim in history – just .64 outside China's Yang Yu's world record and .52 outside the Commonwealth record held by the great Susie O'Neill.
You might think that 'captain courageous' Grant Hackett might be looking to rest his weary 6-6 frame after his unbelievable exploits of the past two weeks. No way. Hackett powered away to win the 200 freestyle in 1:42.81 – the eighth-fastest swim in history over the eight laps – not far outside his Aussie All-Comers record of 1:42.48 set at this pool in December '03.
Other outstanding swims this evening included:
World Champs bronze medalist Lara Carroll taking out the 400 I.M. in a PR 4:35.44.
Dual 50 breaststroke world record-holder Jade Edmistone went 30.16 to be fastest through to the final tomorrow night, just .31 outside her world mark.
Sophie Edington, a World Champs gold medalist from the medley relay, set a PR 59.16 to be fastest qualifier in the 100 backstroke.
Previously unheralded freestyle sprinter Matthew Targett splashed 48.62 (sp: 23.20) in the lead-off leg of the winning 4×100 freestyle relay for his home club Melbourne Vicentre. It propelled him to ninth fastest Aussie performer. In the morning prelims of the 50 free Targett proved it was no one-off effort splashing 22.10 – eighth fastest Aussie performer – to be second fastest qualifier behind Olympic gold medalist Ashley Callus (21.99).
Finals
Men
200m freestyle
1. Grant Hackett 1:42.02
2. Andrew Mewing 1:45.99
3. Nick Ffrost 1:46.69
Women
200 butterfly
1. Jessicah Schipper 2:04.68
2. Alica Coutts 2:08.39
3. Kylie Palmer 2:09.01
400 individual medley
1. Lara Carroll 4:35.44
2. Jennifer Reilly 4:40.85
3. Ashleigh McCleery 4:42.79