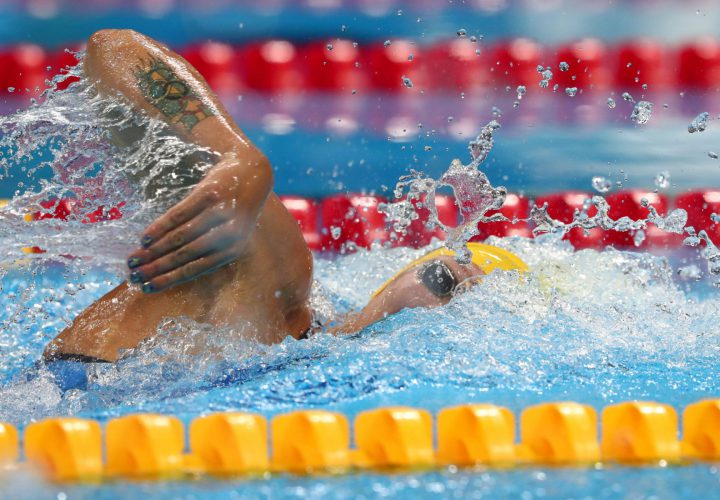 Photo Courtesy: Rob Schumacher-USA TODAY Sports

Editorial Coverage Sponsored By FINIS
Women's 200 Free Semi-Finals:
Both semi-final heats of the women's 200 free were highlighted by close finishes as swimmers battled for the top finish. Sarah Sjostrom went head-to-head with the USA's Katie Ledecky and World Record holder Federica Pellegrini in heat two of the semis. Sjostrom and Ledecky exchanged the lead throughout but a strong underwater off the final turn gave Sjostrom a slight edge over Ledecky.
Sjostrom stopped the clock at a 1:54.65 to pick up the first place seed going into tomorrow's final, while Ledecky settled for second and a 1:54.81.
Pellegrini led through the first turn before fading slightly to third and a time of 1:55.42.
China's Shen Duo charged ahead of a crowded heat one to finish with a 1:56.03, good for fourth in tomorrow night's final.
Michelle Coleman of Sweden, who held her own with the likes of Sjostrom and Ledecky, will return tomorrow night as the fifth place seed with a time of 1:56.05.
Australia's Emma McKeon (1:56.29) and France's Charlotte Bonnet (1:56.38) return as seventh and eighth respectively.
Click here to view full results from day three finals.