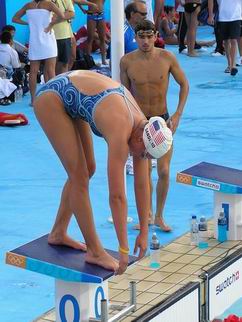 By Phillip Whitten
ATHENS, August 17. THE girl has the energy reserves of a roomful of four year-olds.
Throw a 400 free at her, no problem. A 400 IM?… You've got to be kidding. Ten 400 IMs? A piece of cake.
200 Fly in an Olympic semifinal? Bring it on.
America's Kaitlin Sandeno relishes the tough ones. A throwback from another era, she takes all you can pile on her… and smiles a lovely smile.
After swimming lifetime bests and collecting a silver and bronze medal in the 400 IM and 400 free, Sandeno flew through 200 meters of butterfly faster than any of the other 15 semifinal contenders tonight, to post the #1 time for tomorrow's final.
Sandeno swam evenly before touching in 2:08.77, ahead of Japan's Junko Nakanishi at 2:08.83 and Poland's WR-holder Otylia Jedrzejczak at 2:08.84. Australian Petria Thomas, who won the 100 meters earlier and has the world's fastest time in the 200 this year, is another four-tenths of a second back, setting up what should be a spectacular final.
Dana Kirk, who won the US Trials, finished ninth and failed to advance. Britain's Georgina Lee met the same fate after finishing 10th.

Women 200m Butterfly Semifinals
Record Splits Name NOC Location Date
WR 2:05.78 28.79 1:00.79 1:33.14 JEDRZEJCZAK Otylia POL Berlin (GER) 04 AUG 2002
OR 2:05.88 28.38 59.91 1:32.44 HYMAN Misty USA Sydney (AUS) 20 SEP 2000
Event No: 17
Rank Heat Lane Name NOC R.T. 50m 100m 150m Time Time
Behind
1 1 5 SANDENO Kaitlin USA 0.77 29.79 1:02.28
32.49 1:35.56
33.28 2:08.77
33.21
2 1 4 NAKANISHI Yuko JPN 0.69 29.10 1:01.40
32.30 1:34.83
33.43 2:08.83
34.00 0.06
3 2 4 JEDRZEJCZAK Otylia POL 0.85 29.18 1:01.75
32.57 1:35.10
33.35 2:08.84
33.74 0.07
4 2 3 THOMAS Petria AUS 0.75 29.12 1:02.02
32.90 1:35.33
33.31 2:09.24
33.91 0.47
5 2 6 GALVEZ Felicity AUS 0.84 29.17 1:02.01
32.84 1:35.41
33.40 2:09.54
34.13 0.77
6 2 5 RISZTOV Eva HUN 0.79 29.47 1:01.98
32.51 1:35.89
33.91 2:09.83
33.94 1.06
7 1 8 CAVALLINO Paola ITA 0.82 29.79 1:02.71
32.92 1:36.41
33.70 2:10.23
33.82 1.46
8 2 1 JACOBSEN Mette DEN 0.83 29.40 1:02.26
32.86 1:35.92
33.66 2:10.47
34.55 1.70
9 1 7 KIRK Dana USA 0.70 29.11 1:01.56
32.45 1:35.59
34.03 2:10.69
35.10 1.92
10 1 3 LEE Georgina GBR 0.81 29.74 1:03.21
33.47 1:37.35
34.14 2:10.93
33.58 2.16
11 2 8 MONGEL Aurore FRA 0.81 29.01 1:01.76
32.75 1:36.17
34.41 2:11.13
34.96 2.36
12 2 2 SEGAT Francesca ITA 0.86 29.55 1:02.62
33.07 1:36.44
33.82 2:11.18
34.74 2.41
13 1 6 OSADA Yukiko JPN 0.82 29.96 1:03.26
33.30 1:36.91
33.65 2:11.35
34.44 2.58
14 1 1 MEHLHORN Annika GER 0.80 28.95 1:02.22
33.27 1:36.44
34.22 2:11.37
34.93 2.60
15 1 2 PELAEZ Maria ESP 0.81 30.30 1:03.51
33.21 1:37.60
34.09 2:12.54
34.94 3.77
16 2 7 LI Jie CHN 0.93 29.68 1:03.11
33.43 1:37.58
34.47 2:13.41
35.83 4.64