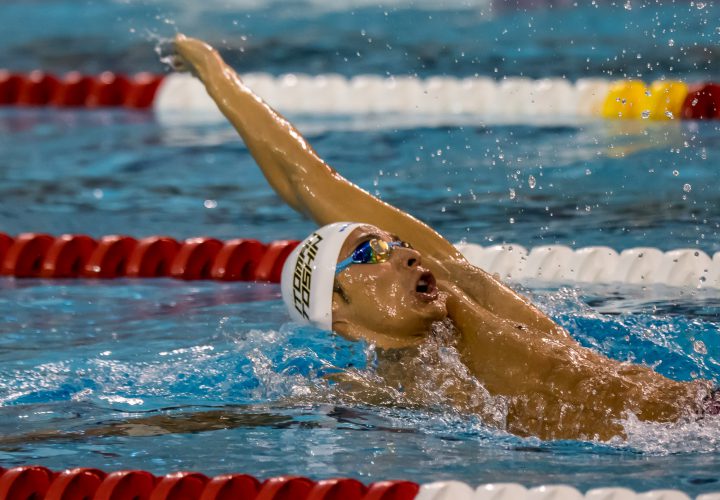 Ryosuke Irie.
Photo Courtesy: Peter H. Bick
Team Elite's Ryosuke Irie continued his strong meet, winning the 100 back in 53.08.
He held off Wolfpack Elite's Justin Ress, who finished in 53.30 in a race that was close the entire time.
Irie's time is the fourth fastest in the world this year, while Ress moved into the top 10 in the seventh spot.
Gregory Tarasevich of Cardinal Aquatics was third in 54.22, followed by Louisville's Nicholas Albiero in 55.61.
Event 24  Men 100 LC Meter Backstroke
=========================================================================
        World: W 51.85  8/13/2016 Ryan Murphy, USA
     American: A 51.85  8/13/2016 Ryan Murphy, USA
    U.S. Open: O 51.94  7/8/2009  Aaron Peirsol, Longhorn
     Jr World: J 53.35  8/9/2017  Kliment Kolesnikov, Russia
     Pro Swim: P 52.40  2016      David Plummer
    Name            Age Team              Prelims     Finals  FINA Points
=========================================================================
                            === A - Final ===                            
 
  1 Ryosuke Irie     28 Team Elite          55.00      53.08J  932  
    r:+0.51  25.87        53.08 (27.21)
  2 Justin Ress      20 Wolfpack Elite      54.53      53.30J  920  
             25.80        53.30 (27.50)
  3 Grigory Tarasev  22 Cardinal Aquatic    54.82      54.22   874  
    r:+0.63  26.44        54.22 (27.78)
  4 Nicolas Albiero  19 Univ Louisville     55.47      55.61   810  
    r:+0.62  27.28        55.61 (28.33)
  5 Alex Boratto     18 Penn Charter Aqu    56.09      55.82   801  
    r:+0.65  26.90        55.82 (28.92)
  6 Zachary Poti     19 Arizona State Un    56.29      56.28   781  
    r:+0.63  27.42        56.28 (28.86)
  7 Jacob Steele     19 Indiana  Swim Te    56.80      56.42   776  
    r:+0.67  27.50        56.42 (28.92)
  8 Brad Shannon     21 Ohio State Swim     56.82      56.90   756  
    r:+0.62  28.01        56.90 (28.89)