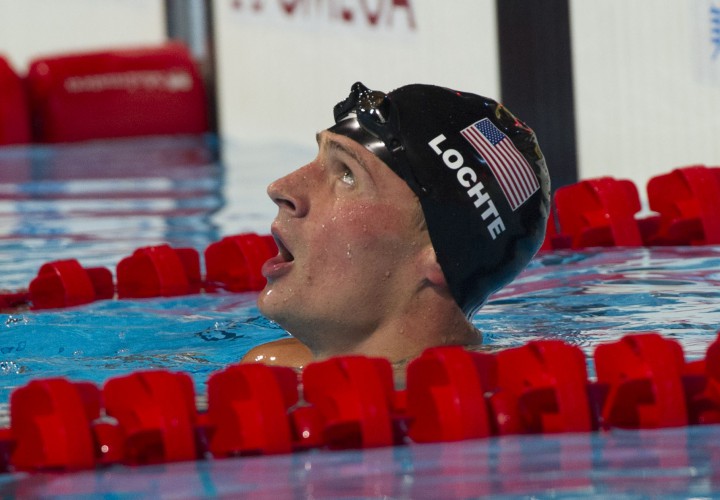 Photo Courtesy: Joao Marc Bosch
Coverage of the 2015 FINA World Championships is sponsored by Wylas Timing. Visit our coverage page for more.
USA's Ryan Lochte unleashed an easy speed top-seeded effort in the men's 200-meter IM during prelims at the 2015 FINA World Championships.
Lochte cranked out a top time of 1:57.90 this morning, just off his fourth-ranked 1:57.20 from the Arena Pro Swim Series.
Lochte, who is looking to take advantage of the absence of reigning Swimming World World Swimmer of the Year Kosuke Hagino, shut it down the final 20 meters and should have much more in the tank.
Great Britain's Dan Wallace earned the second seed in 1:58.28 to move into the top 10 in the world.
China's Wang Shun qualified third in 1:58.33 with USA's Conor Dwyer posted a fourth-seeded 1:58.63.
Greece's Andreas Vazaios (1:58.92) and Brazil's Henrique Rodrigues (1:58.95) also cleared 1:59 to qualify fifth and sixth.
Japan's Daiya Seto (1:59.11) and Brazil's Thiago Pereira (1:59.18) earned seventh and eighth.
Great Britain's Roberto Pavoni (1:59.29), Switzerland's Jeremy Desplanches (1:59.46), Portugal's Diogo Carvalho (1:59.61), Sweden's Simon Sjodin (1:59.64), Australia's Thomas Fraser-Holmes (1:59.96), Israel's Yakov Toumarkin (1:59.97), Poland's Marcin Cieslak (1:59.99) and Egypt's Mohamed Hussein (2:00.22) snared the rest of the semifinal spots.
SCHEDULED EVENTS
Women's 50 back
Men's 100 free
Women's 200 fly
Men's 200 IM
Mixed 400 medley relay