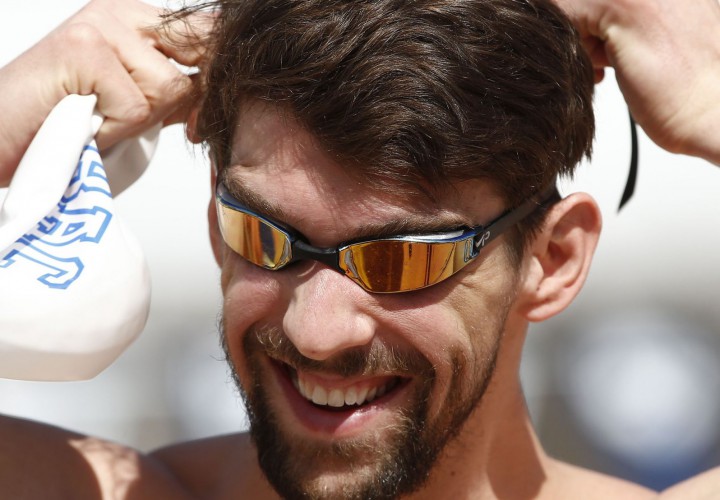 Photo Courtesy: Arizona Republic-USA TODAY Sports
Coverage of the 2015 FINA World Championships is sponsored by Wylas Timing. Visit our coverage page for more.
Some heavy-hitters within Russian swimming are rallying around the hashtag #MichaelSwim4Russia in hopes that Michael Phelps will show up at the 2015 World Championships this year.
Dmitry Volkov, one of the top ambassadors of Russian swimming and an Olympic bronze medalist in the 100 breast at the 1988 Olympics, took time out during Russian Nationals to speak with several administrators and swimmers about Phelps potentially gaining a special dispensation from FINA to swim at the World Championships.
Alexander Popov:
In the video above, Popov says that he'd love to see Phelps in Russia and that he would have great support here. He ends his conversation saying "Come to Russia, bro!"
Yuliya Efimova:
Efimova, in English, had a bit of fun saying that all Russian girls love Phelps and that they want him to come swim in Kazan.
Yaroslav Novitskiy:
Yaroslav Novitskiy addressed to Michael PhelpsGuinness record-holder, Swimming world champion and records-holder in Masters, Winner of more than 3000 awards Yaroslav Novitskiy addressed to Michael Phelps#MichaelSwim4Russia #MichaelPhelps #ArmyofRussianSwimmers

Posted by Swim Illustrated on Tuesday, April 28, 2015
Novitsky, in English, says that not only should Phelps come and swim at the World Championships that he should also swim during World Masters also in Kazan.
Sergey Fesikov:
Fesikov seemed to be the only dissenter in the interviews, saying there were plenty of other Michaels to produce in Russia, and that he'd see Phelps in Rio.
Special thanks to Maria Dobysheva for Russian translation.