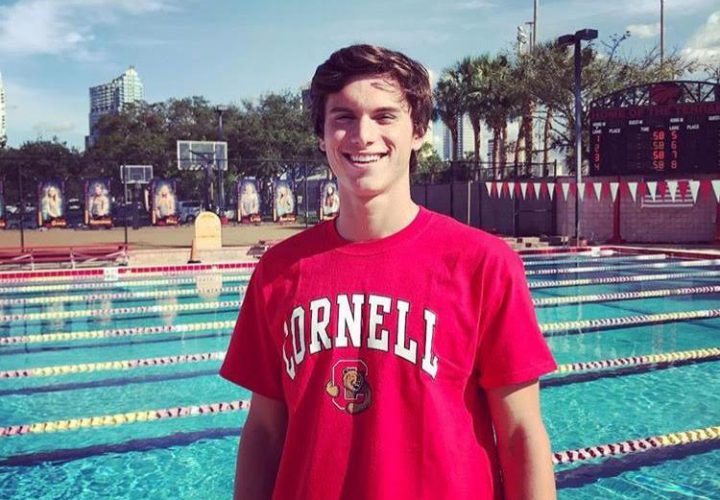 Photo Courtesy: Instagram, @Tbaynation
Agon is the proud sponsor of all high school coverage (recruiting, results, state championships, etc.) on SwimmingWorld.com. For more information about Agon, visit their website AgonSwim.com.
To report a college commitment, email HS@swimmingworld.com. Join Swimming World's Watch List
NEW COMMIT: Ricardo Martínez has given his verbal commitment to swim for Cornell University for the 2018-2019 season.
Tampa Bay Aquatics' senior Ricardo Martínez had a breakthrough summer season, posting U.S. Open qualifying times in the 200 back and 200 IM. He raced to a 2:05.41 and 2:06.51, respectively at the Southern Zone Sectionals. He achieved Winter Junior cuts in the 100 breast and 200 free as well. Martínez also competed at the 2017 Futures Championships, where he made the B final in the 100 backstroke.
Martínez will look to transfer his summer success to the yards pool this season, where his current best times are as follows:
100 back – 51.59
200 back – 1:49.47
100 fly – 51.70
200 IM – 1:50.65
At the 2017 Ivy League Championships, Martinez would have made the B final in the 200 back, the second-best finisher for Cornell. The Big Red placed Dylan Curtis (1:46.52) in the A final and Braeden Wong (1:51.55) in the C final in this event. Martinez also has the ability to score in the 100 back and 200 IM, as it took a 51.37 and 1:48.97 to make the B final in these events.
Cornell has also received a verbal commitment from Hunter Hitchens for the 2018-19 season.
*IVY LEAGUE DISCLAIMER:* A "verbal commitment" does not guarantee admission. An Ivy League coach cannot guarantee admission but can only commit support in the admissions process.