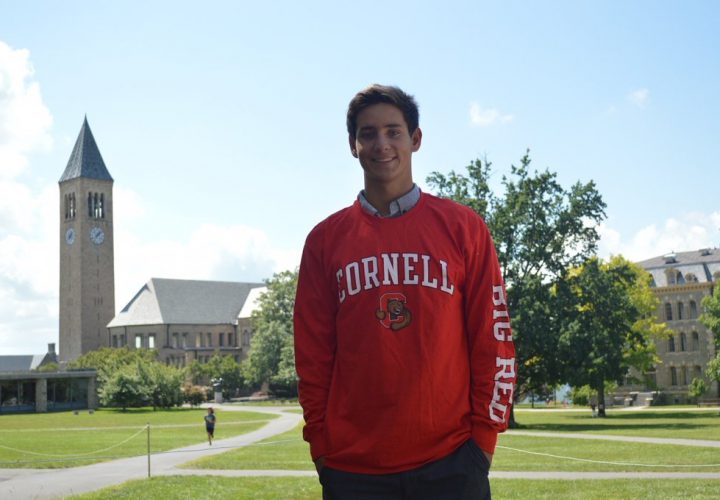 Photo Courtesy: Hunter Hitchens
Agon is the proud sponsor of all high school coverage (recruiting, results, state championships, etc.) on SwimmingWorld.com. For more information about Agon, visit their website AgonSwim.com.
To report a college commitment, email HS@swimmingworld.com. Join Swimming World's Watch List
NEW COMMIT: Hunter Hitchens has given his verbal commitment to swim for Cornell University for the 2018-2019 season.
Hitchens is a senior at Northwood High School in Irvine, California, where he is a team captain. Last year the team finished third at the CIF Southern Section Division 1 Championships. Hitchens also swims for Irvine Novaquatics. He is a team record holder with both his high school and club programs. He's a two time USA Swimming Scholastic All-American and a three time NISCA All-American. His best times are:
200 Back 1:54.69
200 Fly 1:52.15
200 IM 1:49.71
400 IM 4:05.21
500 Free 4:30.53
200 Free 1:39.69
Hitchens told Swimming World,
"I am proud to share my verbal commitment to Cornell University to be a student-athlete. I researched and visited some of my top schools and found that Cornell represented the whole package. The combination of world class academics, outstanding swimming environment, and an unbelievable beautiful campus made me feel as though I could reach my fullest potential at Cornell. I feel very honored to be part of the Cornell family. Thank you to those who have supported me in this journey. Go Big Red!!!"
Hitchens should be an immediate scorer for the Big Red. At last year's Ivy League Championships he would have been a B finalist in the 200 and 500 free. Hitchens also could have scored in the C final of the 50 and 100 free and 200 fly and 100 back.
*IVY LEAGUE DISCLAIMER:* A "verbal commitment" does not guarantee admission. An Ivy League coach cannot guarantee admission but can only commit support in the admissions process.