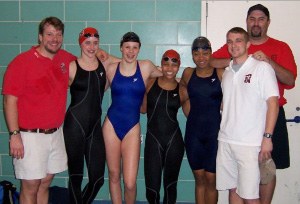 RALEIGH, N.C., February 24. THE Raleigh Swimming Association's (RSA's) relay team of Teresa Long, Blair Cross, Brittany Copland, and Julie Smith broke the 13-14 national age group (NAG) record in the 400 yard freestyle relay Saturday night at the North Carolina State 14 & Under Age Group Championships. The girls swam a time of 3:27.83, crushing the previous record of 3:31.19 held by the Dallas Mustang Swim Club by 3.36 seconds. The old state mark was 3:35.28.
The same team of girls also smashed the state records in the 200 free relay with a 1:36.28, destroying the old state mark of 1:38.73 by Mecklenburg Aquatic Club (MAC) in 1989; and the 200 medley with a 1:48.26.
A fourth state record fell to the girls from the RSA in the 400 medley, where Michelle Dettloff swam the backstroke leg and the team touched in 3:54.78.