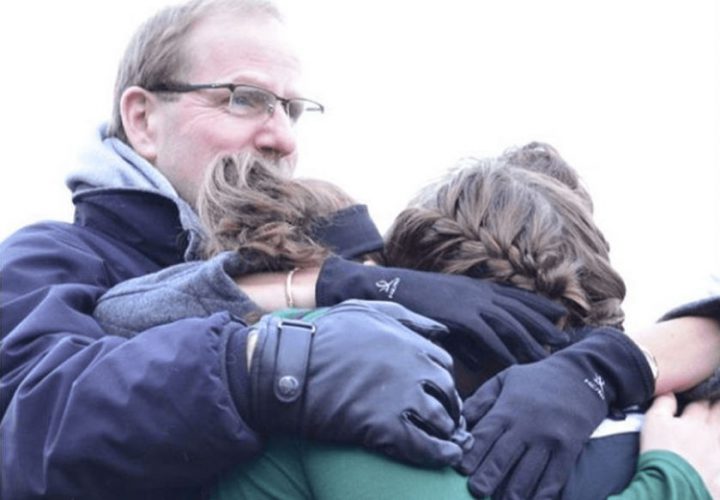 By Jamie Kolar, Swimming World College Intern.
Swimming is a sport of many layers and perspectives. Consider the perspective of the athlete, the parent, and the scientist all in one; Dr. Steven Petruzzello has experienced each of these aspects of the sport.
He swam through high school and college at the University of Wisconsin – Eau Claire, where he finished his undergraduate degree and retired from swimming. He then went on to earn his doctorate in exercise science. Following his academic achievements, he was a proud swim parent to a college swimmer.
Petruzzello has had extensive experience in all aspects of the sport and offers a unique perspective on the sport of swimming. He is currently a professor at the University of Illinois Urbana-Champaign, teaching courses in the Kinesiology Department. He has published many scholarly articles on exercise science, so Swimming World sat down to get some insight into his expert opinion.
Swimming World: What led you to pursue a doctorate in exercise science?
When I was in college, I always did more than I had to. I always felt like I wasn't doing things right. When I was swimming, one of my team mates would go out in the hall and lay down before his races and I was confused why he was out in the hall taking a nap. But after doing so he would come back in and kill everyone. It sparked an interest in sports psychology so I started to look around for sports psychology degree and I couldn't find any with that so I found exercise science and stuck with it.
SW: What makes swimming different, in your eyes and in the eyes of exercise science?
The dad answer would be "chlorine". Because everything looks different, haha.
But really, the dedication that is required for training and time that is spent in training. That makes this sport a completely different animal. You're not able to make a living from swimming, so the athletes are just there for the love of the sport. Swimmers are interesting animals to study.
SW: Are there athletes that go beyond any scientific explanation?
When you think about the best women and men and how they break a world record or some other barrier. Look at Michael Phelps in 2008. How do you explain that? They have been good for a long time. Katie Ledecky is the same way. You can measure muscle and lactate capacity, but it doesn't explain how someone could be that good.
SW: Do swimmers stand out to you in any special way when you are studying athletes?
In some ways, yes. Just because of the amount of time they put in, weeks, months, years for an opportunity that last 20-30 seconds. Track and field is similar, but the difference is they don't spend as much time practicing. There is something interesting about swimmers being able to persevere through that type of training.
SW: What advice would you give other parents with experience in the field?
There's no special formula, but you have to find the balance between when you give them your expert advice and when you need to be a supportive parent to eliminate creating extra stress around them. There's a lot of trial and error, but eventually you'll find the right combination that allows your child to perform at their best.
SW: You had a daughter who was a swimmer. Did you find yourself giving her advice that was based on your professional opinion or based on your opinion and support as a dad?
Yes. There were times that I gave her advice based on my own experience and on things that I know based on what I have studied. But with your own kids, sometimes they don't want to hear it. I gave a lot of emotional support without the science-based advice. They would come around eventually.
SW: As a parent who had experience in the water and in the science end of sports, do you think that your experiences had any impact on how you coached or supported your daughter?
Yes, I think so. There were times that it was hard to be an observer and act like a non-informed third party just because of the things I knew or had done. The hardest part was balancing between giving advice and just giving her a hug.
SW: As someone who has experienced all different aspects of the sport, what advice do you have for swimmers?
In a way, this answer is coming from being further removed since my daughter has been retired for a while. But the best advice I can give a swimmer is to have fun. Training is not always fun; a tough workout will not always be the highlight of your day, but the key is to have the overall experience be fun. It is too hard and too long to have it not be fun.
---
Dr. Petruzzello has outlined the importance of finding the balance between giving your expert opinion and giving your unconditional support as a parent. It is important to remember that the swimmers have coaches who give them their advice and instruction for the majority of practice. They will ask you for your opinion when they want it; otherwise, it is more than okay to just be a supportive parent.
All commentaries are the opinion of the author and do not necessarily reflect the views of Swimming World Magazine nor its staff.