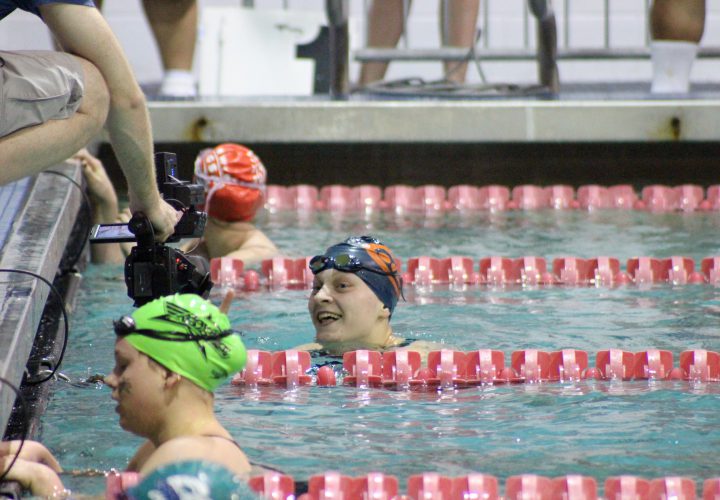 Photo Courtesy: Taylor Brien
Agon is the proud sponsor of all high school coverage (recruiting, results, state championships, etc.) on SwimmingWorld.com. For more information about Agon, visit their website AgonSwim.com.
by Benny Liang, Swimming World College Intern
The 2016 Wisconsin Girls High School State meets for Division 1 and 2 kick off this weekend, with the D2 girls starting things off Friday night at 6:30 p.m. The D1 girls will then take their turn Saturday afternoon starting at 3 p.m. The State meet will be held at the UW-Madison Natatorium.
Competition at this meet is traditionally run with all of the heats in an event as a combined timed final. The format for this meet means that there is no preliminary session and that anyone swimming in an event, regardless of heat, can win the overall title. Qualification and seedings are determined by times from 10 sectionals the weekend before. Division 1 represents the larger 60 percent of schools while Division 2 represents the smaller 40 percent, and the qualifiers for each event reflect this; three heats of eight qualify per event in D1 and two heats of eight qualify in D2.
Division 1
This years meet sees a changing of the guard as only two champions from the 2015 meet return to defend their individual titles. The team standings will also be exciting to follow as the meet goes on, with Arrowhead leading the WISCA polls and Middleton in hot pursuit. Arrowhead holds only two top seeds in comparison to Middleton's four, three of which are relays. Senior Abby Cabush takes charge for Arrowhead, while Middleton will be handing the reins to star freshman Gabriela Pierobon Mays. Both girls will be racing for the chance to take home two individual titles Saturday evening.
Swimmers to Watch
Lillie Hosack of Cedarburg comes into the meet with the fourth fastest qualifying time in the 200 IM, despite winning the event by nearly four seconds last year in a time of 2:00.51. Hosack dropped over five seconds from her seed time then, so if that's any indicator of what is to come, it's safe to say that Hosack is the favorite to claim the title again.
Lauren Stigler, 2015 champion of Muskego, holds the top seed in the 100 breaststroke by a narrow margin of 0.12 seconds over last years runner-up Grace Bennin of Verona Area/Mount Horeb. The title in 2015 was determined by a mere 0.16, so the race this year will surely be one to watch out for.
The graduation of state record-holders Katie Drabot and Beata Nelson puts several titles up for grabs.
The 200 freestyle which Drabot won last year looks to be a war zone as the top seven entries are within a second and a half of the top seed (1:51.53), held by 2015 runner-up Abby Cabush of Arrowhead. The 100 free field, also led by Cabush (51.61) is just as close; eight-tenths separate the final heat. Cedarburg senior Skylar Fore was the runner-up behind teammate Drabot and swam the only other sub-50 time in the race, so look to Fore who will be charging ahead in an attempt to take home her first individual state title.
Nelson was unstoppable last year; she went four-for-four in winning her events, breaking her own state records in the 100 fly and 100 back. This year two new faces will look to rise to the top in those races. Pierobon Mays and Katrina Marty hold the top two seeds in both races, with Pierobon Mays taking a slight lead in the 100 fly and Marty pulling a six-tenths advantage in the 100 back.
Division 2
Contrary to Division 1, only three individual events in Division 2 do not have a returning champion to claim them. They are the 200 IM, 100 fly and 100 breaststroke. Runner-up last year in both the 200 IM and 100 breast Kiah Francis of Rhinelander now holds the top seed in both events. Senior Lauren Bergmann of Edgewood took third in the 100 fly behind two seniors last year, and now holds the top seed this year by a narrow 0.07 seconds over sophomore Katie Hayes of Brown Deer.
Madison Edgewood holds a commanding lead over McFarland in the WISCA team rankings. The Edgewood Crusaders are counting on their top-end talent to pull through with wins; Kelly Rodriguez and Bergmann each hold a top seed in one of their events, and are followed up by top seeds in both of the freestyle relays for some big points. The McFarland Spartans only have sophomore Alex Moderski to bank on for individual titles, but she packs a punch. Moderski was the queen of sprint free in 2015, not only winning the 50 and 100 freestyles, but also breaking the state records in both swims.
Swimmers to Watch
Grafton seniors Autumn Haebig and Mallory Fox are forces to be reckoned with. The duo were bookends for Grafton's state record-setting relay and provided the fastest respective splits in the field. They also led the Blackhawks to victory in the 400 freestyle relay just six-tenths ahead of rival team McFarland. This year, Haebig holds the top seed in the 500 by over 10 seconds and is the current state record-holder in the 100 backstroke. Fox finished runner-up to sprint-star Moderski in both of the sprint freestyles last year. They go head-to-head again with both Fox and Moderski coming in with seed times significantly faster in both of their races than last year.
Kelly Rodriguez enters the meet with a seed time in the 200 freestyle over a second faster than her winning time last year and over five seconds faster than the next swimmer. This race will not be a blowout though, Marissa Wolff of McFarland finished six-tenths behind Rodriguez last year and will be on the hunt for titles her senior year.
This may finally be Francis's year. After focusing on club swimming, Francis only arrived on the high school swimming scene as a junior. At last year's meet she took double silver medals. She now holds the top seed in the 200 IM by almost two seconds, and the top seed in the 100 breast by over a second.
Division 1 psych sheets are available here. Division 2 psych sheets are available here.
2015 Results are available here: