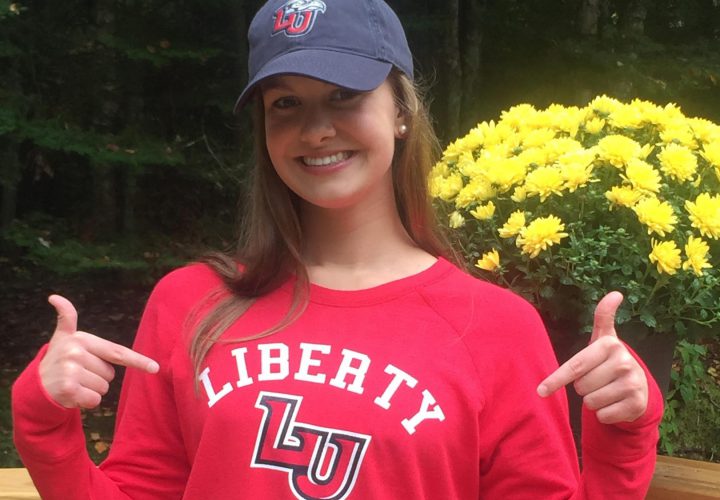 Photo Courtesy: Amy Francis
Agon is the proud sponsor of all high school coverage (recruiting, results, state championships, etc.) on SwimmingWorld.com. For more information about Agon, visit their website AgonSwim.com.
Kiah Francis has given her verbal commitment to Liberty University for the fall of 2017. Francis, who is from Rhinelander, WI is homeschooled but swam for Rhinelander High School team last season. She is a four time record holder for the team. At last year's Wisconsin Division 2 High School State Championship, she finished second in the 100 breaststroke and 200 IM.
On the club level, Francis swims for Abby Dunham at Wausau TIDE. She is a versatile swimmer, with strong IMs, a great 100 breaststroke and solid sprint freestyle and butterfly as well. She ended her summer with a C final appearance in the 100 breaststroke at Junior Nationals.
Francis shared,
"I am grateful and blessed to attend school at Liberty and swim with their hard-working, close-knit team. Coach Jake and Coach Jessica have built an incredibly successful and unique program with a bright future. I cannot wait for the experiences and opportunities this new journey will bring!! Go Flames!"
As a part of that bright future, Liberty will unveil a new facility during Francis' time at the school.
Her best times are (SCY/LCM):
50 free :24.07/:27.49
100 free :52.36/:59.17
100 fly :57.23/1:05.61
100 breast 1:03.83/1:13.25
200 breast 2:19.23/2:39.87
200 IM 2:06.00/2:22.12
400 IM 4:27.52/5:12.79
Liberty finished as runner-ups at the 2016 CCSA Championships. Francis would have been a 100 and 200 breaststroke and 400 IM A finalist last year.
To report a college commitment email HS@swimmingworld.com.