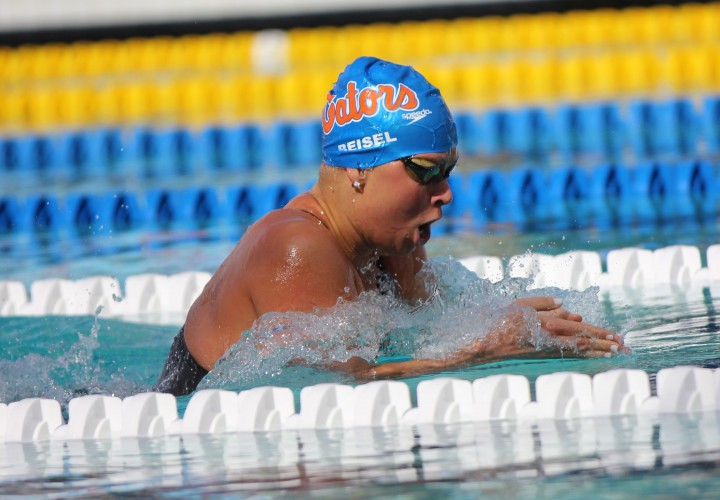 ORLANDO, Florida, July 8. THE first of nine Speedo Champions Series sectional meets gets underway this Thursday in Orlando, Fla., with several notable swimmers scheduled to compete.
Psych Sheet: Speedo Champions Series – Orlando
On the women's side, University of Florida alum and Olympic medalist Elizabeth Beisel will compete in a full lineup of seven events, including the 200 free, 400 free, 800 free, 200 back, 200 fly, 200 IM and 400 IM. She'll have great company in the 200 free from fellow Olympic medalist Katie Hoff, who recently came out of retirement and is now training in Miami. Hoff will swim the 100 and 200 free and 100 and 200 breast this weekend.
Olympic gold medalist Claire Donahue will also make the trip down to Florida from her training base in Kentucky to race her best event, the 100 fly. Jamaican Olympian Alia Atkinson will look to sweep the women's breaststroke events while representing South Florida Aquatics this weekend.
On the men's side, a couple of current and former University of Florida standouts headline the field. Arthur Frayler will be a factor in the freestyle events, along with Sebastien Rousseau, Dan Wallace and Andrea D'Arrigo. Marcin Cieslak could also come away with a couple of wins, as he's seeded towards the top in the 100 fly, 100 free, 400 IM and 200 fly.
Eduardo Solaeche-Gomez could win a couple of events as well as he enters with the top time in the 100 breast and 400 IM. The 400 IM should be a great race between Solaeche-Gomez and Gator Swim Club teammates Dan Wallace, Sebastien Rousseau, Marcin Cieslak and Connor Signorin. Arkady Vyatchanin, who has represented Russia in previous Olympics, will compete this weekend as well for New York Athletic Club.