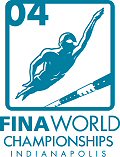 Indianapolis, IN., September 23. BEGINNING at 12 midnight, Wednesday, Sept. 22, construction crews started to install two 25-meter swimming pools, holding approximately 500,000 gallons of water, on the floor of Conseco Fieldhouse in preparation for the 7th FINA Short Course World Swimming Championships, which take place Oct. 7-11.
The construction process is taking place virtually around the clock. At this time, it appears that the pools will begin to be filled sometime on Sunday, Sept. 26. The pools are scheduled to be completed at 11 a.m., Sunday, Oct. 3 for testing.
View all time lapse photos of the fastest pool builds ever at www.worldswim2004.com.