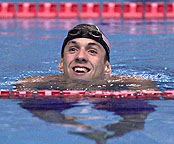 ATLANTA, January 19. THE 2003 Eastern Classic wrapped up here tonight at the Dynamo Swim Center, with a record-breaking 14 pool standards falling beneath the DeKalb Aquatic Center's waves.
North Baltimore's Michael Phelps, world 200m fly-400m IM record-holder, accounted for nine, including a 17-18 National Age Group mark of 1:42.34 in the 200 fly. Tonight, Phelps added the 200 back, 100 fly and 200 free pool- and meet records to his collection as well as the 100 back.
In the team race, NBAC easily defended its title from last season with a resounding 2181.5 – 1933 victory over Dynamo — its largest margin of victory ever. Third was Coach Paul Bergen's Tualatin Hills (OR) team (730.5) while fourth went to Birmingham Swim League (446).
Phelps' 100 back record (pr 48.09) came when he led off NBAC's winning 400 medley relay. His next major meet will be the Conoco/Phillips 66 U.S. Nationals at Indianapolis starting April 1, then the USA-Aussie
"Duel in the Pool" the day following the conclusion of the USS Championships.
The Speedo Sectional Championship meet for the Eastern Zone will be the second weekend of March at the Goodwill Games Pool on Long Island. Last year the meet was held in Fairfax, VA after the USS Nationals in Minneapolis the third week of March. Phelps competed there rather than at USS and set several 15-16 NAG records — including the 200 fly and 400 IM — that place him second and 10th on the all-time performances list.
It will be interesting to see if he goes to Long Island just two weeks before Nationals, and if he does, how competitve he will be. "How competitive?" The guy is ALWAYS competitve every time he gets into the pool — just ask Erik Vendt and Tom Malchow.
Phelps' times this evening were 1:36.42 for the 200 free, 47.18 for the 100 fly and the aforementioned pr 48.09 leading off the medley relay. His fly time is just off his pr 46.98 from last month's NBAC Holiday Invitational.
Phelps was not swiming against Olympic-caliber competition either. In the 200 free, for example, No. 2 was Dynamo's John Miller — 1000 free champ –and he clocked a 1:42.58, some six seconds in arrears. In the 400 IM, where Phelps went a 3:44, No. 2 was a 4:04+.
When he's up against Australia's Geoff Huegill in the 100 fly at Indy or Malchow in the 200 or, say, Nate Dusing in the 200 IM or Vendt in the 400 medley (second performer all-time), Phelps will have to work a bit harder than he did here this weekend.
Not that he didn't perform superbly as, indeed, he was at the top of his game for this point in the season (mid-winter). Career bests in the 100 free, 100 back and 200 IM attest to that. But this meet was just the opening act in what promises to be a long season for the Baltimore Baron, a season that includes the USS Championships, the meet with the Aussies and then a little "showdown at the ol' water hole" at Barcelona in July — the X FINA World Aquatic Championships.
There a certain Mr. Rupprath of Germany and a certain Mr. Frolander of Sweden, perhaps even a certain Mr. Klim of Australia (100 fly); a certain Mr. Esposito of France (200 fly); and a certain pair of Italian gentlemen, Messrs. Rossolini and Boggiatto — not to mention a certain Mr. Sievinen of Finland (200-400 IMs) — will be quite anxious to either make and/or renew acquaintances with Mr. Phelps
Jim Barone, 22, an NBAC teammate of Phelps, was the meet's other major winner on the men's side. He raced to three golds in the 100 back and both breaststroke races.
* * * * *
The women's competition saw Dynamo's Elizabeth Hill, 17, take top honors with wins in the 200 free (1:49.11 to Georgia's former SEC champ Stefanie Williams' 1:49.23), the 500 (pr 4:44.21 to LESD's up-and-coming 15-year-old Alyssa Kiel's pr 4:45.43); and that thrilling come-from-behind 200 fly last night in a fast 1:57.86.
Hill also took second to teammate and University of Georgia-bound Melissa Klein in the 400 IM (4:16.94-4:18.70). Klein was runner-up in the 200 IM-200 breast.
Hill's and Klein's next major meet will be the Georgia high school championships in a month. Hill will likely swim the 200-500 frees while Klein will go the 100 breast-200 IM. What could be intriguing is if Amanda Weir opts for the 200 free along with either the 100 or 50, rather than the more likely 50-100 frees or 50 and/or 100 free plus the 100 fly.
If Weir does go the 200 free, a very fast time could be the result, perhaps even quick enough to break the recently established national high-school record of 1:45.49 by Rhiannon Jeffrey at the Florida state championships in late November.
* * * * *
The swim of the meet tonight for the women was in the 100 fly where NBAC's 200 runner-up, Emily Goetsch, went a pr and meet-record 53.92. Hill was second in 54.96. Were she in college, Goetsch's time would rank her sixth nationally.
The 17-18 NAG record is 51.18 by Cal's Natalie Coughlin from NCAAs her freshman season in '01 at the Goodwill Games pool. When Coughlin did that swim, it ranked her No. 2 all-time to Jenny Thompson's then American-record 51.07 from the Kerr-McGee Elite meet in Oklahoma City three years earlier.
At NCAAs a year ago in Texas, Coughlin lowered her NCAA standard and also put paid to JT's AR with her 50.01 clocking.
Also tonight, the Athens Bulldogs' "Dream Team" 400 medley relay foursome of Courtney Shealy (54.93), Ashley Roby (1:01.18), Kristy Kowal (57.93) and Williams (50.40) broke the meet- and pool-record with their 3:44.43 clocking. .
For Dynamo, Elizabeth Durot made a pair of new National cuts, the 500 free and 200 fly. Katherine Bell, who despite not winning any golds turned in several creditable perfomances, made the 200 IM national cut too.
— Bill Bell