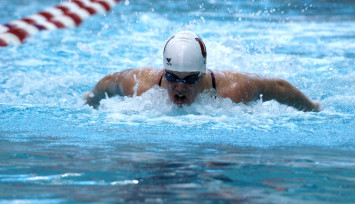 COLUMBUS, Ohio; January 28. THE Penn State women's swimming and diving team left Columbus with a pair of Big Ten victories after beating the host Buckeyes, 195-151, and beating Indiana 197.50-152.50. Senior Sara Haupt (Carlisle, Pa.) picked up four victories on the day with two individual wins and two relays wins. The Nittany Lions swam to victories in 11 events on the day.
The No. 15 Indiana women's swimming and diving team split its two-day double dual against No. 14 Penn State and Ohio State in Columbus, Ohio from Jan. 27-28. In the end, the Lady Lions claimed a 197.5-152.5 victory over the Hoosiers, while Indiana overpowered the hosting Buckeyes, 199-151. Junior Annica Lofstedt paced the Hoosiers with a pair of event titles in the final day of competition. Meanwhile, Indiana moved to 7-3 on the season and 5-2 in Big Ten action with the split.
Nicole Maglich brought the first victory on the day for the Buckeyes. Ohio States Gulsah Gunec won the 200 fly in their effort to hold off Penn State and Indiana. They were the only wins for the host team.
Licensed to McCorkle Aquatic Pavilion – Site License
Hy-Tek's Meet Manager 1/28/2006 12:16 PM
Ohio State vs Indiana vs Penn State – 1/27/2006 to 1/28/2006
Results
Event 1 Women 400 Yard Medley Relay
===============================================================================
Pool Record: @ 3:45.90 12/2/2005 Penn State University
S Haupt, A Hoisington, A Biedermann, L Preyss
3:38.32 A
3:44.86 B
School Finals Points
===============================================================================
1 Penn State University-MA 'A' 3:41.78@B
1) Haupt, Sarah SR 2) Hoisington, Abby FR r:0.14
3) Biedermann, Amberle SR r:0.10 4) Crispell, Molly SO r:0.04
60 25.80 53.51 29.33 1:03.24 25.03 54.19 23.98 50.84
2 Indiana University-IN 'A' 3:44.77@B
1) Vaziri, Leila JR 2) Stockwell, Sarah FR r:0.00
3) Kay, Allison FR r:0.16 4) Lofstedt, Annica JR r:0.10
56 26.77 55.04 29.79 1:03.58 25.55 55.63 23.92 50.52
3 Ohio State University-OH 'A' 3:52.09
1) Fennell, Steph JR 2) Rychvalsky, Rebekah JR r:0.09
3) Gunenc, Gulsah JR r:0.30 4) Chan, Elaine FR r:0.45
62 28.60 59.18 29.63 1:05.01 26.21 56.07 24.14 51.83
4 Indiana University-IN 'B' 3:55.50
1) Ernst, Susanna JR 2) Bradley, Kristen SR r:0.17
3) Fuchs, Christie SO r:0.47 4) Colgin, Doherty SR r:-0.07
65 29.12 59.35 30.90 1:05.29 27.11 58.32 25.15 52.54
5 Ohio State University-OH 'B' 3:57.82
1) Maglich, Nicole SR 2) Hackman, Whitney FR r:0.21
3) Kristianson, Linda SO r:0.27 4) Rennebohm, Annie SO r:0.00
63 28.88 58.66 31.73 1:07.74 26.83 58.44 24.90 52.98
6 Penn State University-MA 'B' 4:00.31
1) Baker, Sarah FR 2) Palera, Megan SO r:0.26
3) Cheng, Genie JR r:0.15 4) Ahrenhold, Rachel JR r:0.02
60 29.06 59.54 33.63 1:10.51 26.50 57.59 24.77 52.67
7 Indiana University-IN 'C' 4:03.49
1) Heyman, Caitlin FR 2) Mitchell, Abbey FR r:0.00
3) Schrader, Lauren SO r:0.15 4) Miller, Mary Elizabeth FR r:0.
65 28.94 59.38 31.68 1:09.03 27.99 59.99 26.04 55.09
8 Ohio State University-OH 'C' 4:12.68
1) O'Connor, Morgan SR 2) Kappeler, Joelene FR r:0.04
3) Bojko, Natalie SR r:0.16 4) Johnston, Abby FR r:0.13
66 31.54 1:05.93 32.38 1:10.68 27.02 1:00.77 25.52 55.30
Event 2 Women 200 Yard IM
===============================================================================
Pool Record: @ 2:01.69 12/4/2005 Jenny Shaughnessy, Minnesota
2:00.52 A
2:04.29 B
Name Year School Finals Points
===============================================================================
1 O'Brien, Kaitlin FR Penn State-MA 2:02.79 B
1 27.21 31.92 35.10 28.56
2 Bradley, Kristen SR Indiana-IN 2:03.21 B
0 27.73 31.67 35.74 28.07
3 Nelson, Kelly FR Penn State-MA 2:03.64 B
0 26.82 30.76 37.36 28.70
4 Haglund, Karie FR Penn State-MA 2:03.68 B
5 27.31 31.86 36.09 28.42
5 Kay, Allison FR Indiana-IN 2:05.25
3 27.37 32.49 36.20 29.19
6 Ernst, Susanna JR Indiana-IN 2:06.78
28.04 31.88 37.13 29.73
7 Cihoski, Kristin FR Indiana-IN 2:07.15
1 27.31 31.44 38.90 29.50
8 Palera, Megan SO Penn State-MA 2:07.17
2 28.81 32.04 37.61 28.71
9 Gunenc, Gulsah JR Ohio State-OH 2:07.68
2 27.12 32.15 38.60 29.81
10 Cooper, Abby FR Indiana-IN 2:08.04
0 29.36 33.53 35.77 29.38
11 Johnson, Samantha SO Ohio State-OH 2:11.56
8 28.89 33.71 38.04 30.92
12 Osterer, Liz JR Ohio State-OH 2:11.88
0 28.66 33.60 38.23 31.39
13 Miller, Mary Eliza FR Indiana-IN 2:12.33
5 29.37 34.99 37.74 30.23
14 Brayman, Courtney FR Ohio State-OH 2:18.74
9 28.39 35.04 42.74 32.57
Event 3 Women 500 Yard Freestyle
===============================================================================
Pool Record: @ 4:43.52 12/2/2005 Christine Jennings, Minnesota
4:45.46 A
4:54.02 B
Name Year School Finals Points
===============================================================================
1 Maglich, Nicole SR Ohio State-OH 4:51.08 B
9 27.05 28.78 29.26 29.66 29.52 29.59 29.69 29.46
29.36 28.71
2 Collins, Nikki JR Penn State-MA 4:51.96 B
0 27.11 29.23 29.44 29.40 29.44 29.65 29.68 29.65
29.44 28.92
3 Morris, Erin JR Penn State-MA 4:53.17 B
0 27.23 29.58 29.81 30.18 30.17 30.01 29.78 29.92
29.00 27.49
4 Keily, Jaime FR Penn State-MA 4:53.71 B
27.78 29.34 29.73 29.92 29.81 30.03 29.64 29.70
29.31 28.45
5 Crispell, Molly SO Penn State-MA 4:54.91
1 27.18 29.94 30.23 29.44 29.57 29.66 29.74 30.03
29.89 29.23
6 Torpey, Lauren SR Indiana-IN 4:57.19
9 27.94 29.57 30.11 30.36 30.33 30.09 30.34 30.05
30.06 28.34
7 Murphy, Patty SR Penn State-MA 4:57.21
7 28.50 29.91 30.07 30.18 30.15 30.07 30.04 30.00
29.89 28.40
8 Buelens, Griet SO Ohio State-OH 4:59.35
2 27.55 29.50 30.13 30.48 30.41 30.59 30.47 30.40
30.25 29.57
9 Colgin, Doherty SR Indiana-IN 5:00.60
28.00 29.87 30.02 30.28 30.03 30.41 30.49 30.81
30.55 30.14
10 Keefe, Margy JR Penn State-MA 5:01.20
28.36 29.94 30.06 30.25 30.13 30.40 30.38 30.62
30.88 30.18
11 Fuchs, Christie SO Indiana-IN 5:07.71
28.56 30.88 30.97 31.00 31.04 31.01 30.84 31.33
31.37 30.71
12 Wentworth, Clariss JR Indiana-IN 5:08.98
7 27.15 29.80 30.41 30.91 31.61 31.74 31.88 31.96
32.16 31.36
13 Greene, Erin SR Ohio State-OH 5:13.21
9 28.22 30.69 31.06 31.37 31.88 31.89 32.12 32.33
32.45 31.20
14 Lonergan, Megan FR Indiana-IN 5:13.51
7 29.05 31.35 31.47 31.52 32.29 31.87 31.73 31.78
31.64 30.81
15 Keefer, Meghan JR Indiana-IN 5:15.97
2 29.03 31.41 31.79 31.86 32.05 31.90 32.30 32.54
31.68 31.41
16 von Rahl, Anastasi FR Ohio State-OH 5:16.60
3 28.56 30.64 31.26 31.95 31.99 32.48 32.13 32.82
32.62 32.15
17 Callahan, Kendal FR Ohio State-OH 5:27.25
2 29.49 31.67 32.96 32.87 33.50 33.24 33.36 33.41
33.39 33.36
18 Lipskis, Dana SO Ohio State-OH 5:28.25
29.52 32.24 33.00 33.15 33.41 33.45 33.42 33.35
33.66 33.05
— Hall, Courtney FR Indiana-IN X5:19.10
8 29.54 32.15 32.55 32.49 32.35 32.54 32.41 32.19
32.12 30.76
— Parent, Michelle JR Indiana-IN X5:22.51
28.63 31.35 32.51 32.51 32.82 32.92 33.13 33.04
33.04 32.56
Event 4 Women 100 Yard Breaststroke
===============================================================================
Pool Record: @ 1:04.55 11/11/2005 Shannon Grace, Purdue-
1:01.70 A
1:03.86 B
Name Year School Finals Points
===============================================================================
1 Hoisington, Abby FR Penn State-MA 1:03.86@B
8 14.03 16.27 16.69 16.87
2 Stockwell, Sarah FR Indiana-IN 1:04.43@
8 14.27 16.17 16.91 17.08
3 Cooper, Abby FR Indiana-IN 1:05.09
8 14.26 16.69 16.80 17.34
4 Rychvalsky, Rebeka JR Ohio State-OH 1:05.45
4 14.17 16.87 17.79 16.62
5 O'Brien, Kaitlin FR Penn State-MA 1:05.48
3 14.54 16.81 16.91 17.22
6 Church, Erin SO Ohio State-OH 1:05.98
9 14.22 16.65 17.59 17.52
7 Bradley, Kristen SR Indiana-IN 1:06.54
9 14.76 17.37 17.25 17.16
8 Winck, Kristy FR Indiana-IN 1:07.50
1 14.86 17.39 17.54 17.71
9 Hackman, Whitney FR Ohio State-OH 1:09.17
3 15.41 17.45 18.07 18.24
10 Mitchell, Abbey FR Indiana-IN 1:09.44
8 14.85 17.89 18.06 18.64
11 Kappeler, Joelene FR Ohio State-OH 1:10.95
1 15.30 18.00 18.60 19.05
12 Miller, Mary Eliza FR Indiana-IN 1:18.50
21.55 18.76 19.27 18.92
Event 5 Women 200 Yard Backstroke
===============================================================================
Pool Record: @ 1:59.58 12/4/2005 Katie Wind, Minnesota
1:58.24 A
2:01.78 B
Name Year School Finals Points
===============================================================================
1 Haupt, Sarah SR Penn State-MA 1:59.18@B
7 28.15 29.73 30.67 30.63
2 Vaziri, Leila JR Indiana-IN 2:01.01 B
6 28.51 30.56 31.04 30.90
3 Morris, Erin JR Penn State-MA 2:02.43
2 28.91 30.77 31.51 31.24
4 Barnes, Jessica JR Penn State-MA 2:03.13
4 29.54 30.61 31.24 31.74
5 Ferguson, Kaitlyn FR Penn State-MA 2:04.81
7 28.30 31.46 33.23 31.82
6 Ernst, Susanna JR Indiana-IN 2:06.23
5 29.95 32.27 32.15 31.86
7 Fennell, Steph JR Ohio State-OH 2:07.64
5 29.86 32.29 32.83 32.66
8 Osterer, Liz JR Ohio State-OH 2:11.57
5 31.82 32.81 33.28 33.66
9 Heyman, Caitlin FR Indiana-IN 2:12.62
8 30.86 32.51 34.14 35.11
10 Parent, Michelle JR Indiana-IN 2:14.48
3 30.96 33.47 35.34 34.71
11 Lipskis, Dana SO Ohio State-OH 2:18.90
1 33.02 34.68 35.72 35.48
Event 6 Women 100 Yard Freestyle
===============================================================================
Pool Record: @ 50.75 12/2/2005 Barbie Viney, Illinois
49.49 A
50.97 B
Name Year School Finals Points
===============================================================================
1 Lofstedt, Annica JR Indiana-IN 50.87 B
7 11.92 12.97 13.04 12.94
2 Chan, Elaine FR Ohio State-OH 52.10
9 11.94 13.15 13.66 13.35
3 Crispell, Molly SO Penn State-MA 52.20
6 12.02 13.15 13.56 13.47
4 Heck, Jill FR Penn State-MA 52.53
12.21 13.09 13.54 13.69
5 Colgin, Doherty SR Indiana-IN 52.65
12.32 13.34 13.64 13.35
6 Cheng, Genie JR Penn State-MA 52.73
8 12.08 13.30 13.75 13.60
7 Baker, Sarah FR Penn State-MA 52.91
9 12.40 13.58 13.70 13.23
8 Cihoski, Kristin FR Indiana-IN 52.94
12.16 13.26 13.94 13.58
9 Wentworth, Clariss JR Indiana-IN 53.01
3 12.18 13.36 14.03 13.44
10 Ahrenhold, Rachel JR Penn State-MA 53.58
12.37 13.26 14.02 13.93
11 Rennebohm, Annie SO Ohio State-OH 53.62
2 12.41 13.42 13.94 13.85
12 Kristianson, Linda SO Ohio State-OH 54.24
4 12.31 13.85 14.05 14.03
13 Sarnecki, Christin FR Ohio State-OH 54.48
4 12.38 13.79 14.28 14.03
14 von Rahl, Anastasi FR Ohio State-OH 55.68
7 12.67 13.75 14.49 14.77
15 Jones, Sarah FR Indiana-IN 56.27
7 12.41 13.89 14.74 15.23
16 O'Connor, Morgan SR Ohio State-OH 56.62
13.02 14.14 14.90 14.56
17 Hall, Courtney FR Indiana-IN 56.80
13.32 14.34 14.80 14.34
Event 7 Women 200 Yard Butterfly
===============================================================================
Pool Record: @ 2:00.13 12/4/2005 Amberle M Biedermann, Penn State
1:58.11 A
2:01.65 B
Name Year School Finals Points
===============================================================================
1 Gunenc, Gulsah JR Ohio State-OH 2:00.64 B
2 27.33 30.13 31.54 31.64
2 Biedermann, Amberl SR Penn State-MA 2:00.92 B
7 27.58 30.95 31.20 31.19
3 Kay, Allison FR Indiana-IN 2:00.93 B
5 27.58 31.00 31.32 31.03
3 Haglund, Karie FR Penn State-MA 2:00.93 B
4 27.94 31.68 30.75 30.56
5 Nelson, Kelly FR Penn State-MA 2:02.87
0 27.88 31.14 31.28 32.57
6 Buelens, Griet SO Ohio State-OH 2:03.07
1 27.78 31.15 32.88 31.26
7 Fuchs, Christie SO Indiana-IN 2:05.83
1 28.77 32.40 31.62 33.04
8 Smith, Kristin SO Penn State-MA 2:09.06
6 13.46 15.96 32.24 33.26 34.14
9 Palera, Megan SO Penn State-MA 2:09.19
5 13.27 15.98 32.86 33.78 33.30
10 Mitsch, Katie FR Indiana-IN 2:11.60
0 13.19 15.56 32.74 34.57 35.54
11 Schrader, Lauren SO Indiana-IN 2:14.33
14.02 16.16 33.82 35.34 34.99
12 Lonergan, Megan FR Indiana-IN 2:14.59
8 14.33 16.58 34.16 35.21 34.31
13 Brayman, Courtney FR Ohio State-OH 2:14.61
8 30.41 33.41 35.10 35.69
14 Torpey, Lauren SR Indiana-IN 2:17.06
4 30.28 34.63 36.42 35.73
15 Bojko, Natalie SR Ohio State-OH 2:22.58
9 14.01 16.97 35.44 37.68 38.48
Event 8 Women 200 Yard Freestyle Relay
===============================================================================
Pool Record: @ 1:32.73 12/3/2005 Minnesota
E.Holtmeyer, J. Hasling, S. Busack, S. Perrot
1:31.01 A
1:33.74 B
School Finals Points
===============================================================================
1 Indiana University-IN 'A' 1:34.19
1) Vaziri, Leila JR 2) Lofstedt, Annica JR r:0.00
3) Wentworth, Clarissa JR r:0.00 4) Cihoski, Kristin FR r:0.32
72 23.48 23.42 23.71 23.58
2 Penn State University-MA 'B' 1:34.79
1) Haupt, Sarah SR 2) Biedermann, Amberle SR r:0.25
3) Cheng, Genie JR r:0.13 4) Morris, Erin JR r:0.16
75 23.99 23.64 23.42 23.74
3 Ohio State University-OH 'A' 1:35.43
1) Chan, Elaine FR 2) Maglich, Nicole SR r:0.24
3) Kristianson, Linda SO r:0.31 4) Buelens, Griet SO r:0.20
77 23.38 23.77 24.36 23.92
4 Penn State University-MA 'A' 1:37.97
1) Ahrenhold, Rachel JR 2) Baker, Sarah FR r:0.00
3) Heck, Jill FR r:0.00 4) Nelson, Kelly FR r:0.46
75 24.92 24.74 24.21 24.10
5 Indiana University-IN 'B' 1:39.78
1) Cooper, Abby FR 2) Keefer, Meghan JR r:0.08
3) Stockwell, Sarah FR r:0.26 4) Torpey, Lauren SR r:0.24
79 24.59 25.56 24.76 24.87
6 Ohio State University-OH 'B' 1:39.87
1) Rennebohm, Annie SO 2) Sarnecki, Christina FR r:0.00
3) Fennell, Steph JR r:0.00 4) von Rahl, Anastasia FR r:0.17
71 25.14 28.18 46.55
7 Indiana University-IN 'C' 1:40.29
1) Jones, Sarah FR 2) Mitsch, Katie FR r:0.00
3) Mitchell, Abbey FR r:0.00 4) Heyman, Caitlin FR r:0.14
76 25.27 25.27 25.20 24.55
8 Ohio State University-OH 'C' 1:40.53
1) Church, Erin SO 2) Greene, Erin SR r:0.17
3) Brayman, Courtney FR r:0.15 4) Johnston, Abby FR r:0.23
67 25.35 25.23 25.06 24.89
Event 9 Women 200 Yard Medley Relay
===============================================================================
Pool Record: @ 1:43.14 11/11/2005 University of Michigan
C Sierra, V Silva, K Brady, L Smith
1:39.75 A
1:42.89 B
School Finals Points
===============================================================================
1 Penn State University-MA 'A' 1:42.92@
1) Haupt, Sarah SR 2) Hoisington, Abby FR r:0.08
3) Biedermann, Amberle SR r:0.20 4) Crispell, Molly SO r:0.12
59 25.41 29.37 24.89 23.25
2 Indiana University-IN 'A' 1:43.86
1) Vaziri, Leila JR 2) Stockwell, Sarah FR r:0.00
3) Kay, Allison FR r:0.00 4) Lofstedt, Annica JR r:0.31
53 25.57 29.68 25.77 22.84
3 Penn State University-MA 'B' 1:46.38
1) Ferguson, Kaitlyn FR 2) O'Brien, Kaitlin FR r:0.14
3) Cheng, Genie JR r:0.16 4) Heck, Jill FR r:0.01
55 26.81 30.07 25.50 24.00
4 Ohio State University-OH 'A' 1:46.56
1) Chan, Elaine FR 2) Rychvalsky, Rebekah JR r:0.17
3) Gunenc, Gulsah JR r:0.52 4) Buelens, Griet SO r:0.14
63 27.25 29.86 26.01 23.44
5 Indiana University-IN 'B' 1:47.78
1) Cihoski, Kristin FR 2) Cooper, Abby FR r:0.30
3) Ernst, Susanna JR r:0.28 4) Bradley, Kristen SR r:0.07
58 27.05 30.02 26.18 24.53
6 Ohio State University-OH 'B' 1:50.07
1) Fennell, Steph JR 2) Church, Erin SO r:0.15
3) Brayman, Courtney FR r:0.28 4) Kristianson, Linda SO r:0.19
61 28.70 30.70 26.51 24.16
7 Indiana University-IN 'C' 1:50.95
1) Heyman, Caitlin FR 2) Winck, Kristy FR r:0.24
3) Schrader, Lauren SO r:0.18 4) Jones, Sarah FR r:0.25
67 28.39 30.72 27.16 24.68
8 Ohio State University-OH 'C' 1:54.49
1) Sarnecki, Christina FR 2) Hackman, Whitney FR r:0.29
3) Bojko, Natalie SR r:0.26 4) von Rahl, Anastasia FR r:0.13
67 30.54 31.57 26.80 25.58
Event 10 Women 1650 Yard Freestyle
===============================================================================
Pool Record: @ 16:29.94 12/4/2005 Yuen Kobayashi, Minnesota
16:23.54 A
16:53.04 B
Name Year School Finals Points
===============================================================================
1 Collins, Nikki JR Penn State-MA 16:42.28 B
7 28.23 30.53 30.44 30.84 30.68 30.93 30.52 30.88
30.75 30.49 30.34 30.31 30.35 30.40 30.42 30.32
30.08 30.34 30.45 30.56 30.71 30.34 30.51 30.66
30.36 30.56 30.47 30.71 30.25 30.21 30.25 30.30
29.09
2 Morris, Erin JR Penn State-MA 16:53.25
1 28.73 30.77 30.77 30.69 31.15 30.82 31.01 30.91
31.07 31.17 30.63 30.63 31.01 30.64 30.59 30.83
30.66 30.74 30.65 30.90 30.79 30.95 30.74 30.57
30.93 30.78 30.80 30.98 31.14 31.10 30.89 30.23
28.98
3 Murphy, Patty SR Penn State-MA 16:53.47
9 29.47 30.88 31.03 31.25 31.18 31.06 31.02 31.07
30.89 30.84 31.06 30.81 30.87 30.74 30.79 30.84
30.65 30.73 30.63 30.50 30.60 30.71 30.72 30.81
30.73 30.64 30.57 30.49 30.53 30.43 30.42 30.56
29.95
4 Maglich, Nicole SR Ohio State-OH 17:01.89
4 28.54 30.60 30.63 30.78 30.59 30.54 30.72 30.53
30.50 30.21 30.42 30.82 30.85 30.83 30.76 30.71
30.88 31.21 31.19 30.96 31.08 31.43 31.26 31.21
31.65 31.88 31.58 31.85 31.71 31.81 31.98 31.51
30.67
5 Palera, Megan SO Penn State-MA 17:07.24
3 28.92 31.32 31.45 31.38 31.28 31.44 31.24 31.25
31.45 31.47 31.05 31.30 31.16 31.15 31.38 31.54
31.09 30.76 31.04 31.23 31.20 31.28 31.15 31.31
31.48 31.29 31.20 31.28 31.04 31.01 30.77 30.94
30.39
6 Torpey, Lauren SR Indiana-IN 17:21.61
1 28.86 30.48 31.08 30.77 30.84 30.86 30.98 30.99
31.17 31.53 31.33 31.67 31.60 31.71 31.70 31.74
31.81 31.88 32.07 31.89 31.99 31.96 32.20 32.25
32.09 31.99 32.21 32.08 32.00 32.19 32.39 32.01
31.29
7 Colgin, Doherty SR Indiana-IN 17:31.48
6 29.17 31.36 31.28 31.28 31.53 31.32 31.40 31.67
31.60 31.75 31.78 31.94 31.95 32.05 32.25 32.20
32.05 32.16 32.14 32.47 32.21 32.24 32.52 32.09
32.30 32.31 32.15 32.03 32.24 32.32 32.30 32.05
31.37
8 Fuchs, Christie SO Indiana-IN 17:41.07
29.78 31.81 31.75 32.00 32.51 32.15 32.29 32.15
32.50 32.38 32.45 32.39 32.42 32.31 32.33 32.22
32.27 32.31 32.39 32.18 32.07 32.29 32.33 32.20
32.28 32.30 32.53 32.35 32.28 32.40 32.07 32.03
31.35
9 Lonergan, Megan FR Indiana-IN 17:41.51
2 29.88 31.70 32.13 32.23 32.13 32.12 32.02 32.44
32.58 32.48 32.43 32.24 32.34 32.28 32.34 32.52
32.41 32.39 32.34 32.44 32.35 32.32 32.36 32.47
32.27 32.32 32.42 32.15 32.28 32.00 32.04 31.84
31.25
10 Keefer, Meghan JR Indiana-IN 17:44.08
9 29.80 32.26 32.65 32.19 32.45 32.59 32.57 32.74
32.73 32.59 32.19 32.20 32.38 32.12 32.22 32.53
32.31 32.49 32.10 32.20 32.51 31.98 32.15 32.15
32.38 32.29 32.22 32.31 32.45 32.27 32.35 32.35
31.36
11 Parent, Michelle JR Indiana-IN 18:16.69
29.40 31.98 32.55 32.86 32.53 32.83 33.23 33.24
33.72 33.52 33.88 33.99 33.54 33.06 33.24 33.29
33.44 33.46 33.94 33.75 34.34 33.99 34.30 34.09
34.51 34.01 33.85 33.69 33.22 33.46 32.96 32.33
30.49
12 Lipskis, Dana SO Ohio State-OH 18:54.47
30.59 33.20 34.17 34.46 34.44 34.80 34.67 34.02
34.37 34.40 34.32 34.60 34.35 34.61 34.71 34.65
34.84 34.24 34.45 34.20 34.42 34.64 34.43 34.58
35.07 34.85 34.96 34.79 34.74 34.70 34.70 34.61
33.89
— Hall, Courtney FR Indiana-IN X18:16.05
29.86 32.96 33.80 33.30 33.09 33.12 33.70 33.92
33.53 33.57 33.25 33.28 33.26 33.53 33.77 33.76
33.55 33.94 34.04 33.79 33.80 33.98 33.61 33.75
33.24 33.28 33.16 32.76 33.05 33.33 32.74 32.06
30.27
Event 11 Women 50 Yard Freestyle
===============================================================================
Pool Record: @ 23.40 12/2/2005 Barbie Vinney, Illinois
22.88 A
23.56 B
Name Year School Finals Points
===============================================================================
1 Lofstedt, Annica JR Indiana-IN 23.48 B
8 11.47 12.01
2 Chan, Elaine FR Ohio State-OH 23.68
11.48 12.20
3 Cheng, Genie JR Penn State-MA 24.19
0 11.88 12.31
4 Baker, Sarah FR Penn State-MA 24.71
2 12.06 12.65
5 Ahrenhold, Rachel JR Penn State-MA 24.89
7 12.22 12.67
6 Rennebohm, Annie SO Ohio State-OH 24.96
3 12.26 12.70
7 Kristianson, Linda SO Ohio State-OH 24.97
5 12.13 12.84
8 Sarnecki, Christin FR Ohio State-OH 25.43
12.54 12.89
9 Jones, Sarah FR Indiana-IN 25.63
7 12.33 13.30
10 Johnston, Abby FR Ohio State-OH 25.84
4 12.53 13.31
11 von Rahl, Anastasi FR Ohio State-OH 25.96
9 12.67 13.29
12 Mitsch, Katie FR Indiana-IN 26.06
6 12.76 13.30
13 Smith, Kristin SO Penn State-MA 26.29
5 12.96 13.33
14 Schrader, Lauren SO Indiana-IN 26.77
13.04 13.73
— Wentworth, Clariss JR Indiana-IN X24.22
4 11.95 12.27
Event 12 Women 100 Yard Backstroke
===============================================================================
Pool Record: @ 55.33 11/11/2005 Kaitlyn Brady, Michigan-
54.47 A
56.10 B
Name Year School Finals Points
===============================================================================
1 Haupt, Sarah SR Penn State-MA 54.49@B
0 12.87 13.44 14.12 14.06
2 Vaziri, Leila JR Indiana-IN 54.50@B
6 13.05 13.64 14.07 13.74
3 Morris, Erin JR Penn State-MA 57.94
7 13.88 14.45 14.89 14.72
4 Ferguson, Kaitlyn FR Penn State-MA 58.97
7 14.27 15.12 15.28 14.30
5 Ernst, Susanna JR Indiana-IN 59.26
4 14.38 14.91 15.08 14.89
6 Heyman, Caitlin FR Indiana-IN 1:00.25
8 14.25 14.79 15.50 15.71
7 Fennell, Steph JR Ohio State-OH 1:01.12
8 14.59 15.05 15.71 15.77
8 Parent, Michelle JR Indiana-IN 1:02.63
5 14.65 15.66 16.47 15.85
9 Brayman, Courtney FR Ohio State-OH 1:02.84
9 14.76 15.64 16.27 16.17
10 Osterer, Liz JR Ohio State-OH 1:04.48
1 15.46 15.97 16.65 16.40
Event 13 Women 200 Yard Breaststroke
===============================================================================
Pool Record: @ 2:19.43 12/4/2005 Abby E Hoisington, Penn State
2:13.65 A
2:18.27 B
Name Year School Finals Points
===============================================================================
1 O'Brien, Kaitlin FR Penn State-MA 2:18.56@
6 32.05 35.20 35.53 35.78
2 Hoisington, Abby FR Penn State-MA 2:19.40@
6 31.74 35.31 35.78 36.57
3 Winck, Kristy FR Indiana-IN 2:21.74
2 32.74 36.08 36.71 36.21
4 Cooper, Abby FR Indiana-IN 2:22.22
32.55 36.19 36.49 36.99
5 Stockwell, Sarah FR Indiana-IN 2:22.34
2 31.59 35.89 37.21 37.65
6 Bradley, Kristen SR Indiana-IN 2:22.64
3 33.20 36.56 36.65 36.23
7 Rychvalsky, Rebeka JR Ohio State-OH 2:23.24
7 32.18 35.90 37.01 38.15
8 Hackman, Whitney FR Ohio State-OH 2:25.34
4 33.17 36.64 37.49 38.04
9 Church, Erin SO Ohio State-OH 2:26.29
9 32.66 36.05 38.08 39.50
10 Miller, Mary Eliza FR Indiana-IN 2:29.17
2 33.85 37.72 38.73 38.87
11 Mitchell, Abbey FR Indiana-IN 2:29.19
7 33.07 37.37 38.58 40.17
12 Kappeler, Joelene FR Ohio State-OH 2:30.33
2 34.25 38.05 38.66 39.37
Event 14 Women 100 Yard Butterfly
===============================================================================
Pool Record: @ 55.33 12/4/2005 Sarah Haupt, Penn State
53.75 A
55.36 B
Name Year School Finals Points
===============================================================================
1 Biedermann, Amberl SR Penn State-MA 55.57
5 12.21 13.92 14.55 14.89
2 Gunenc, Gulsah JR Ohio State-OH 55.99
0 12.52 13.95 14.73 14.79
3 Nelson, Kelly FR Penn State-MA 56.09
8 12.08 14.21 14.70 15.10
4 Kay, Allison FR Indiana-IN 56.14
2 12.24 14.28 14.77 14.85
5 Haglund, Karie FR Penn State-MA 56.46
6 12.50 14.34 14.76 14.86
6 Cihoski, Kristin FR Indiana-IN 57.14
1 12.27 14.56 15.07 15.24
7 Buelens, Griet SO Ohio State-OH 57.42
0 12.32 14.52 14.94 15.64
8 Haupt, Sarah SR Penn State-MA 57.99
0 12.04 14.17 15.91 15.87
9 Fuchs, Christie SO Indiana-IN 58.95
13.57 14.34 15.41 15.63
10 Brayman, Courtney FR Ohio State-OH 1:00.42
13.27 15.17 15.85 16.13
11 Smith, Kristin SO Penn State-MA 1:01.16
7 13.39 15.93 15.91 15.93
12 Schrader, Lauren SO Indiana-IN 1:01.40
13.21 15.26 16.10 16.83
13 Mitsch, Katie FR Indiana-IN 1:01.49
13.19 15.24 16.31 16.75
14 Bojko, Natalie SR Ohio State-OH 1:01.80
7 13.05 15.53 16.26 16.96
15 Heyman, Caitlin FR Indiana-IN 1:03.43
9 13.39 15.69 16.45 17.90
Event 15 Women 200 Yard Freestyle
===============================================================================
Pool Record: @ 1:48.42 12/3/2005 Nicole K Maglich, Ohio State
1:47.09 A
1:50.30 B
Name Year School Finals Points
===============================================================================
1 Crispell, Molly SO Penn State-MA 1:50.75
4 26.14 27.91 28.20 28.50
2 Barnes, Jessica JR Penn State-MA 1:51.49
2 26.29 28.05 28.64 28.51
3 Wentworth, Clariss JR Indiana-IN 1:51.65
26.18 28.16 28.73 28.58
4 Heck, Jill FR Penn State-MA 1:53.12
26.50 28.53 29.00 29.09
5 Keily, Jaime FR Penn State-MA 1:53.23
27.35 28.74 28.91 28.23
6 Collins, Nikki JR Penn State-MA 1:53.52
4 26.89 28.72 29.28 28.63
7 Maglich, Nicole SR Ohio State-OH 1:54.87
8 26.58 28.79 29.78 29.72
8 Colgin, Doherty SR Indiana-IN 1:55.36
7 26.66 28.80 29.64 30.26
9 Baker, Sarah FR Penn State-MA 1:56.10
2 27.19 29.44 30.00 29.47
10 Rennebohm, Annie SO Ohio State-OH 1:58.26
2 26.97 29.51 30.77 31.01
11 Keefer, Meghan JR Indiana-IN 2:00.30
9 28.31 30.56 31.11 30.32
12 Greene, Erin SR Ohio State-OH 2:00.49
1 26.93 29.72 31.59 32.25
13 Hall, Courtney FR Indiana-IN 2:01.76
28.33 30.94 31.70 30.79
14 O'Connor, Morgan SR Ohio State-OH 2:02.04
28.03 30.61 31.99 31.41
15 Lonergan, Megan FR Indiana-IN 2:02.09
0 28.85 31.27 31.43 30.54
16 Callahan, Kendal FR Ohio State-OH 2:04.00
2 28.64 30.87 31.98 32.51
17 Lipskis, Dana SO Ohio State-OH 2:08.82
29.38 32.69 33.55 33.20
Event 16 Women 400 Yard IM
===============================================================================
Pool Record: @ 4:19.41 12/3/2005 Jenny Shaughnessy, Minnesota
4:15.63 A
4:23.60 B
Name Year School Finals Points
===============================================================================
1 O'Brien, Kaitlin FR Penn State-MA 4:17.40@B
2 27.95 31.60 33.13 32.74 36.03 36.89 30.14 28.92
2 Kay, Allison FR Indiana-IN 4:21.50 B
5 27.67 31.25 34.87 34.56 36.88 37.35 30.00 28.92
3 Bradley, Kristen SR Indiana-IN 4:21.82 B
2 28.83 33.07 33.60 33.61 37.84 36.80 29.97 28.10
4 Haglund, Karie FR Penn State-MA 4:23.28 B
5 28.31 32.31 33.67 33.88 37.77 38.07 30.26 29.01
5 Nelson, Kelly FR Penn State-MA 4:25.64
9 28.41 32.59 33.95 33.38 39.04 38.78 30.27 29.22
6 Gunenc, Gulsah JR Ohio State-OH 4:27.70
4 27.91 31.12 34.52 34.17 39.35 39.85 31.10 29.68
7 Palera, Megan SO Penn State-MA 4:29.78
6 29.42 33.62 34.41 34.26 38.95 40.05 29.66 29.41
8 Ernst, Susanna JR Indiana-IN 4:34.96
29.00 33.90 34.33 34.07 40.16 40.27 32.12 31.11
9 Johnson, Samantha SO Ohio State-OH 4:35.79
6 29.32 33.59 36.20 35.43 38.48 39.20 32.92 30.65
10 Hoisington, Abby FR Penn State-MA 4:36.55
0 29.98 34.58 35.36 35.34 37.72 39.44 33.03 31.10
11 Miller, Mary Eliza FR Indiana-IN 4:36.64
2 29.72 34.09 36.61 36.50 38.75 39.19 31.34 30.44
12 Osterer, Liz JR Ohio State-OH 4:41.52
0 29.92 34.34 35.87 35.99 39.88 40.10 33.36 32.06
13 Hackman, Whitney FR Ohio State-OH 4:48.38
6 31.06 35.46 40.24 39.02 38.55 38.47 33.55 32.03
14 Stockwell, Sarah FR Indiana-IN 4:48.76
3 30.27 36.64 37.54 37.50 37.98 39.93 35.13 33.77
Event 17 Women 400 Yard Freestyle Relay
===============================================================================
Pool Record: @ 3:24.12 12/4/2005 Minnesota
S. Perrot, C. Jennings, E. Holtmeyer, M. McCarthy
3:18.95 A
3:24.91 B
School Finals Points
===============================================================================
1 Indiana University-IN 'A' 3:24.70 B
1) Vaziri, Leila JR 2) Lofstedt, Annica JR r:0.00
3) Wentworth, Clarissa JR r:0.20 4) Cihoski, Kristin FR r:0.10
74 24.66 50.86 24.06 50.02 24.95 52.04 24.48 51.78
2 Penn State University-MA 'A' 3:26.93
1) Biedermann, Amberle SR 2) Crispell, Molly SO r:0.00
3) Cheng, Genie JR r:0.13 4) Nelson, Kelly FR r:0.03
79 25.15 52.18 24.56 51.66 24.44 51.62 24.40 51.47
3 Ohio State University-OH 'A' 3:30.44
1) Chan, Elaine FR 2) Maglich, Nicole SR r:0.11
3) Buelens, Griet SO r:0.10 4) Rennebohm, Annie SO r:0.21
24.95 51.76 25.18 53.16 25.06 52.36 25.02 53.16
4 Penn State University-MA 'B' 3:32.60
1) Baker, Sarah FR 2) Barnes, Jessica JR r:-0.02
3) Heck, Jill FR r:0.07 4) Morris, Erin JR r:0.28
73 26.54 54.51 25.01 52.96 25.04 52.39 25.19 52.74
5 Penn State University-MA 'C' 3:38.10
1) Ahrenhold, Rachel JR 2) Collins, Nikki JR r:0.41
3) Murphy, Patty SR r:0.25 4) Keily, Jaime FR r:0.12
76 25.75 53.91 25.91 53.58 27.16 55.94 26.39 54.67
6 Indiana University-IN 'B' 3:40.44
1) Colgin, Doherty SR 2) Cooper, Abby FR r:0.43
3) Jones, Sarah FR r:0.34 4) Fuchs, Christie SO r:0.35
86 26.50 54.57 25.38 52.87 26.39 56.45 27.08 56.55
7 Ohio State University-OH 'B' 3:42.99
1) Fennell, Steph JR 2) Greene, Erin SR r:0.34
3) Sarnecki, Christina FR r:0.24 4) Johnston, Abby FR r:0.02
27.11 56.41 26.48 55.82 25.89 54.65 25.99 56.11
8 Ohio State University-OH 'C' 3:44.29
1) Church, Erin SO 2) O'Connor, Morgan SR r:0.14
3) Bojko, Natalie SR r:-0.11 4) von Rahl, Anastasia FR r:0.12
71 26.40 55.36 26.64 57.24 26.35 56.37 25.77 55.32
9 Indiana University-IN 'C' 3:48.37
1) Hall, Courtney FR 2) Winck, Kristy FR r:0.00
3) Mitsch, Katie FR r:1.61 4) Mitchell, Abbey FR r:0.14
79 28.26 57.56 27.35 56.87 27.17 57.67 26.04 56.27
Event 18 Women 1 mtr Diving
===============================================================================
Pool Record: @ 317.70 12/2/2005 Carrie McCambridge, PU-IN
Name Year School Finals Points
===============================================================================
1 Loukas, Christina SO Indiana-IN 322.20@
2 Weigle, Lindsay JR Indiana-IN 289.58
3 Chapman, Heather SR Indiana-IN 265.50
4 Greene, Ashley SO Indiana-IN 248.03
5 Summerlin, Jade SO Indiana-IN 235.34
6 Broms, Julie JR Ohio State-OH 228.44
7 Adlam, Courtney Penn State-MA 220.73
8 Peifer, Kimberlee Penn State-MA 197.92
Event 19 Women 3 mtr Diving
===============================================================================
Pool Record: @ 339.15 12/3/2005 Carrie McCambridge, PU-IN
Name Year School Finals Points
===============================================================================
1 Loukas, Christina SO Indiana-IN 332.92
2 Weigle, Lindsay JR Indiana-IN 299.56
3 Adlam, Courtney Penn State-MA 279.98
4 Broms, Julie JR Ohio State-OH 267.16
5 Chapman, Heather SR Indiana-IN 265.58
6 Greene, Ashley SO Indiana-IN 263.40
7 Summerlin, Jade SO Indiana-IN 261.75
8 Peifer, Kimberlee Penn State-MA 216.15