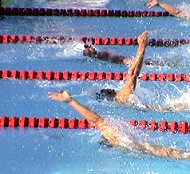 By Sarah Tolar
LONG BEACH, Calif., July 8. THE men's 100 backstroke semifinals kept the crowd on its toes tonight, and left everyone guessing as to which two men will earn Olympic berths tomorrow night.
Heat one saw three men within one-tenth of each other at the 50. Aaron Peirsol and Stanford teammates Peter Marshall and Randall Bal battled the entire last 50, with Peirsol coming out victorious in a time of 54.22. Marshall was just behind Peirsol with 54.40 and Bal finished in 54.89.
In heat two, Lenny Krayzelburg, the morning's top qualifier, turned at the 50-meter mark three one-hundreths of a second faster than Stanford swimmer, Dan Westcott. But Westcott charged on the last 50 to pass Krayzelburg and touch with a time of 54.40, while Krayzelburg finished second with a time of 55.05.
The final heat tomorrow night will consist of four Stanford swimmers, two Irvine Novaquatics teammates, an Auburn swimmer and one man from Northwestern. Both 100 backstroke Olympic champions from 1996 and 2000, the current world record holder and the 2003 world champion will be competing in the final heat tomorrow night, but experience only counts for so much. Tomorrow night will be about the race.