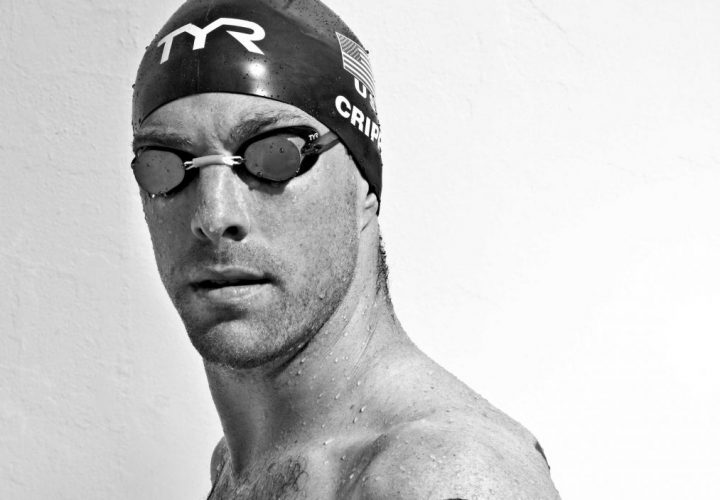 By Emma Miller, Swimming World Intern.
Pat and Pete Crippen waited on the pool deck inside the Sonny A. Werblin Recreation Center at Rutgers University. They joked and chatted with the safety marshals as the last session of the CeraVe Invitational got underway. And then, as the finalists emerged from the water after the 1500-meter free, the Crippens passed out small gifts to the swimmers.
They were at the meet on behalf of their late son and the foundation they established in his honor. But more than six years after he died, it's possible that before Sunday night, many of the young swimmers in the heat had never heard of Fran Crippen.
In Oct. 2010, six-time national champion Fran Crippen was competing at an Open Water World Cup in Dubai. He entered the water as one of the favorites to win the 10-kilometer race. Crippen never reached the finish line.
The swimming community watched the story unfold in horror and disbelief as the news of Crippen's death began to spread. He was only 26 years old at the time of his passing, and immediately, parents Pat and Pete knew they had to take action. They founded the Fran Crippen Elevation Foundation in his memory, which was honored tonight with a donation from Berkeley.
"We're just trying to spread the word and the mission of the foundation," Pat said, explaining the reason for their appearance tonight. "Everybody gets a cap and a t-shirt to wear to spread the word of the foundation, and honestly, the swimmers that knew Fran are aging out. It's become a challenge to keep the mission of the foundation alive, and this is just one way of doing that."
Crippen's death and the circumstances surrounding it raised a great deal of concern, and the emphasis placed on swimmer safety was called into question by many.
"The first primary part of [our mission] is to promote safety in open water swimming," Pete explained. "A lot has been accomplished in that realm."
The water temperature on the day of Crippen's passing was 86 degrees, at the time a legal and, apparently, safe temperature according to FINA's regulations. But the water was warm, uncomfortably so, and several of the other swimmers in the race were hospitalized for heat exhaustion that same day.
Close friend and U.S. national teammate Alex Meyer worked with to Crippen's parents to promote this cause as he captained a U.S. boycott of the 2015 Open Water World Cup held in the UAE, the first major open water race held in that country since the tragedy in 2010.
"My biggest problem with this whole situation is that I still feel like FINA has not taken its share of responsibility for Fran's death, or any at all," Meyer wrote in an article he authored that was published by ESPN. "Until FINA makes some real changes, I don't think this race belongs back in the UAE."
The Crippens want to memorialize Fran in more than just his death – they want to focus on the success he had during his life.
"The other [goal] is to provide financial support for an athlete or athletes that are working towards a dream as Fran was," Pete said. "Every year we give out a grant [to swimmers], and sometimes in an Olympic year, we give out two."
These grants give athletes the opportunity to pursue their dreams without as much financial burden on them and their families. Traveling, after all, is expensive for up-and-coming swimmers, and this is in addition to gear, entry fees to meets and other basic expenses.
"Even more at the grassroots of that, we are in the process of establishing a scholarship at Germantown Academy, which was the platform on which our kids performed so well and got such fabulous training," Pat said.
Swimming evidently runs in the Crippen family. Fran and his three sisters – Maddy, Claire and Teresa, in that order – all trained at Germantown before moving on to successful stints in college swimming. The oldest sister Maddy swam the 400 IM in the 2000 Olympic Games, while Claire was an NCAA All-American for Fran's alma mater, the University of Virginia. Teresa, who was a Pan-American Games Champion in the 200 back, is carrying on a different piece of Fran's legacy nowadays.
"I believe our daughter Teresa, who is going to Peru for coaching, is forwarding that part of [our mission], because Fran was interested in sharing his experiences and his love for swimming with athletes around the world," Pat said. "He established some really good friendships with foreign swimmers. We've hosted foreign swimmers who came to the U.S. to train and who went to UVA and Germantown, so that's another part of it.
"As I said, it's getting more challenging to keep the mission alive," she continued. "Fran had so many friends and such good friends, and they're all retiring. It is special for us to be invited to this."
All four of the Crippen kids swam in the CeraVe Invitational throughout their careers, so appearing tonight was close to home for Pat and Pete, both physically and emotionally.
"When Fran and Maddy were swimming, we didn't get to travel a whole lot to their big long course meets because of our two youngest," Pat said. Rutgers is only an hour from when the Crippens live, just outside of Philadelphia.
"This was a meet where they could try to make Trial cuts or Nationals cuts. It does hold a special place in their careers and in ours as parents. We're just particularly grateful to have this in basically our backyard."
Both Pat and Pete agreed that the Berkeley Aquatic Club has been exceptionally supportive of the Fran Crippen Elevation Foundation and that the CeraVe Invitational has been an excellent platform for their cause.
"They're so gracious," Pat said. "Every year they ask us to come, and they turn over a nice check… which, by the way, what did I do with that?" She rummaged through her bags, searching for the envelope – which Pete quickly confiscated as soon as she pulled it out of her bag.
"Let me take this," he said, slipping the check into his jacket pocket for safekeeping with a smirk.
This gave me a short opportunity to separate myself from the mixed emotions I was feeling after hearing Crippen's story – heartbreak, sympathy, admiration, melancholy. Sitting in front of my laptop, one tear rolled down my cheek.
As I walked away to begin writing, Pat and Pete went on chatting and preparing the gifts for the swimmers. With every t-shirt and every bracelet a swimmer received tonight, a little piece of the Fran Crippen's poignant legacy was passed along.
All commentaries are the opinion of the author and do not necessarily reflect the views of Swimming World Magazine nor its staff.