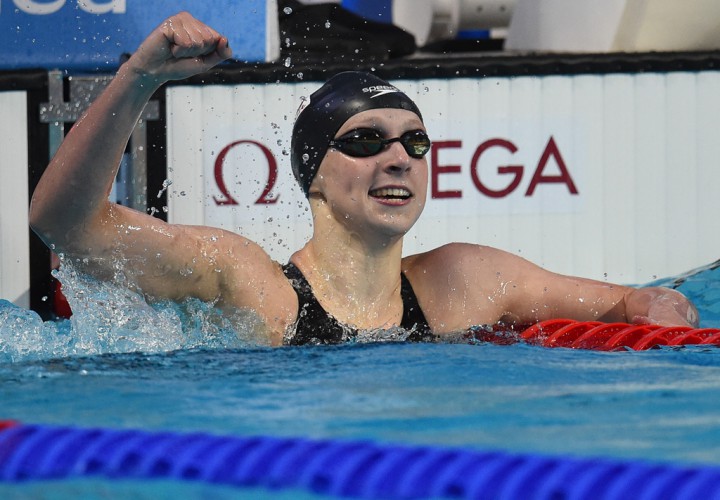 Photo Courtesy: R-Sport / MIA Rossiya Segodnya
Editorial Coverage provided by

All flights into Omaha, Neb., the past few days have been filled with teenage and college-age women and men clad in swimming t-shirts and clutching swim bags. Drive just a few miles from Eppley Airfield—yes, briefly passing through Iowa—and across from TD Ameritrade Park, currently hosting the College World Series, you'll find a 50-meter pool plopped into the middle of a basketball arena.
Just two days out from the start of the U.S. Olympic Trials—the biggest swim meet on American soil held just once every four years—and the majority of the athletes have already made their way to Omaha, getting warmed up in the arena pool or in the massive warm-down pool in the middle of the adjacent convention center.
On the other side of a pair of large curtains, a makeshift workroom seats nearly 200 media members who for the next week-and-a-half will call the Cornhusker State their home.
To keep the small fraction of the press that has already arrived busy, USA Swimming made five Olympic medalists available to speak Friday. All swam at the Trials in Omaha four years ago, and all but one in 2008, the first Trials to be held at the venue then known as the Quest Center. Those five have combined for 11 Olympic gold medals and 17 total podium finishes at the past three Games.
Let's take a peek at what they had to say.
Katie Ledecky
On returning to Omaha: "I love this pool—it brings back some great memories from four years ago. I swam here last night, and once I hit the water I got those chills and remembered that the last time I was in that water was when I was qualifying for the Olympic Team four years ago, so a pretty special thing to be back here."
On focusing on shorter races: "It's not something where we sit down and say, okay, we're really, really, really focusing on this race and not on this race. It's kind of all the same amount of focus on all the races. Obviously the 400 and the 800 are kind of my 'go-to' races and the races I really, really love, but I do also really like the 100 and the 200, and I want to do just as well in those.
On concerns about security and Zika virus in Rio: "It's not something that we swimmers really like to think about that much. Right now our focus is just on Trials and making the team so that we can get to Rio. I think USA Swimming and the USOC will do a great job of preparing us to the best of their ability to get us ready for all the different circumstances that could come up."
On what's changed since four years ago: "I've just had more experience and I've gotten faster and little things like that, but I still feel like all this is still really exciting. I went and got my goodie bag at registration today and was just as excited probably as everybody else getting them!"
Ryan Lochte
On favorite activities in Omaha: "You know, what I travel or when I go to swim meets I usually just see the swimming pool and my hotel. I'm definitely going to catch up on some movies in between sessions, and I will be eating a lot of Jimmy John's."
On challenges this meet: "When I was younger I was able to recover a lot quicker…Especially my first day, the 400 IM, I'm definitely going to have to do a lot more recovery after the race than I usually do, just so I can have those great races the next days."
On racing against Michael Phelps: "I mean, is an honor. He's one of the world's greatest swimmers, ever! And for me to be a part of that era and to be able to, like, push him or even sometimes beat him, it's definitely an honor, and it's fun. So even if this is our last go-round together, we will definitely make it count."
On why he does not skip the 400 IM to rest for shorter races: "I could, but then it wouldn't be fun! (Laughs) For me fun is a challenge. I love having a challenge."
Elizabeth Beisel
On injury last year: "In January of 2015 I pulled my groin and tore my vastus lateralis—it's a muscle in your leg, basically. Physically, an injury is very difficult to get over, but I think mentally it took a really big toll on me. I had never been injured, I had never really been swimming slow so consistently, so it really took a knock in my confidence, but I think after World's, I mentally reset and we went straight to Colorado Springs after World's, got in shape, rehabbed, got healthy, and it's not really hard to focus when it's an Olympic year."
On Team USA trying to rebound from disappointing World Championships: "I think that's definitely one of our goals, is to just prove to everybody that we still are the best team in the world, and despite our "poor performances" last summer, we were still the best team in the world last summer. We still won the meet. And we had Katie Ledecky carrying us on her shoulders, thank God for her! We're definitely going to be in the best shape that we can be in this summer."
Concerned about Zika? "No, not at all. I think the USOC — we're in the best hands possible. We're on the United States Olympic Team. We are going to be taken care of. August is the driest month in Brazil; it's their winter, so I'm sure we're going to be given bug spray and long-sleeved tee shirts and things like that to make sure we're going to be okay, but I'm not worried at all."
On making the Olympic team for the first time: "Katie [Hoff] had broken the world record, and I remember looking at her, and she looked at me, and she said, "Welcome to the club," meaning the Olympic club, and I get the chills thinking about it. It's an awesome feeling, and it's just as great the second time around and hopefully the third time around, but it is crazy to think that I've been on the scene for this long."
Dana Vollmer
On her family arrangements in Omaha: "My husband is going to be super dad and be in charge of [my 15-month-old son] Arlen all week. I'm rooming with Liz Pelton, and I thought it was really important for me to just be — just with the team and with my teammates and really try to get into the meet."
On newfound perspective: "In 2008 I did feel like this was it—this was the end all. You make this team, this kinda defines who you are as a person; it's why you swam, and it's hard to swim like that for very long. That's why I think it was a blessing that I didn't make that team, and I worked really hard with my coaches and teammates and gained perspective going into 2012—just that, you know, my life wasn't over after this. I just feel like it's a whole other level that's been taken away now that I have Arlen, and he's so excited when I come, and I get to hold him after a race, and it's not because I swam well or didn't swim well—it's just to see me."
On Sarah Sjostrom: "People built her up to have this amazing London Games, and to see her struggling and to not have the London that she wanted to have, I was really proud of her for coming back, and she is swimming great. Does that mean I want to beat her any less? Well, no! It's one of those things where I think my personality, like, I like chasing. I like almost more that she has now broken it, and it's not me defending it, it's me fighting to get that back, and that's just a big driver for me."
Conor Dwyer
"I'm really looking forward to this meet. I've never been more prepared for a meet than I am for this one."
On different Trials experiences: "I was here for the ride in 2008. 2012, the only person that had faith in me to make it was [Florida head] coach [Gregg] Troy, and he always said that two years out that I had a chance to make it. This time around I'm probably still just as nervous, but all the training is there, so I think I have a great shot at putting myself on the team again.
On relay disappointments last year: "I think 4×100 and 4×200, we weren't very happy with how it went in Russia, and we're looking for some redemption and kind of make a statement that we are the best relays and the best four group of guys in the world.
On lengthy pro career: "I don't think I knew it was possible until after London, until that tour started, and I got sponsorship opportunities and appearance opportunities, so after London is kind of when I realized the dream could come true, and I could keep swimming until now, making a living, having fun and traveling and doing the sport I love."