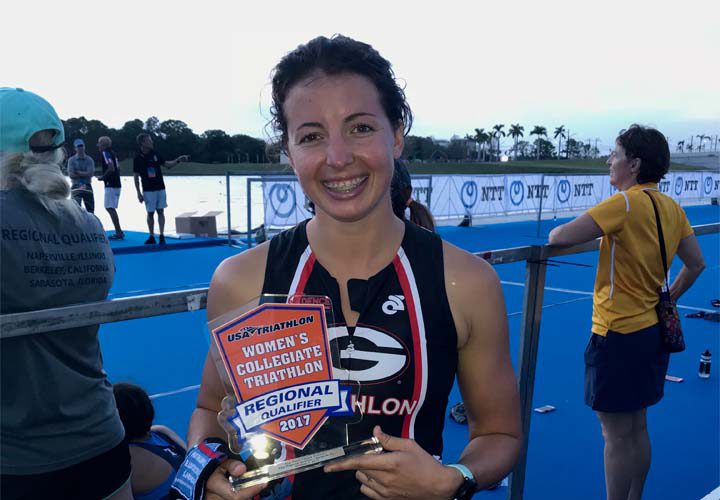 Photo Courtesy: Emily Cameron
Morning Splash by David Rieder.
At her final NCAA championships in 2017, Emily Cameron swam in the consolation finals of both IM events and was the breaststroker on Georgia's medley relays. She had been a part of two national championship-winning Georgia teams (in 2014 and 2016), and she was a finalist in the 200 IM at the 2016 Olympic Trials, but with her college career over, she was finished in the pool.
"I feel like with swimming I reached my highest potential, and I couldn't be more grateful for the goals that I achieved. I surprised myself for sure," Cameron said.
"With that being said, I don't think that I reached my full potential athletically."
Before she built a career as one of the country's top IM swimmers, Cameron had run cross country in high school, and both her parents had been runners. So during her senior year, the idea crossed her mind that she could attempt triathlons.
What sold her on the plan? Time away from—quite literally—everything.
During the summer of 2017, Cameron and her mother completed a 500-mile trek through Europe. For almost six weeks, she was disconnected from the rest of the world, and that gave her time and space to chew on where she was in her life and what she wanted to do.
"I really just had a chance to reflect on my career in the pool," she said. "I knew that as soon as I got back, I wanted to jump head-first into my training for triathlon and just get out there and race because I had really missed that desire to compete. I knew it was still within me, and I wanted to bring it out again, just in a different area."
So when she returned to Athens, Ga., for her fifth and final year of college, she resumed full-time training, but the program was much different than what she had done for four years with Jack Bauerle and the Bulldogs' swim team.
As part of USA Triathlon's College Recruitment Program, Cameron was assigned an individualized coach who would create her workouts and communicate regularly. While she's found it fairly easy to get back into "at least decent swimming shape," getting back into her running groove and getting comfortable on the bike have been a bit more challenging.
Cameron estimates that she does 80 percent of her training by herself. On occasion, she will still swim with the Georgia team or find groups to run or bike with, but she insists she doesn't mind training solo.
Why? Because she's pursuing triathlon for one reason: passion.
"I'm self-motivated completely," Cameron said. "This is all because I want to do this and not because I'm here on a scholarship or I owe somebody something. This is completely for me. If the drive and motivation is there for yourself, I think that's huge, and I think there's more to give there."
Since returning from Europe, Cameron has already raced four triathlons. Most recently, she finished second at the NCAA East Regional Qualifier in Sarasota, Fla., on Oct. 7. That qualified her to compete in the NCAA Triathlon National Championship on Nov. 5 in Tempe, Ariz.
So far, Cameron has exclusively raced sprint triathlons: 750-meter swim, 20-kilometer bike and five-kilometer run. The races take just over an hour to complete, and the swimming is the quickest of the segments. In the regional race, Cameron completed her swim in just over nine minutes.
Still, even though swimming is such a small part of a triathlon, Cameron explained that coming from a swimming background provides her with a huge advantage. She typically tries to break away from her competitors without a swimming background during that portion of the race.
"You need to have a pretty darn good swim to even contend for a high placement in these races because that's what's going to get you in the lead pack with the bike," she said. "It all begins with your base in swimming, and if it's good, you're on the right path."
The recent history of swimmers transforming themselves into elite triathletes includes the name Gwen Jorgensen, who swam and ran during her college days at the University of Wisconsin before turning her attention to triathlons. In the Olympic triathlon last year in Rio, Jorgensen won Olympic gold.
And even though she is a complete novice to the sport, Cameron aspires to reach that elite level. She plans on attempting her first Olympic-distance triathlon—double the length of the sprint version—in the coming months.
Next fall, Cameron hopes to be accepted into a resident program with USA Triathlon where she would train full-time. With graduation from Georgia on the horizon in May, she has begun applying to graduate school programs, but if she is offered a spot in the USA Triathlon program, she would not turn that down.
"I think I would jump at the opportunity because I don't know how many times it's going to come around for me in the future," she said. "If there's potential that shows that I have the ability to become an elite triathlete, then I'm going to pursue that dream."
How realistic is that dream? Cameron doesn't know yet, but she expects to figure out exactly where she stands soon enough, within the next year to two years.
"The field is really, really deep right now with female triathletes, so realistically I'd say 2024 is more the goal," Cameron said. "I'm excited to get out there and race with people who've been around the sport for years, and I can really just get some wisdom from then and learn from them."
Cameron has spent the last several years living among athletes who are the best in the world at what they do at Georgia—including her roommate and best friend Olivia Smoliga, who was an Olympic gold medalist in the pool in Rio.
Watching her friends taste success at the highest level in sport made Cameron eager to take on a challenge like triathlon—to commit herself to a sport she had never tried before and try to reach that elite status that she knew was out of reach for her in swimming.
"I knew that I was great at swimming and I am so thankful for how much that I accomplished," Cameron said. "But I think there was a part of me that still wanted to reach the same level that my teammates have, just maybe not in the pool."
And Cameron is wholeheartedly committed to pursuing excellence in triathlon.
"100 percent. Absolutely."