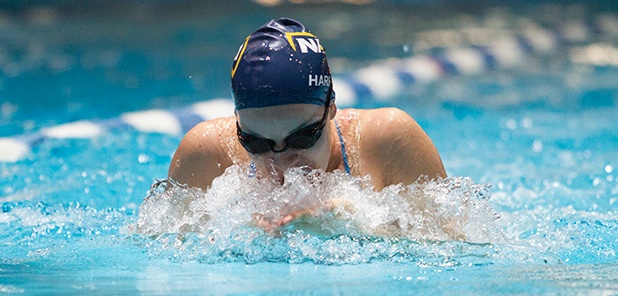 Photo Courtesy: Northern Arizona Athletics
The 2018 WAC Championships got underway last night and continued today in Houston, Texas. The Wyoming men have narrowly set themselves ahead of the rest of the meet while the Northern Arizona women continue to pull away from Grand Canyon University.
Overall scores after tonights session include:
Women:
1. Northern Arizona University       316   2. Grand Canyon University           208
3. Idaho, University of              181   4. New Mexico State University       149
5. Northern Colorado, University     130   6. California State University Ba    120
7. Seattle University                108
Men:
1. University of Wyoming             308   2. University of Nevada Las Vegas    301
3. Grand Canyon University           250   4. U S Air Force Academy             208
5. California State University Ba    135   6. Seattle University                 80
Check below for a closer look at tonight's events:
The Grand Canyon men started off the 2018 WAC championships with a victory in the 200 medley relay on night one. GCU's quartet produced a time of 1:24.33 which automatically qualifies GCU for the NCAA championships in March. Air Force took second in a time of 1:27.41 while Wyoming posted a 1:27.51 for third.
In the women's 200 medley relay GCU also captured a win by throwing down a time of 1:40.60, well ahead of Northern Arizona who put together a 1:42.09.
On the diving boards we saw the NAU ladies take a 1-2-3 sweep in the 1-meter diving event with Tonya Kurach (286.95), Jenny Cheetham (285.60) and Christine Torrente (284.70).
The men's 3-meter diving event featured a Wyoming 1-2 punch with Scotia Mullin (349.50) and Ryan Russi (329.40).
In the 800 free relays the ladies event was taken by NAU in a time of 7:17.94 while GCU took the men's race in a time of 6:27.88.
Kicking off the action on night two was UNLV duo Brad Gonzales and Grant Norgan taking 1-2 in the men's 500 free with times of 4:19.44 and 4:22.26, respectively. In third was Air Force's Peter Lochmaier in 4:23.24.
In the women's 500 Northern Arizona's Monique King won in a time of 4:47.67 while New Mexico State's Picabo Bender (4:50.95) took second. Touching third was NAU's Sam Milewski in 4:52.51.
GCU's go-to-guy, Mark Nikolaev, took the win in the men's 200 IM in a 1:43.60 while Wyoming's Wade Nelson took second with his 1:46.94.
Petra Kis, representing Northern Colorado, earned herself an NCAA B time of 2:01.25 on her way to winning the women's 200 IM.
Winning the men's splash n' dash was UNLV's Dylan Tarazona in a time of 19.65 ahead of GCU duo of Bogdan Plavin (19.69) and Mazen El Kamash (19.77).
GCU completed a 1-2 punch in the women's 50 free with Samiha Mohsen (22.75) and Diana Jaruseviciute (23.08) touching ahead of Seattle's Paige Treff who touched in 23.09.
On the board we saw UNLV's Robert Morgan take the win in the 1-meter event with his score of 321.00 while NAU's Tonya Kurach nab the win in the women's 3-meter event with her score of 301.35.
UNLV and GCU tied in the men's 200 free relay, each team produced a time of 1:18.53. The women's race featured GCU (1:32.43) just out touching NAU (1:32.53).
For full results, click here.