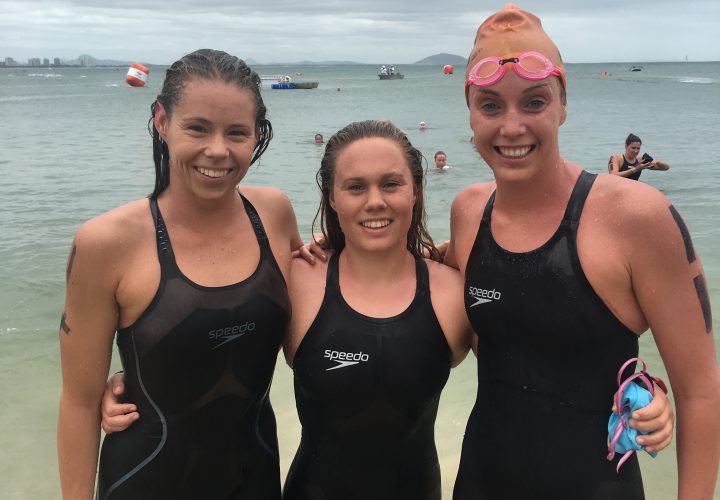 Photo Courtesy: Swimming Australia
Sunshine Coast swim star Nick Sloman looks up at his coaches and mentors every morning and night when he finishes training at Noosa Aquatic Centre and knows he couldn't be in better hands.
The 21-year-old trainee Quantity Surveyor took his first major step towards an Olympic dream, winning his first Australian 10km Open Water Championship at Brighton Beach, South Australia today.
While the women's event saw 19-year-old, unstoppable, Kawana Waters' swimmer Chelsea Gubecka (2hrs 01.20) add 10km National crown number five and in dominant fashion – winning by over a minute and a half.
In the men's race it was Sloman (1:53.04) who made his move with 1.25km left of  the eight-lap course, swum in near perfect millpond conditions and following his coach's instructions to the letter.
Sloman hung on over the final stages in what was a real ding-dong battle to the finish with another strong surf-swim star, 29-year-old Perth City World Championship veteran (1:53.05), Hungary's Mark Papp (1:53.08) and Carlile's ever-present Ollie Signorini (1:53.21).
In Sloman's corner is veteran Olympic swim coach John "JR" Rodgers who has taken the likes of Max Metzker, Graeme Brewer, Ron McKeon, Michelle Ford, Bronte Barratt and Kylie Palmer amongst others to the Games between 1976 and 2008, with Rodgers comparing Sloman's mental toughness with that of his 1500m champion,1980 Olympic bronze medallist Metzker.
And alongside Rodgers is Germany's celebrated Olympic and World Ironman Triathlete champion Jan Frodeno – also a treasured member of the Rodgers group on the Sunshine Coast.
And Rodgers still has one of Australia's most respected sports scientists, the original Australian Swim Team exercise physiologist Dr Bob Treffene overlooking Sloman's program.
Treffene oversaw many great Australian champions – including Kieren Perkins, Grant Hackett and a host of other greats under coaches John Carew, Denis Cotterell and Australia's most successful head coach Don Talbot.
Sloman used all the encouraging words of wisdom from "Team Rodgers" to win him his maiden National title.
"It's important to put yourself in the front of the pack and make sure that when you do go that you don't hesitate because if you slow down again… the lactic acid will build and you want be able to pick up that pace again; once you go you go," said Sloman.
"Having a coach like JR is a dream; he has coached many Olympians so I've just got to learn from his experiences and be the best I can be…he's a tough cookie sometimes but he's soft hearted and he's basically my granddad although my dad Lloyd is by far my biggest supporter.
Sloman said he trained slightly different to his competitors and doesn't do as many kilometres as many of them, because he doesn't  have the time.
And that's where the science and the "old school" edge comes in.
"I only do about 50-55 kilometres a week but it includes a lot of heart rate sets and probably the max set I do is 10 x 500m," said Sloman, who has his sights set on the Tokyo 2020 Olympics.
"I wouldn't go over two hours in a training session and only about nine times a week.
"JR has been working with Dr Bob to get the most out of my training and I've got limited time (in the pool) because of work and University.
"I work full time in a Quantity Surveying Firm and that takes most of my time and I've also got to go to the Queensland University of Technology (QUT)  in Brisbane which is a two-hour drive from where I train and that takes an afternoon away from training.
"I basically train by myself but triathlon great Jan Frodeno has been a great influence; he's at the elite of Kona and a former Olympic champion and he rubs all of that world championship experience off on me.
"The surf background also really helps, especially right at the end when you have to change pace; it's definitely a good stepping stone into Open Water; I focus on getting in front and breaking away to the side little bit because I don't want anyone on my hip, that will slow you down."
In the women's race it was Gubecka who made her move at the five-kilometre mark when she thought it was a case of either now or never and the move paid off with Gubecka scoring a resounding victory over Mt Creek Mooloolaba's Kareena Lee (2:02.53) and fellow Kawana Waters swimmer Mackenzie Brazier (2:03.13).
While some of the field swam towards to the feeding pontoon at the half-way mark, Guebecka decided to take a risk and "go for broke."
"I'm pretty stoked," said Gubecka, "It's a tough event and to be able to chalk-up five titles in in a quality field like this is awesome.
"At the five kilometre mark I decided to take a risk, and if ever it was a year to take risks it was this year, and I needed to test myself so I put on a spurt on for a breakaway and it worked.
"I must admit I was a little nervous before the race with maximum points (20) on offer towards Pan Pacific Team Selection. I'll now go chasing top 10 finishes on World Cup events and to podium somewhere would be ideal."
Meanwhile in other events Kawana Waters swimmer Bailey Armstrong (1:53.19) won the 19-year-old 10km event from Perth City's Nicholas Rollo (1:53.25) and Seas The Limit's Cormac Guthrie (1:53.25).
Chandler's Mikayka Messer (2:05.22) won the 19 years girl's 10km from TSS Aquatics' Bianca Crisp (2:05.45) and Rackley's Jessica Lavin (2:05.45.01).
Perth City's Reilly Kennedy (1:53.25) won the 18 years boys 10km gold from Somerset GC's Riley Clout (1:54.13) and Miami's Daniel Miller (2:00.55) while Yeronga Park'Laura Brosna (2:05.39) won the 18 years girls 10km from TSS Aquatic's Madison Armstrong (2:05.48) and Miami's Jade Sleek (2:05.55).
In the 16 years girls 7.5km event, Perth City's Chloe Green (1:32.42) won the gold medal from Randwick City's Isabella Coughlan (1:34.44) and Miami's Ashleigh Allred(1:35.40) while the boys went to Hong Kong's Willian Thorley (1:26.35) from SOPAC's Tomas Kaposi (1:28.49) with Perth City's Flynn Mason (1:31.28) third.
The 17 years boys 7.5km championship went to recent Lorne Pier to Pub winner, Lawnton's Hayden Cotter (1:23.02) from Breakers WA's Jack Wilson and TSS AquaticsJames Utley-Doer who dead-heated in 1:25.56.01.
And in the 17 girls 7.5km it was University of NSW Frances Shires (1:33.47) who won the day from Indooroopilly's Kara Svenson (1:34.44) and Nudgee College's Jessica Moat (1:34.44.01).
Press release courtesy of Swimming Australia.
---
Associated Links
---