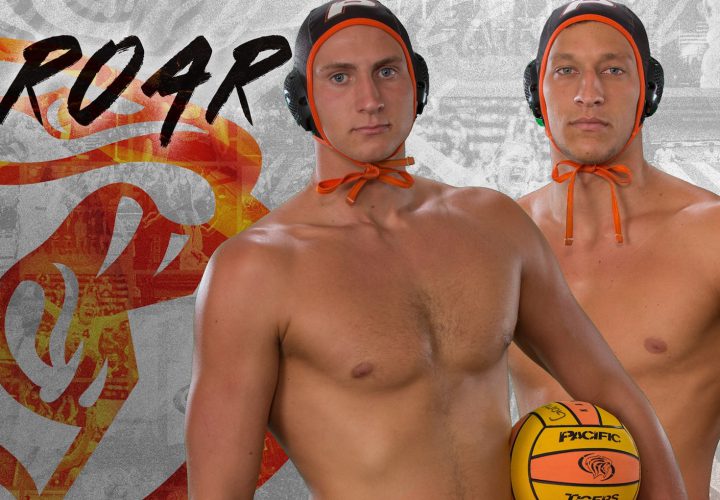 Pacific men's water polo players Luke Pavillard and Kale Ai. Photo Courtesy Pacific Athletics
By Michael Randazzo, Swimming World Contributor
This weekend the 2017 Men's Water Polo Tournament kicked off with a pair play-in games on opposite coasts.
On Saturday the University of Pacific pummeled hapless Pomona-Pitzer 16-2 in Stockton, CA, while in Cambridge, CA, Harvard punch a ticket to a second consecutive California trip with a thrilling 15-13 OT win over NCAA novice George Washington.
Pacific 16 – Pomona-Pitzer 2
The pairing of these two California schools—one of six that qualified for NCAAs—was a topic of discussion. #5 Pacific is nationally higher ranked than #8 University of California Davis, which opened up questions as to why the Tigers, and not the Aggies, were forced to play an extra game against #17 Pomona-Pitzer.
"Eligibility and availability of student-athletes for NCAA championships" is one criteria for NCAA selection. According to Brown Head Coach Felix Mercado, President of the Association of Collegiate Water Polo Coaches who has previously served on the section committee, cost trumped competition. The Sagehens could travel by bus to Stockton to face the Tigers; they would have to travel by plane for a match against the Aggies.
The real loser in this situation was Pomona-Pitzer, which had a reasonable chance to advance facing UC-Davis but—as the results showed—virtually no shot against Pacific. The nation's top offensive team based upon Algorithm for Rate-Referenced Iterative Analysis of Game Activity (ARRIGA) metrics, the Tigers captured the Golden Coast Conference first-ever NCAA men's automatic qualifier.
Leading the onslaught for Head Coach James Graham's team was Luke Pavillard, with three goals, four assists and five steals—among 18 thefts by the Tigers. The GCC Player of the Year had plenty of help; Engin Ege Colak and Luis Araya both chipped in with hat tricks for the Tigers,  now 2-0 all-time against the Sagehens, have never lost to a member of the Southern California Intercollegiate Athletic Conference (27-0), whose automatic bid has been captured by Pomona-Pitzer the past two years .
Head Coach Alex Rodriguez's team held the home team at bay for much of the first half, as senior goalie Daniel Diemer (11 saves) kept his team in the game. But a 5-1 deficit quickly ballooned to double digits after intermission, as the Tiger rang up 11 goals, snapping a Sagehorn seven-match winning streak and pushing the visitors into an early exit from NCAAs.
Pacific will next play UC-Davis on Thursday, November 30 at 5 p.m. (PST) at USC's Uytengsu Aquatics Center.
Harvard 15 – George Washington 13
#17 George Washington and #12 Harvard went out it for the first 16 minutes of their NCAA play-in match like two heavyweight boxers looking for a quick knockout. The two teams combined for 17 goals in a first half that saw the host Crimson leading 9-8 at intermission
The third period saw Harvard extend its lead to two, but the underdog Colonials—led by Atakan Destici's four goals—mounted a comeback and more. They scored four straight goals to take a 13-11 lead with five minutes left in the fourth period. Head Coach Barry King then elected to sit on his lead, which cost his team dearly. With three minutes to go, Dennis Blyashov trimmed the George Washington lead to one with his fourth goal of the match. Then, with the Colonials running off clock, a steal by Jackson Enright led to his 3-meter goal with 43 seconds, lifting the Crimson into a 13-all deadlock.
Host Harvard immediately pressed the attack in overtime, with Blyashov hammering home what turned out to be the game-winner just seconds into extra time. Colin Chiapello closed out the scoring with a strike in front of the cage, ending a threat from the neophyte Colonials.
In comments on the GW Athletics website, the George Washington coach praised his team in their first-ever post-season trip.
"You can't be anything but pleased with what the guys gave us today," said King, who guided the history-making effort in his first season in charge. "They completely emptied their tanks and played with a pride that I don't know has been seen here before."
Next up for the Head Coach Ted Minnis's team is a rematch with #1 USC at 7 p.m. (PST). The Trojans are the tournament's third seed despite winning the Mountain Pacific Sports Federation tournament and the MPSF's automatic berth.
Last year, Harvard was routed 19-4 by USC in an NCAA semifinal match, propelling the Trojans to a 12th straight national championship final. The University of California beat USC 11-8 in overtime , earning Head Coach Kirk Everist's program a record 14th NCAA title.
The winners of Thursday's matches will advance to the Final Four on Saturday; the Pacific/UC-Davis winner will face top seed UCLA, while the USC/Harvard winner will face #2 seed Cal.