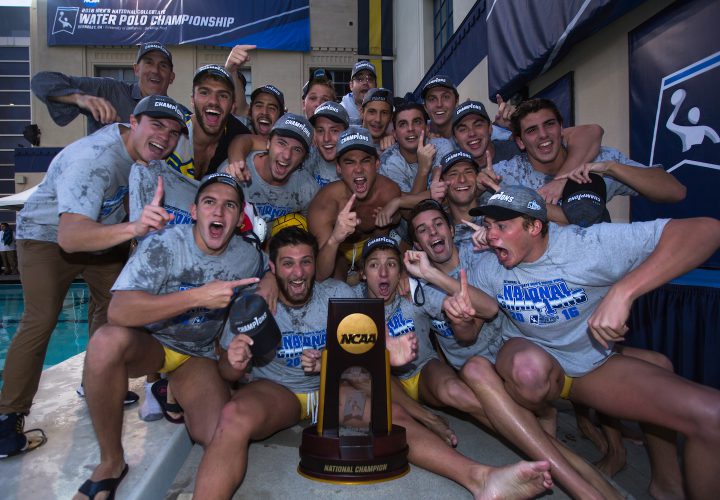 Cal's Kirk Everist and his players celebrate their 2016 NCAA title. Photo Courtesy: Catharyn Hayne
By Michael Randazzo, Swimming World Contributor
The 2016 men's water polo season was filled with ebbs and twists—but in the end order was restored with the University of California capturing back-to-back overtime wins over higher ranked opponents on its way to a record 14th NCAA title.
It's a title that couldn't have been sweeter for Cal head coach Kirk Everist. In recent years fellow Mountain Pacific Sports Federation (MPSF) programs UCLA and USC have dominated the men's water polo spotlight. But Cal has won more titles than anyone, including three (2006, 2007, 2016) under Everist's leadership.
Winning comes naturally to the Houston native, now in his 16th year in Berkeley (331-97). A Cal alum (1990), Everist played polo under Pete Cutino, the legendary coach of the Golden Bears. He won NCAA titles with Cal in 1987 and again in 1988, when he was named NCAA Player of the Year, and was a three-time All-American (1986, '87, '88) while registering 205 goals—still good for fourth place on the Golden Bears all-time scoring list.
A member of the United States National Team from 1988-96, Everist represented the U.S. at the 1992 Barcelona and 1996 Atlanta Olympics.
In an interview last week, he spoke about Cal's fantastic 2016 season, prospects for the upcoming season, where his team is favored to win it all again, the benefits—and challenges—of representing one's country in international competition, playing for legendary Cal coach Cutino and how Golden Bear water polo will continue to thrive despite the fiscal difficulties of Cal Athletics.
How special was it for Cal to win it all at home last year—beating UCLA and USC in overtime to win the NCAA title?
We were fairly consistent all year. We beat USC early in the season fairly handily and they beat us fairly handily a few weeks later. We were in one-goal games with UCLA the times we played them. We all knew that it was going to come down to that last weekend—when anybody could win.
Having [NCAAs] at home doesn't hurt. There's added pressure there—logistics that you're not dealing with when you're on the road.
Our team got better and better as the year went on. We had guys who were gone for the year training with the Olympic team, so incorporating Luca [Cupido] back into the team slowly as the season went on. We got better as he got better.
We did the same thing with Odysseas [Masmanidis], he missed 8 games of the season for the Junior European championships.
We were putting pieces together as the season went on and we continued to improve as a group and were able to put together at the end in the last few weeks.
You mention incorporating players that had been in international play—including the Olympics—last year. You had a number of players away this summer as well. How much is that a factor coming into this season?
There was [Johnny] Hooper, Luca, Nick Bisconti, and Ethan Wojciechowski on the U.S. Junior Team. [And] two Greek kids: Odysseas and Nikos [Delagrammatikas]. Right now we have Nick Carniglia and Connor Neumann at World University Games. We had of upwards of nine guys. Pedro [Stellet] went to FINA World with Brazil. We're all over the place this summer and they're all slowly coming back in.
Hooper's probably the most fatigued having gone from Senior Worlds back to back to Junior Worlds a week later. That's a lot of load on the body and a lot of intense games. You get worn out physically and mentally, so incorporating those guys back into it, making sure that they're ready for October, November and early December is more important than the second week in September.
We're in this for the long hall and we don't want to sacrifice the end for the beginning.
You go into the new season as a co-favorite to win the MPSF title and the odds-on choice to capture a second-straight NCAA title.
Yeah, I think we're a program that every year wants to be able to look themselves in the mirror and say that on any given day we can win a championship. We return a tremendously talented group; we'll have to replace some seniors that graduated but every year you graduate kids that that you're not going to replace completely.
But kids step up that didn't play the year before, kids step up that come in as freshmen, that's kind of where we are right now—seeing where those people are early in the season. We've got a tremendously talented team, a team that's very versatile.
We're all excited about our ability to compete again for a championship.
Goalkeeper Lazar Andric, who was fantastic for you all last season and in the NCAA final, is now an assistant coach. Who will replace him in the Cal cage?
Lazar had a great couple of years for us but we have some good returning goalies—Kevin Le Vine, Spencer Tag, Bernardo Correlli—that are all competing for minutes. We won't have Lazar in the cage but defensively we can be a good team and we have a lot more experience on the outside.
Two-meter defenders Chandler Jarrels and Thomas Carroll graduated—that's another position that we have to address with incoming freshmen. We have a great kid, Nicos Geramatikas coming in as a two-meter defender from the world championships. Ryan Hurst from Huntington beach is another two-meter defender that I think will give us really good minutes. Bisconti was a two-meter defender on the Junior Team for the U.S.
We got a lot of depth there it's just young depth. At the end of the day we can always use Luca at that position. He's by far the best two-meter defender in the country when I use him there. I don't use him there that often but if you watch the final games against UCLA and USC he played an awful lot at that position because we needed it. He's excellent at that position but it's taxing so you use it when you need it.
Like I said, we've got a lot of versatility. We'll be a scary team on the offensive end. Our defense will come as we learn each other's [strengths] and figure out what we do really well.
It's impressive that so many current Cal players are playing internationally this summer. Talk about your commitment to encouraging your athletes to participate in their respective national teams.
I think it's an honor to be selected and to be able to represent your country at whatever level possible—junior or senior team level. That's first and foremost. You don't get those moments back. And I don't think it's the right thing to do to stand in a kid's way because I might think it's better for Cal. I honestly don't think it's better for my team for a kid to have an opportunity and not play.
My development as a player—as great a coach as Pete Cutino was, probably the best coach ever in this country—I developed a lot more going to Europe playing the Soviets, and the Yugoslavs and the Italians and the Hungarians and Spaniards and going to Junior Worlds and two University World Games and going on national team trips before I finished college.
It's unfortunate when kids don't do it, or their focus is elsewhere. It's not for me to say if that's bad for that player. For me personally and for my program I believe that the best thing for them is to go and participate—then it's my job to put them together as a team here.
It's part of making kids at this age understand what's important. Sacrificing three or four years of your life to go to one or two Olympics—there's ways to do it. There's ways to not completely take yourself out of the business world. I can show you guys that became doctors while they trained and went to the Olympics.
You've just got to trust and not panic that you're so far behind the world that you're not going to be able to catch up. Because I don't think that's true. There's too many successful former Olympians that spent 10 years chasing the dream and then focused on work… there's just too many of them that are ultra-successful.
Is USA Water Polo working effectively with college coaches to ensure that conditions are ideal for the best players to play for the national team?
A lot of it needs to come from us—club coaches, college coaches. We've got to sacrifice a bit of ourselves. And if we don't? Then kids are not going to Junior Worlds because they need to be back for college practices. And I think that's flat out wrong.
We put a lot of pressure on these kids. And they listen to us. And if we don't tell them it's important and give them the lane to go—and not have ramifications for kids doing it—then we're going to lose out on kids that didn't get six, seven, eight, nine games this summer at a junior level that they should have gotten.
I know that the reasons my kids give me for why they don't want to do it—or the worries. "I don't want to miss training." "I don't want to miss summer school the summer before school so I can train with you, play and not redshirt."
Those are concerns that 18, 19 or 20 year-old kids are going to have. My job is to make sure they don't have those concerns. And to let them know when they go play at that level, they're doing more than they could do with me. And when they get back they're going to be better players.
I'm not saying they're not going to redshirt. They might not be good enough. But the reason for being redshirted is not because they went to Junior Worlds. It's because someone is better than they are that didn't. Or went to Senior Worlds.
But the best shot at not being redshirted is going there and playing well—and for Gavin [Arroyo—coach of U.S. Junior National team] or whomever to tell me that this guy is playing really well. And that gives me the confidence that if you can play really well against the Croatian junior team, I'm sure you can play well against UCLA and USC.
It's no secret that Cal Athletics is beset with financial challenges—with AD Mike Williams leaving his position in May 2018. Does any of this uncertainty affect how you go about your business or the way athletes and alumni perceive Cal aquatics?
You put that out of your mind. Aquatics at the University of California is second to none in its success over the years. [We're] well ahead of everybody in NCAA championships in water polo. Our women's and men's swim teams have won six national championships in the last 10 years.
Some of the greatest swimmers of all time—Natalie Coughlin, Matt Biondi, Ryan Murphy, Nathan Adrian… this is one of the greatest places for aquatics in the world. I don't think there's any question about it.
We just built a beautiful, $15 million dollar pool that we train in. We're redoing Spieker Pool, which we compete in. We're well-supported in our group—a big group of donors and alums that love our sports and support us at a really high level.
The university has budget issues; we're all concerned about that and we're all doing our part to help out and not spend egregiously. And make sure it can work without sacrificing our competitive success. I think that we're really good at doing this.
It's not something I lose sleep over. I'm confident that our place at this university is secure.
Because of the support we get, because of the excellence in the pool, because of the reputation we have in the classroom—we were the top graduating class last year, got NCAA recognition for being 1,000% in our graduation for our teams. So we're doing great things in the pool, we're doing great things in the classroom.
If I ever get to a point where I don't think I can do that anymore then I am the first one out the door, because it's important to me—not for me as the coach, but for the program that Pete Cutino and Steve Heaston built.
You played for Coach Cutino, acknowledged by many as the greatest collegiate water polo coach America has ever produced. What was it like?
Pete was an incredible influence on me as a player, as a person. Other than my father, he was one of those people that really influenced me. He came back my first year coaching to help me and he signed on as my assistant coach year one. He was one of the people that talked me into it.
He was an incredible coach, a better person. Between him and Steve Heaston, who took over after Pete and had one of the greatest runs in a three year period: 1990, '91 and '92, I think they lost two games [86-2] before he got sick and ended up dying of brain cancer.
Steve coached at the Olympics, was a staff member for the '84 and '88 teams. You heard about what that meant from them and the importance of going and doing it, and the understanding that it was really hard work.
I think they instilled that in all of us and are things that we all look back on and want to continue to pass on to the kids—to make sure that they know there's a responsibility ten years from now and they'll be expected to help in any way that they can and they'll be expected to come back and be part of the games.
The sheer amount of people that come to water polo games is part of the tradition and that's what we do. The alums come back, they're at all the games. They're my biggest critics, they want to know why I did what every step along the way and that's great, that's what we want. We want people that are invested, that are passionate and are willing to support the next generation.