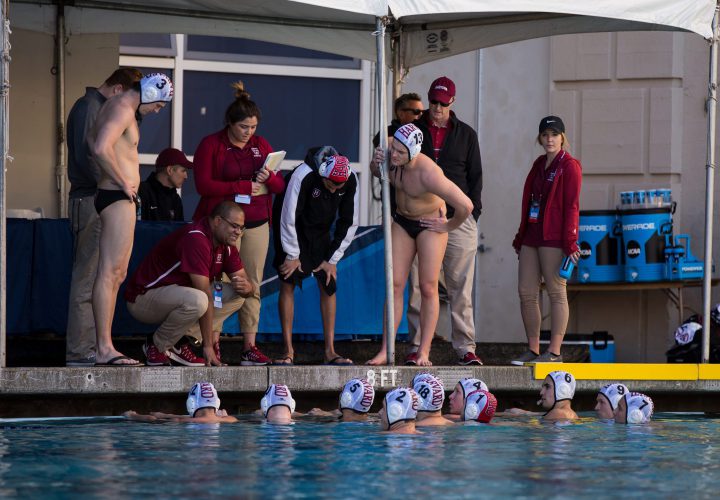 Harvard at the 2016 NCAA Men's Water Polo Tournament. Photo Courtesy: Harvard Athletics
By Michael Randazzo, Swimming World Contributor
BROOKLYN, NY. One of the more compelling stories of the 2016 men's varsity water polo season was Harvard's Cinderella-like run to the NCAA Men's Tournament Final Four. The Crimson, who in 35 previous years of varsity play had never qualified for the postseason, won two NCAA play-in matches, including a thrilling 16-15 overtime win over UC Davis at Cal Berkeley's Spieker Pool, with hundreds of its fans in attendance.
Harvard head men's and women's coach Ted Minnis followed up his men's Eastern championship by steering his women's team to a program-best #15 ranking in the national polls. He then spent his summer on the staff of U.S. National Men's Team head coach Dejan Udovicic, traveling with Team USA for the 2017 FINA World Water Polo Championships in Budapest, Hungary.
Prior to facing St. Francis College in Brooklyn Heights, Minnis—now in his 8th year in Cambridge—spoke about a glorious season at Harvard, his perspective on the U.S. men's team, his current Crimson squad and its prospects in the Northeast Water Polo Conference and how a prestigious East Coast school has been the perfect fit for a West Coast coach.

How do you put into context all that you have experienced these past 12 months?
For me it's professionally been the best year of my life. To achieve something that I've been chasing so long and win a championship at any level—my first ever—was an amazing experience with an great group of guys.
That senior class meant a lot to us getting to where we were and having success. They paved a path for the future of Harvard water polo.
Going into the women's season, they had their best year ever—top four [in the] conference, we beat Indiana at Indiana, a big win for us. [If] the guys don't have the year they have the women get a much bigger stage for what they did.
Then to go with the Senior National Team was an experience that was amazing. I have so much respect for Dejan and his plans for the national team and Alex [Rodriguez]—they do an amazing job the way they approach the game and how they prepare the team. It's something I hope to do again—you never know—but I made the best out of the experience that I had.
You got to be on the pool deck in Budapest, watching Team USA compete against some of the world's best teams. How has that experience affected you and your coaching?
To be in a stadium with 8,000 people in a beautiful venue cheering for a sport that I love, with the national anthem playing and I'm wearing USA gear… I get chills right now speaking about it. It was amazing.
Coming back, I haven't change what I do, I've changed the way I present it. A big takeaway for me was [that] I do things similarly to Dejan. It assured me that I'm on the right path.
The way they prepare with video and in practices and with their scouting reports—that's changed the way I now prepare my teams for games.
Over thirty days in Europe I got to have lots of conversations with Dejan—the tips and things that he talked about how we train, the philosophy and what we should be doing, what we should focus on in training.
That's changed my process in [Harvard's] training. We attached our preseason way differently then we have before.
Based upon what you saw at FINA Worlds—including a shocking loss to Japan—what does the future look like for the U.S. Senior Men's National Team?
I have so much respect for Dejan and what his vision is for this program and for the senior team. We have the youngest team in the world. The team we had a world championships is way different than the one we had a year earlier in the Olympics. You lose Merrill [Moses], Tony [Azevedo], [Josh] Samuel, you lose [Bret] Bonanni—you can go down the list of people who weren't there for world championships; younger guys got an opportunity on the biggest stage of our sport.
Japan played their best game and that kid [Seiya Adachi] he went for seven goals. He was shooting lights out.
But where is the adjustment when one player is torching your team?
When you're preparing for a team—and the U.S. team prepared for Japan—they can get hot. When you're on the outside looking in It's easy to ask: "Why didn't you adjust?!" As a coach, I've been in moments where we've had a kid that's gone off and we haven't been able to adjust.
It happened to us last year; Matt Payne [from Princeton] went off for six goals against us [a 14-13 Harvard win]. I know he can shoot the ball! I told my guys during the game that Payne's the one who's killing us. It's hard sometimes to make those adjustments in game on kids when they get hot.
People need to be patience and let the process happen. It's early in the quad and we have to give this staff an opportunity to build and do their job and be successful.
I believe that's going to happen in the next three years and that people are going to be really proud of the product that staff puts at the Olympics. I'm excited for the future of our team.
How much does last season's success impact this year's team?
I don't get much time because I move right into the women's season and I think that was good for me to move into another season.  I've put a whole season between my championship and now. For me it's easy to stay in the moment because that championship seems a long time ago. I've coached almost forty games since I lost to [USC].
Bill Belichick said it best; after they won the Super Bowl he said: "This is great but we're five weeks behind everybody else." [Laughs]
We're not the Patriots and what they've accomplished, but for us it was talking about from day one—this is a different team. Joey Colton isn't there anymore. Noah Harrison isn't there anymore. Dan Stevens, Victor Wrobel—they aren't there anymore. That's four seniors that played really big for us.
I have a bunch of freshmen who have to learn how to play with a new group of guys, for a new coach, in a new system.
We don't talk a lot about last year. We looked at the banners, we put a thumb up at the beginning of the season and then we've moved on.
This team has not won anything. We're 8-3 [now 9-4; 1-2 NWPC], which is a good start for this group. Our focus is on the day that we're in and that moment, then moving on to the next one.
We can't think about the future and if we're going to win a championship—or the past and the championships we've won. We've got to stay in the moment for Princeton and now for St. Francis. Then we'll move on to that next moment of Iona, and that's what we'll really have to stay focused on because we haven't won anything yet.
It was an amazing experience to win two NCAA games and get to the Final Four. Will that ever happen again on the East Coast? It could and I hope it does because I think we play good water polo out here. But that was the first time that a team from the East has come out in the current two-game play-in format and had to win games to get into the Final Four.
Your men's roster contains more underclass men (8) than upper classmen (7). How does this bode for the 2017 Harvard season?
This is a fun team to coach. They come ready to work every day. At times this year we've started three freshmen.
They all bring a different skill-set to the pool. Dennis [Blyashov] is a big-time player, he's competed internationally on the 11-man roster that was in Montenegro a year ago for Youth Worlds. At Cathedral Catholic he played for Brett Ormsby, who's now an assistant coach at Stanford. He's played some high-level water polo and he's fun to watch.
Jackson Enright is just a workhorse, he's our center and he's the fastest guy on the team. Bruno Snow is so smart, he has such a high water polo IQ and can play anywhere in the pool.
What makes me excited about this group is that's our future. What's great for them is we have a junior and senior class that's gone through these battles and made it all the way to the Final Four. They have the leadership that shows them the right way to do things and make them understand what it takes to be Harvard water polo.
The sophomores and freshmen think it's easy to win championships but the juniors and seniors—and my staff—know it's anything but easy.
To have that leadership in the pool is huge for us.
Please handicap the Northeast Water Polo Conference this season.

Princeton's #1 right now. They're probably the deepest team I've seen them have in my time [East]; knowing the first couple of teams as well as their roster now.
St. Francis is very young but talented, they do some good things. They cause a lot of match-up difficulties for teams with the way they run their offense.
Brown is the biggest group of blue collar workers who are going to get after it. They just keep coming, and coming and coming. They are very well-coached and have no quit in them.
Iona showed this weekend at home they have ability to play, whether it's shallow/deep or not. They're causing problems for teams.
MIT keeps getting better; they're enjoying success against some of the top DIII schools in the nation and they're playing DI's very tough.
I can't really say who's one or two or three or four; it's a group of six teams that are really good, which makes conference play a lot of fun when you have one, two, three goal games.
I'm excited for the push of October and to see how it goes.
What kind of relationship do you look to have with your players?
This is why Harvard's such a great place for me. I care about my kids more out of the pool than in the pool. I want them focused on the big picture and that's their future. We're very competitive at Harvard and I don't do this to lose, but class is always going to come first for my guys and my women.
I think if you asked my players they would say that I'm a players' coach because I care so much about them, but I want to hold them accountable and I'm not afraid to change. I don't believe I know it all; I believe my players can bring things to me and help us as a group be better.
When it comes to coaching, it's not: "my way or the highway." I would say I have more of a new age approach set than an old-school mindset.