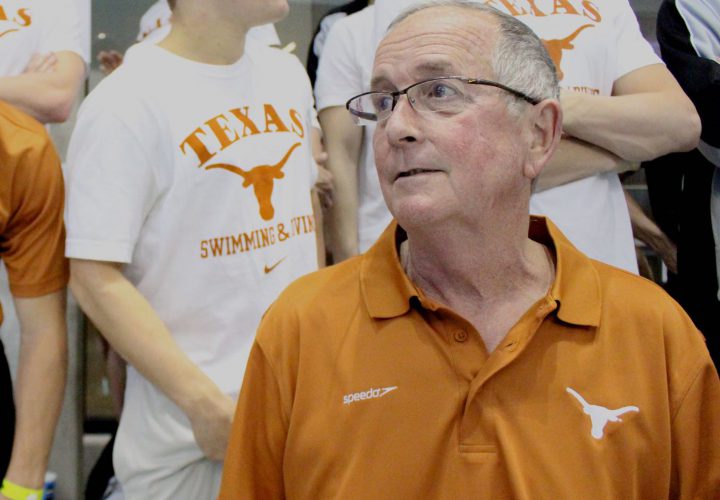 Photo Courtesy: Taylor Brien
Editorial content for the NCAA Division I Championships is sponsored by Nike Swim. For full Swimming World coverage, check out our coverage page.
Texas' head coach Eddie Reese on being in a different place than a year ago:
"We were good a year ago. We were about as good as we could be and we were pretty close to that this year."
Texas' head coach Eddie Reese on the difference between this year and last year:
"A few people and time. Clark Smith didn't even make this meet last year, he won an event. That just doesn't happen, I can't make that happen, he made that happen."
Texas' head coach Eddie Reese on having 11 championships and what he thinks:
"No (I never think about it). I've never had a goal to by an Olympic coach, never had a goal to win an NCAA title, I just want a bunch of people who will trust me, and we'll see how fast we can get them to go. I've got 10 rings from winning 10 championships, I have no clue where they are. My grandchildren know where they are because they play with them, or used to, but I know what every kid did and how much they improved. Those are things that really matter. It's always about people, the number of championships just means I'm old."
Texas' head coach Eddie Reese on Texas taking over the butterfly:
"The best text I got on that was from a guy who swam for me a lot of years ago and he said, 'I thought the Orange and White meet was in September' and that was just perfect. I would like to leave that topic with this thought: We got a kick out of the butterfly. It's all about kicking. You've got to be able to kick. There are five strokes now, kicking is one of them, it is the second fastest stroke. You've got to do it."
Texas' Kip Darmody on winning the National Championship:
"I am still waiting for someone to wake me up right now. I don't think the meet could have gone any better for us. We had three guys up from day one, made final for the 500 free, having Sam Lewis leading us off, I mean it was a special meet. Sacrificing many Saturday nights and giving it my all every day, day in and day out, it's surreal. Like I said, I am still waiting for someone to wake me up. It's something special."
UGA's Matias Koski on winning 1650 Yard Freestyle:
"I am just in shock right now. Especially since this season I really wasn't training for the mile. The intention was for me to do the 100 freestyle this meet. That all changed at SECs when I did well so I decided to just do the mile. I am overjoyed that it all worked out in the end."
UGA's Matias Koski on the moment he knew he was winning:
"When I started pulling away and the other guys started fading. It was a good race all the way through. There was never a guarantee for anyone. It was a good race."
Cal's Ryan Murphy on winning 200 yard backstroke:
"It's awesome to be out here with some of my best buddies and to have them cheer me on. It helps a lot."
Cal's Ryan Murphy on setting another American record:
"Any time you can get a record held by a guy like Ryan Lochte is pretty special. So I'm proud of that and hopefully it's not over."
Alabama's Kristian Gkolomeev on winning 100 yard freestyle:
"It feels great. I can't believe that this year I swam a great 100. Last year I couldn't swim, I mean, I was good in the 100, but not as good as this year. This year I worked hard, and it paid off today.
"The first day I wasn't ready. I didn't have that same feeling as the SECs, I didn't have that explosiveness. It was just a rough day. First day I had six races which was a new experience for me. It was kind of rough. The second day I was better and I found myself after being lost on the first day. I had a great 100. I'm glad I won."
Alabama's Kristian Gkolomeev on first thoughts after winning:
"I thought of my father and my mother because they are not alive and that was just a race for them."
Texas' Will Licon on winning 200 yard breaststroke:
"I still don't think either of them have set in yet. My strategy was to just keep it long and strong in the first 50 and try to build into it from there. Then I quickly noticed it hurt a lot sooner than it did in the morning."
Texas' Will Licon on racing against Arizona's Kevin Cordes:
"I realized if I wanted to stay in the race, I couldn't let him get too far ahead. I had to keep it as close as I could from the get go and not lose it off the back. I knew it was close; it was kind of one of those analogies where your coach tells you to just keep your head down and swim to the wall as fast as you can. You can't really do that on breaststroke, but it's one of those where you have to dig deep and give everything you've got."
Texas' Joseph Schooling on winning 200 yard butterfly:
"It's great, my first NCAA championship. Obviously coming into this meet, there is so much hype about it and now I can finally see and understand why everyone just raves about it. Personally I think it's more exciting, more emotionally draining than the World Championship and Olympics combined together and multiplied by two. That's how much of a rollercoaster this meet is. To swim my first championship season with these guys, with Eddie and Chris, and have so much success off the bat means a lot to me, and I'm excited for the next few years."
"You have to prepare for it the best you can. You have to race your heart out. There are so many great guys, talented guys in the field that you never know what is going to happen. You have to put your heart and soul into it and that's all I came here to do. I am very fortunate it was enough."
Purdue's Steele Johnson on winning platform diving title:
"Yesterday I didn't make the final in the three meter, which is typically one of my better events. I missed it by a couple points. On the one meter event, my coach held up my shammy towel and told me I was going into the competition holding too tightly onto everything, you are thinking you need to do the best on every dive to win. In reality, it is not about winning. You need to hold the competition with an open hand and not stress and freak out about it. If you stress and freak out about it nothing good is going to come from it. You are going to learn from your mistakes.
I guess it translated into today's performance because I was upset about yesterday's competition, I wasn't happy with how I dove. Then I went into the consolation finals and almost broke my PR. He knows how to help me switch my mindset. Today after the prelims I was jacked up, hyped up, and thought I could win another NCAA title, and he told me that it doesn't matter because life goes on whether I win or lose. With each dive, I would walk over and he would remind me to stay calm and helped me not focus on winning, but focus on diving for 10s and diving the best I could."
USF's Carter on winning 400 freestyle relay:
"We worked so hard all year, it's all about rest, rest, rest. On Tuesday, Thursday mornings we get in the baseball weight room and lift real hard and as soon as the lift is over we get in the pool, hard power towers. That really helps me with my underwater kicking and power. Overall, we are very happy with the result."