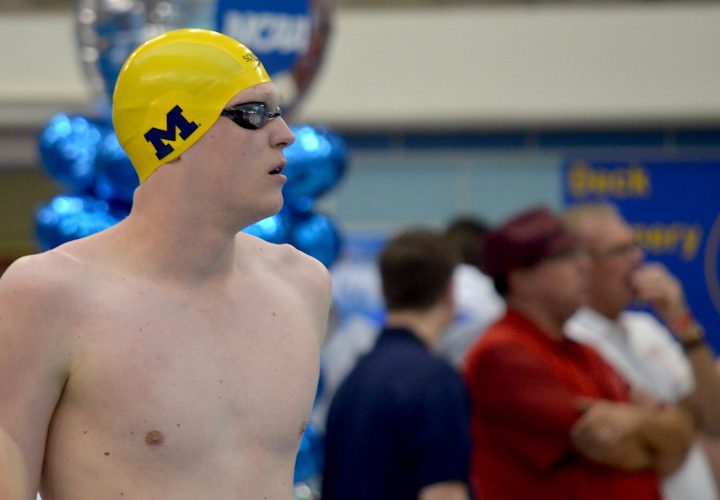 Michigan's Felix Aubock.
Photo Courtesy: Dan D'Addona
Editorial content for the 2018 NCAA DI Championship coverage is sponsored by TritonWear. Visit TritonWear.com for more information on our sponsor. For full Swimming World coverage, check event coverage page.
The first full day of the NCAA Division I Men's Championships is sure to continue the meet's fast start from Wednesday's opening relay.
There are plenty of stars and top seeds looking to get their hand on the wall first and put their teams in contention.
The first event in Thursday's final is the 200 free relay with Cal as the top seed, followed by NC State and Florida.
In the 500 free, Michigan's Felix Aubock took the top seed ahead of NC State's Anton Ipsen and Texas junior Townley Haas.
In the 200 IM, Cal's Andrew Seliskar took the top spot ahead of Stanford's Abrahm DeVine and NC State's Andreas Vazaios.
No surprise in the 50 freestyle with Florida's Caeleb Dressel having the top seed at 18.11, the American and NCAA record from the prelims. NC State's Ryan Held and Indiana's Blake Pieroni are in the final, too, but it will be tough to top Dressel.
The night will close with the 400 medley relay. Indiana top the top spot ahead of NC State and Cal.