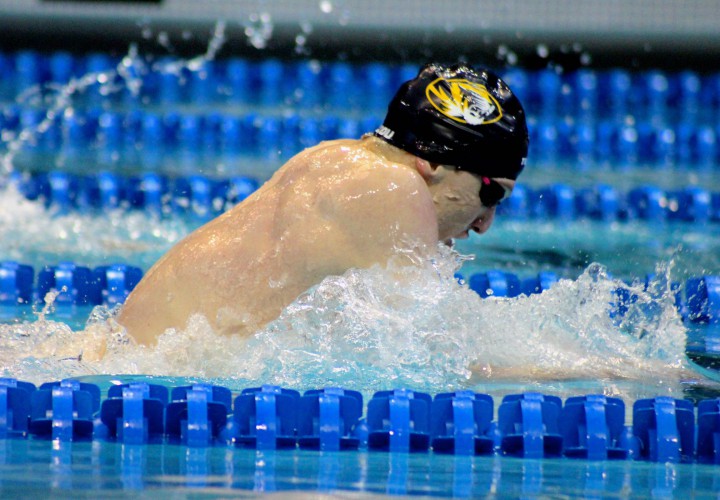 Photo Courtesy: Taylor Brien
Agon is the proud sponsor of all high school coverage (recruiting, results, state championships, etc.) on SwimmingWorld.com. For more information about Agon, visit their website AgonSwim.com.
To report a college commitment, email HS@swimmingworld.com. Join Swimming World's Watch List
NEW COMMITS: The University of Missouri has received two verbal commitments for the Class of 2022 from Colorado based swimmers. Danny Kovac and Kyle Leach have announced their intentions to swim for the Tigers. The duo join Jack Dahlgreen in making verbal commitments to Mizzou.
Danny Kovac
Kovac is a senior at Fossil Ridge High School in Fort Collins. He also swims for Fort Collins Area Swim Team (FAST). In 2017 Kovac was the Colorado 5A runner up in the 100 fly and 100 back.
Kovac is strongest as a backstroker, but also brings a strong butterfly that he has put together for a great IM as well. His best times include:
50 Back 23.22
100 Back 48.70
200 Back 1:49.35
50 Fly 25.77
100 Fly 48.19
200 IM 1:48.88
His club teammate Bayley Stewart is verbally committed to Notre Dame.
Kyle Leach
Leah lives in Colorado Springs where he swims for Colorado Springs Swim Team. A Colorado 4A state champion in the 100 fly, and a 200 freestyle runner up, Leach is a senior at Cheyenne Mountain High School. He was a key piece of the team's effort to successfully defend their state title last year.
He's primarily a freestyler. Leach's best times are:
100 Free 45.17
200 Free 1:38.34
1000 Free 9:44.64
100 Fly 49.23
Lech wrote on his CollegeSwimming profile,
"I'm so excited to announce my commitment to the University of Missouri! I want to thank all my coaches, friends, and most of all my family for helping me reach my goals to get me where I am today. I know Missouri has everything I need to help me be the best I can in and out of the pool! Go Tigers!"