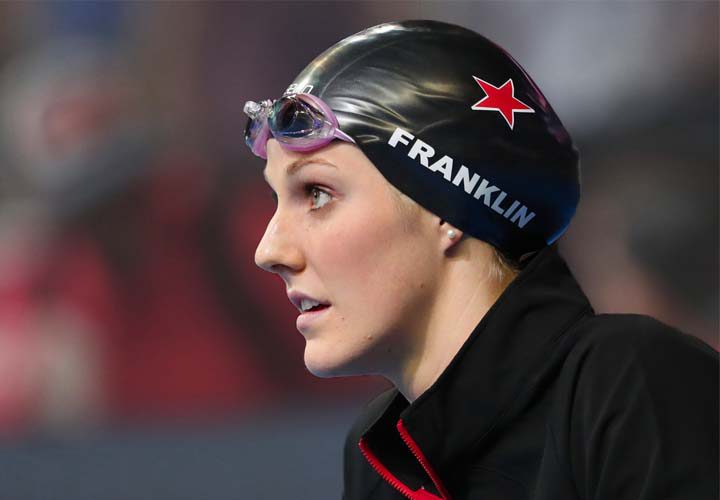 Missy Franklin.
Photo Courtesy: Rob Schumacher-USA TODAY Sports
By Dan D'Addona. 
Missy Franklin didn't win any events during the Mare Nostrum Swim Series — she really didn't come close.
But Franklin had the biggest victory of the three-country series last week: She was back in the water.
Franklin hadn't raced since the 2016 Rio Olympics. Since then, she has dealt with severe depression issues as well as surgery on both shoulders.
Either one of those situations could have easily ended a career. But having to battle through both — especially at the same time — is something that was even more detrimental.
Franklin was against the ropes.
But she fought back.
The first step was admitting that she was not 100 percent physically or mentally. That is a terrifying thing to admit to a world-class athlete, even to themselves — especially Franklin, who is known for her infectious smile and bubbly, up-beat personality. Those characteristics became synonymous with Franklin, making it extremely difficult to separate herself from what the public sees.
It would be easy to feel like she let her fans down by admitting depression, but in fact, it made Franklin more identifiable — and even more of a role model.
The instant she came to grips with her own depression, the tide began to turn.
Franklin did everything she could to keep that tide turned back in her favor. She moved to a new setting, took care of her physical injuries and began the long road to recovery.
Training with coach Jack Bauerle in Georgia, she got a fresh start, both in the pool and at school.
The only thing that remained was getting back in the water competitively.
After nearly two years away from racing, Franklin made her return at the Mare Nostrum Swim Series, with stops in Canet-en-Roussillon, France, then Barcelona and Monte Carlo.
Her first race back, she finished ninth in the 200 free prelims in France, finishing in 2:00.51. She then won the B final in a much-faster 1:58.91. Franklin then made the 200 back final and finished sixth in 2:13.14.
On the second day, she took 12th in the 100 free in 56.32 and also finished 18th in the 100 back prelims (1:03.48).
Moving to Spain, Franklin scratched the 100 back and competed again in the 200 free, finishing fifth in 1:59.25.
In her last stop in Monaco, Franklin earned her highest finish, taking third in the 200 free in 2:00.36.
It was far from her best race ever — it wasn't even her fastest swim of the series — but it capped what could turn out to be the most important swim meet of Franklin's career.
Missy is back, and that is more of a victory than anything anyone could have done in the water.