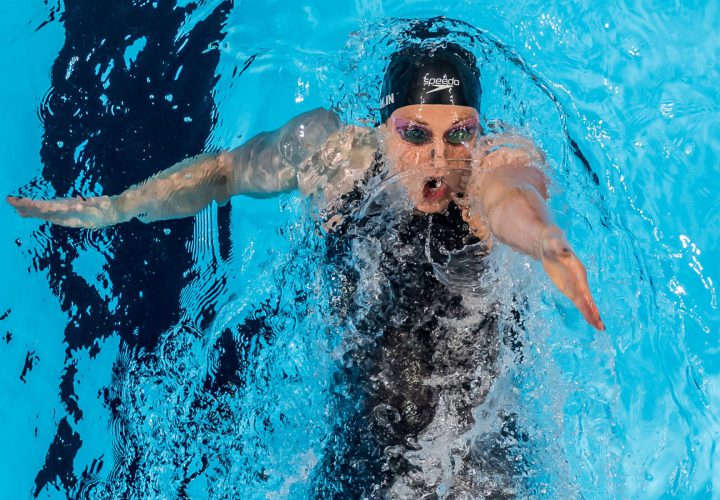 Missy Franklin.
Photo Courtesy: Peter H. Bick
By Dan D'Addona.
The 2018 Mare Nostrum Series began Saturday in Canet-en-Roussillon, France, with plenty of big international names in the water.
Missy Franklin made her return to the pool in the 200 free and finished ninth during prelims with a time of 2:00.51. She won the B final in a much-faster 1:58.91, a time that would have finished fifth in the A final.
Franklin then made the 200 back final and finished sixth in 2:13.14.
Canada's Taylor Ruck won the 200 back in 2:08.80, followed by Russia's Daria Ustinova (2:09.95), Britain's Chloe Golding (2:11.41), Germany's Jenny Mensing (2:11.54) and Lisa Graf (2:21.69). Franklin was sixth, followed by Spain's Cristina Garcia Kirichenko (2:13.78) and China's Si Luo (2:14.25).
It was her first competition back since the 2016 Rio Olympics. She has since had surgery on both shoulders and switched her training home to Georgia.
In her last major event, the Rio Olympics, Franklin won gold as a prelims member of the 800 free relay and didn't medal in her individual events.
She has recently opened up about her battle with depression after Rio and the toll being at the top of the sport took on her following her four gold medals in London, competing for Cal and going pro in preparation for Rio.
Mare Nostrum is her first competition since moving from Cal to Georgia to train with Jack Bauerle.
Franklin, who recently turned 23, is continuing to pursue her degree in psychology at Georgia, and she is three semesters away from graduating. This meet is preparation with the focus on this summer's U.S. Nationals in Irvine, Calif.