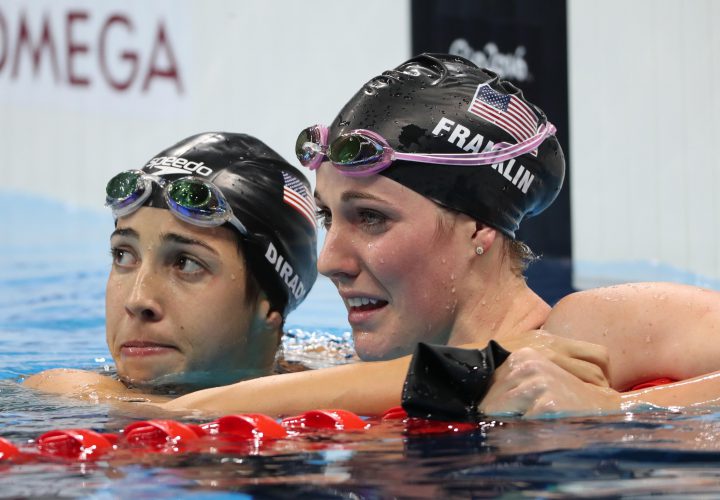 Photo Courtesy: Erich Schlegel-USA TODAY Sports

Editorial Coverage Sponsored By FINIS
By Annie Grevers, Swimming World Staff Writer
It was the summer of 2010 when I first met the wonder kid from Colorado– Missy Franklin. I was 22, Franklin was 15. I had finished my college career, Franklin had just started high school. We had both qualified for the 2010 Pan Pacific Championship team.
During training camp, I was awkwardly lumped into a group with two 16-year-olds (Elizabeth Pelton and Rachel Bootsma) and Franklin under the watch of a young, charismatic Colorado Stars coach, Todd Schmitz. On day one of training camp we did a round containing 5×100 free in which we were to keep our heart rate around 160 beats per minute. The teens were all holding 1:00s…long course. I was left in their wake, but I didn't care. This pack of tenacious cubs (who all, ironically, ended up becoming Cal Bears), endearingly started calling me "Mama Bear". I loved swimming with my pack of baby bears. They lightened the stress of my first international meet. Especially that Missy Franklin.
Every time Missy hit the water, she would go a best time. I'd see her after her races and tell her how amazed I was and she would flash her signature full-faced Missy smile and humbly laugh, "Thanks, Mama Bear". The highest Missy finished at Pan-Pacs was fourth in the 100 backstroke, but everyone knew Colorado's ray of sunshine was about to explode.
At the 2011 World Championships in Shanghai, Franklin collected five medals– three gold, one silver, one bronze. Franklin led off the 4×200 free relay in a time that would have won the 200 free world title, a 1:55.06. Franklin went on to win gold and set her first American record in the 200 back (2:05.10). Franklin did a quick warm down then stepped up to swim in the 4×100 medley relay. She anchored with a 52.97, the fastest split in the field.
Missy Franklin became Missy the Missile. The 16-year-old had reached maximum velocity on the world stage and could do no wrong. She swept the bulk of the 2011 Golden Goggle Awards (Female Athlete of the Year, Female Race of the Year, and Relay Performance of the Year).
In the fall of 2011, Franklin set her first world record in the 200 back (short course meters). It was the first "suits" era world record to be broken in a textile suit.
Most of us recall how the 2012 Olympic Games went for Missy– America's golden girl with Beiber fever. Four gold medals and one bronze. Two world records, three American records. An impeccable first Olympic showing for Missy.
Fast forward four years to the Rio Olympic Games. Franklin failed to make the final heat in both the 200 free and 200 back. She swam as a part of the preliminary 4×200 relay squad which secured a lane for the finals squad to win gold. Missy Franklin has not walked out for one final at the 2016 Rio Olympic Games nor has she stood on the podium for a relay.
Does she feel like a failure? I'm sure she does. In an interview after her final swim- a disappointing 200 back semifinal – Franklin said through tears, "Unfortunately the time is no where near what I know I'm capable of doing. For some reason, it's just not there right now."
Missy Franklin is human. And I relate to her now more than ever. The beautiful thing about Franklin's fall from the Olympic throne is what has always been her strength– that Missy sunshine. Though there are surely thunderheads in Franklin's mind, she refuses to let her spirit be clouded.
"I just wanted her to know now how much the team loves her," Team USA's breakout star Maya DiRado said after the 200 back semifinal. "It doesn't matter that she didn't make the final because she's an amazing teammate. I can give her no higher compliment than, you would never know how she's swimming based on how she's interacting with the team. That's the sign of a true champion and a true leader."
When asked about DiRado, Franklin responds with equal veneration: "Maya has been such a leader on this team…we're all going to miss her so much [DiRado will retire after the Games]. For her to support me the way she has, it's been incredible. I can't wait to watch her tomorrow night. She can't have enough success come her way."
Franklin became a professional athlete last spring, and although she would never use that as an excuse, the life of a sought-after athlete spreading themselves thin can take a toll. Missy Franklin is a "yes woman" and is representing a lot of products and companies now. I'm sure she's not swimming solely to please them, but there is a performance obligation unwritten in those deals.
We cannot write about redemption yet, but I am confident the day will come. Missy Franklin is 21 years old– far from an old lady in the sport of swimming. She is having the first major slump of her career and growing in character more than she realizes because of it.
It's not testing to be on fire at the Olympics and have all of the confidence in the world that you're going to go fast. Franklin swam knowing she was "cold" at this Games; knowing for some reason "it's just not there right now." Any athlete knows that feeling. It's boundlessly frustrating. You mentally regroup. You physically recupe. You rewrite your race strategy. But nay, it's still seconds off your best. Franklin executed her final race of the Rio Olympics well in her mind, but it was five seconds off of her world record in the event.
"I wish I had an excuse, but I don't and I'm not going to make up one," Franklin frankly stated. "The truth is I worked as hard as I possibly could, I did everything I could think of doing, and for some reason I fell more short than I ever have before. I wish there was an explanation for that, but I'm just trusting that God has a plan and a purpose and he's going to make something beautiful out of this…even though I really wish I could ask him what that's going to be right now!" Missy laughed and sniffled as she wore her heart on her sleeve. 
Though her individual performances in Rio will earn her no medals, the caliber of person Missy Franklin is glistens through her words. I want my future daughter to know Missy. I want her to keep fighting when things are not falling into place. I want her to carry herself with joy and grace in the face of disappointment.
"That's what's being an American is all about. We run toward the fight, we don't run away from it," Franklin said about her Rio mentality. "Getting up for that 2 back tonight, I felt a little like David facing Goliath, and I felt like I didn't have any stones in my pocket. So to still get up and fight, I'm really proud."
I've been awed by your aquatic achievements over and over, Missy. But now I observe your maturity, humility and kindness in wonder. Even as you cry, you force a smile. Your teammates might understand if you withdrew into a shell this week, but that's not you. You love your team and want your behavior to positively affect their performance. You're a prime example of how sport can refine an individual into a more precious metal. You may feel the pain of being in the fire now, but you will emerge (and already are) with a new shine to that pre-existing Missy sparkle.